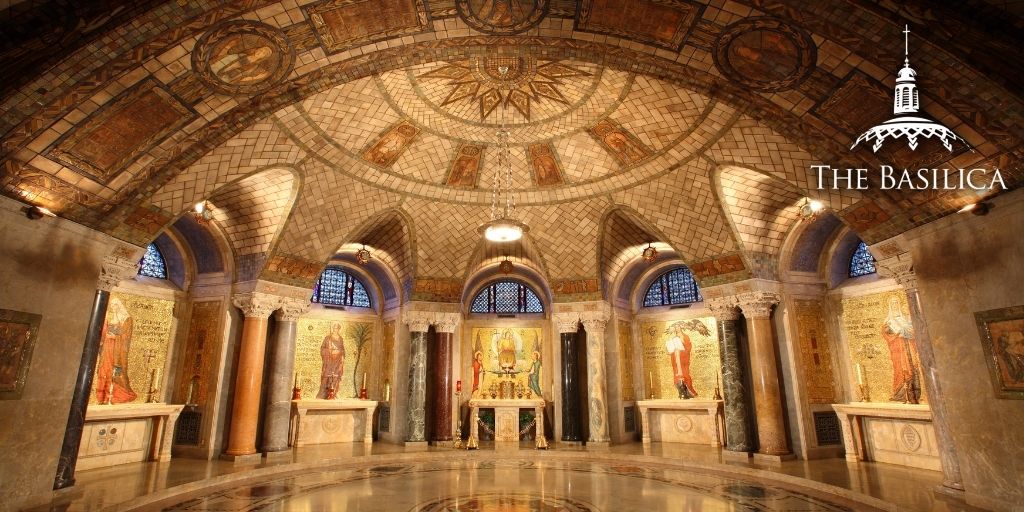 Considered the heart of the Basilica, the Crypt Church honors 15 saints in glittering gold mosaic chapels, celebrating centuries of Catholic tradition through the lives of the faithful. In our Saints of the Crypt Church series, we highlight the stories of each of these saints, inviting you to explore how they are honored in the Basilica with our immersive virtual tour. This post is Part III in a series. View Part I and Part II.
Did you know that each chapel in the North Apse portrays significant individuals from the events surrounding Jesus' life and birth? In today's post, we explore each of their stories and how the chapels honor their lives and legacies.
St. Anne
Tradition holds that St. Anne was the mother of Mary, and thus, the grandmother of Jesus. The chapel in the Crypt Church depicts her with the child Mary, reading her the prophetic Scripture passage, "Therefore the Lord himself will give you a sign; the young woman, pregnant and about to bear a son, shall name him Emmanuel," (Isaiah 7:14). The Latin text reads: "The tongues of the pious magnify your offspring, and every joyful word is spoken concerning your child."   
St. John the Evangelist
The writer of the fourth Gospel, St. John was devoted to the Lord and known as "The disciple whom Jesus loved." The Latin text in the chapel is taken from his Gospel, and reads: "The Word became flesh," (John 1:14). An eagle symbolizes his role as evangelist, while the mosaic and altar frontal tell a legend of how John was saved from death when the poisoned wine in his cup turned into snakes.
Jesus, the Good Shepherd Chapel
Inscribed with Greek text that translates to "Jesus Christ, Victor," the Good Shepherd Chapel was the first chapel to be completed in the Crypt Church, and the Blessed Sacrament has reposed here since November 14, 1926, in a tabernacle created by Tiffany. The hand-carved walnut kneelers in the chapel were used by Pope Benedict XVI during his visit in 2008.
St. Joseph Chapel
In this chapel, St. Joseph, husband of Mary, holds a flowering lily staff and stands next to a palm tree, symbolizing his upright and honorable character. The Latin text translates: "A faithful man shall be much praised; and he that is the keeper of his Lord, shall be glorified," (Proverbs 28:20, 27:18).
St. Elizabeth Chapel
Mary's cousin Elizabeth was thought to be barren, but in her old age, God blessed her with a child, John the Baptist. The mosaic depicts the shining rays of the Holy Spirit falling on barren soil, and the texts read "Blessed are you among women," (Luke 1:42) and "How is it that the mother of my Lord should come to me?" (Luke 1:43), referring to the visitation of Mary to Elizabeth. The first Mass was celebrated in this chapel on August 21, 1925 by Bishop Thomas Shahan.
Source:
The Basilica Guidebook, Dr. Geraldine Rohling