Sacred Music: Musicians
Musicians of the Basilica
Meet those who serve to enrich the liturgy through music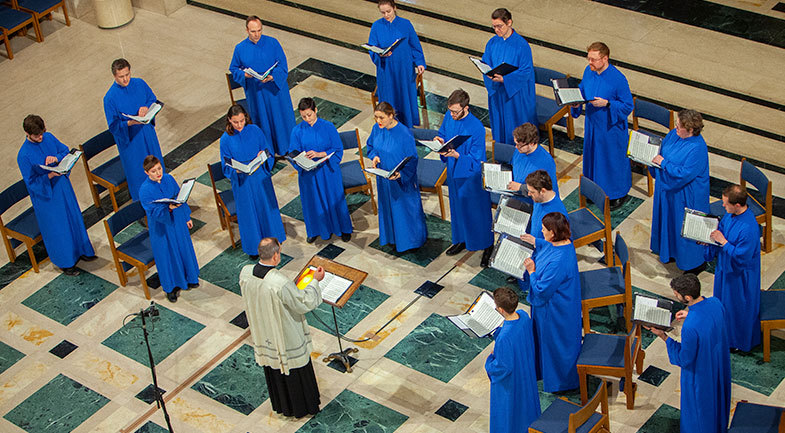 Choir of the Basilica
The Choir of the Basilica is an integral part of the mission of this National Shrine. Gifted singers unite their voices to fill this house of prayer, providing a foretaste of heaven through sacred choral music which inspires and reveals God's truth.
On Sundays and Solemnities throughout the year, the Choir of the Basilica sings at the noonday solemn Mass. The Choir sings the Ordinary and Proper texts of the Mass, drawing from the Church's rich legacy of sacred music, as well as contemporary music worthy of the sacred Liturgy. For special occasions, brass ensembles, strings, wind instruments, and timpani offer even greater festivity and solemnity.
About the Choir of the Basilica
The Choir of the Basilica is the resident choir of the Basilica of the National Shrine of the Immaculate Conception. The choir is comprised of twenty-four professional singers from the greater Washington metropolitan area and is dedicated to providing excellence in sacred choral music in the context of Liturgy throughout the Liturgical Year. The choir is engaged in almost one hundred performances each year, and prepares approximately three hundred works each season drawn from the wealth of the Roman Catholic sacred music tradition. In addition to performing choral literature from the vast treasury of sacred music, the choir champions newly composed works and has given numerous premiers including Henryk Gorecki's Pod twoja obrone (North American premiere) and James MacMillan Tota pulchra es (world premiere).
The choir maintains an active recording schedule and their performances have been broadcast throughout the world on the Eternal Word Television Network, NPR, WAOB Radio, Salt and Light, and the Catholic Channel on Sirius XM. The choir has been featured at numerous festivals and conferences including the International Festival of Sacred Music and Art in Rome, the National Conventions of the American Guild of Organists, the National Association of Pastoral Musicians, the Conference of Roman Catholic Cathedral Musicians, and the American Choral Directors Association.
The choir has performed for dignitaries and heads of states including during the apostolic visits of Pope Benedict XVI and Pope Francis in 2008 and 2015 respectively.
Director of Music

Peter Latona (b. 1968) is the Director of Music for the Basilica of the National Shrine of the Immaculate Conception...

Associate Director of Music

Benjamin LaPrairie serves as Associate Director of Music at the Basilica of the National Shrine of the Immaculate...

Assistant Director of Music

Andrew Vu serves as Assistant Director of Music of the Basilica of the National Shrine of the Immaculate Conception. A native...

Carillonneur and Organist Emeritus

Robert Grogan is Carillonneur and Organist Emeritus of the Basilica of the National Shrine of the Immaculate...

Learn more about Sacred Music at the National Shrine

Sacred Music: Transforming hearts through the power and beauty of music