Sample Itineraries
Suggested Itineraries
View our sample schedules to ensure that your visit is a valuable spiritual experience
Individual or Family Visit
If you are just stopping by for an introductory self-tour, make sure you check out the Lourdes Chapel and Mother of Africa Chapel on the lower level. In the Great Upper Church, view the Trinity Dome Mosaic, the recently completed crown jewel of the Shrine. The mosaics of the Assumption and the Immaculate Conception, found on either side of the Sacristy doors, are also a must-see. Allow yourself time to attend a Shrine Mass, take advantage of the Sacrament of Penance, and visit the Shrine Shops for that special spiritual memento or gift. Weather permitting, visit the Rosary Walk and Garden for an uplifting experience.
School or Church Group Pilgrimage
For a School or Church Group Pilgrimage with up to 150 people, a full or half day schedule can include a welcome, morning prayer, the Sacrament of Reconciliation, and a Rosary. Your group can then attend a Basilica Mass or schedule a private Mass in a specific chapel. You can eat lunch in the cafeteria and have a scheduled guided tour in the afternoon. Conclude your visit with a stroll in the Rosary Walk and Gardens, as well as Mary's Garden.
One-Day Diocesan Pilgrimage
For a one-day Diocesan Pilgrimage, your group can arrive in the morning and meet in the Crypt Church or the Great Upper Church. Your group will receive a welcome from a Shrine priest, communal prayer, such as the Rosary or the Angelus, and a Review of the Day. For the next hour, your group is free to visit Tour Stations, receive the Sacrament of Reconciliation, pray individually in chapels of their choice, shop in the Bookstore or Gift Shop, or eat lunch in the Cafeteria. Scavenger hunts can be set up for children. You can also arrange guest speakers for special presentations. If you wish to listen to Choral and Liturgical rehearsals, they are normally scheduled prior to a Pilgrimage Mass, with a Diocesan Bishop as the main celebrant.
Additionally, if your group has time, you can visit the Franciscan Monastery or the National Shrine of Saint John Paul II.
View Scheduled Pilgrimages
Some of our pilgrimages occur on a regular basis (annually or biannually). Most diocesan and ethnic pilgrimages are scheduled on Saturdays in the Fall or Spring.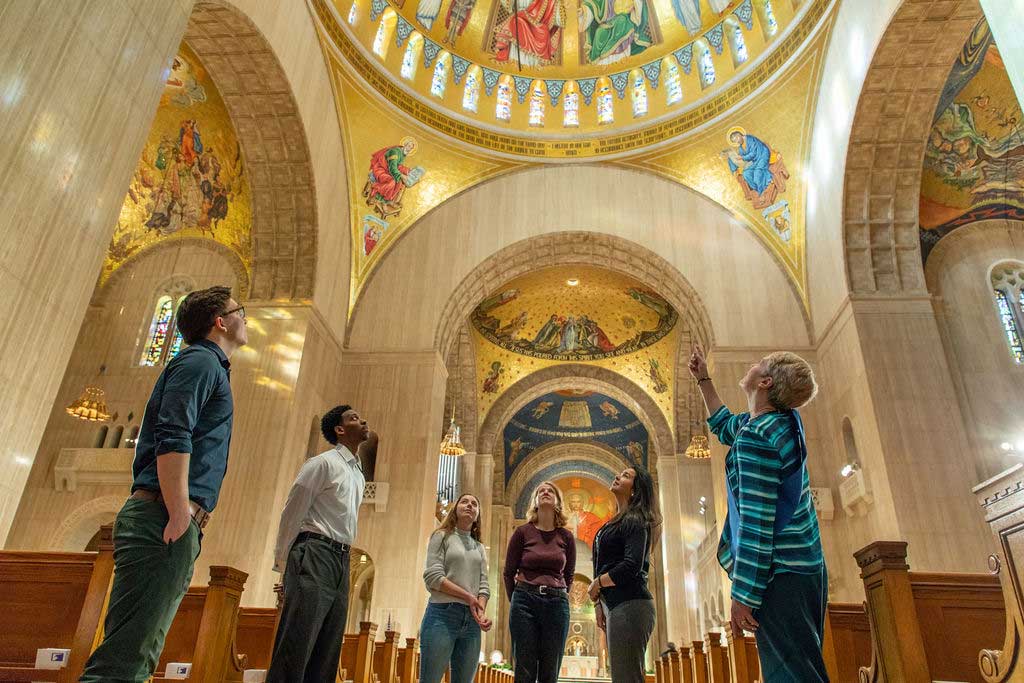 Request a Guided Tour
If you desire to tour the Shrine, we offer guided tours that last just under one hour. The tours include visits to chapels on both levels, and include information about the history, heritage, art and architecture of the Basilica.