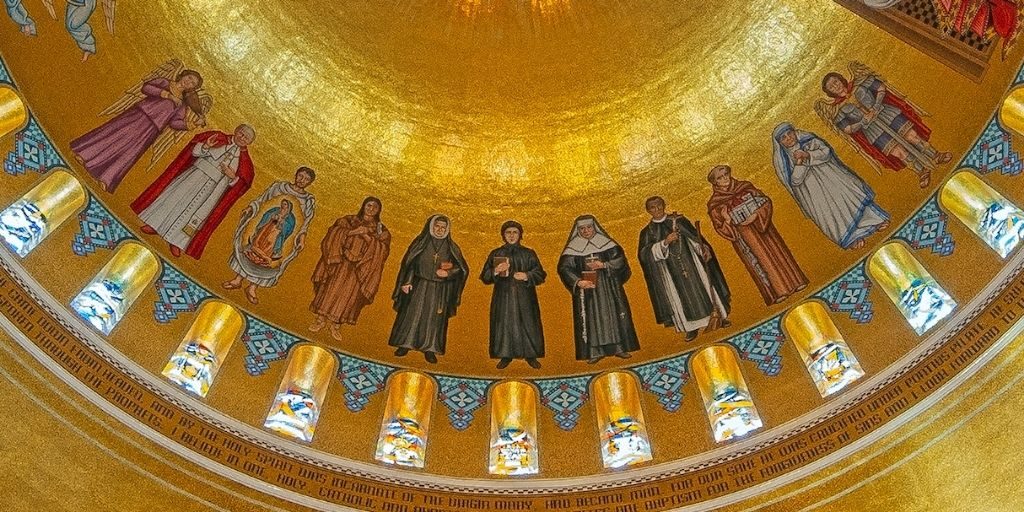 "The Church needs men and women who are intent on teaching by word and example – intent on helping to permeate the whole educational milieu with the spirit of Christ. This is a great vocation, and the Lord himself will reward all who serve in it as educators in the cause of the word of God." – Pope John Paul II
As the school year begins, we wanted to share the stories of faithful saints who were instrumental in furthering education. Whether they were founding parochial school systems or teaching rural populations, each of them significantly expanded educational opportunities in their communities and beyond. Above all, their care for students, love of learning, and love of God guided their lives.
1. Saint Alphonsus Liguori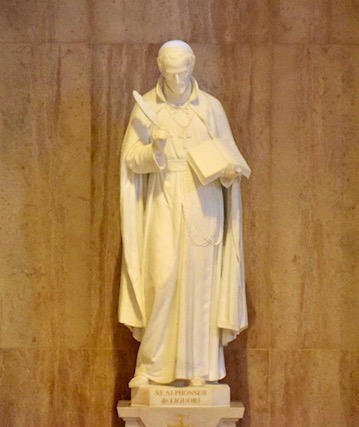 A brilliant lawyer and understanding teacher, Saint Alphonsus was a compassionate soul who was dedicated to the spiritual education of rural peoples. Born in Naples in 1696, Alphonsus was an astonishingly bright student, earning his law degree in civil and canon law at age 16. Becoming overwhelmed by the corruption in the justice system, Alphonsus quit practicing law to study Scripture in 1723.
About three years later, he was ordained, and began educating and ministering to some of the most indigent and crime-ridden districts in Naples. In the years that followed, the districts reached by Saint Alphonsus' ministry showed vast improvement and decrease in crime.
Having trained the laity to carry on his work in the capital, Alphonsus ventured elsewhere to continue his ministry of spiritual education. In the rural areas outside Naples, he discovered pagan people who were severely uneducated, living in material and spiritual poverty. There, he founded the order of "Congregation of the Holy Redeemer" in 1732, dedicated to teaching the rural peoples the Word of God. Despite his formidable intellect, Alphonsus was direct in his teaching and writing. His clear communication, along with his empathy, made those he ministered to highly receptive to his teachings, resulting in the spiritual transformation of countless lives.
Unfortunately, Alphonsus's teaching garnered not only intense support, but also strong opposition. It was not until after his death that the Church and state would officially recognize his religious order. Later, the Church recognized the significance of Alphonsus' legacy, canonizing him in 1839, and granting him the title of Doctor of the Church in 1871. Today, members of his order – now called the Redemptorists – continue his work of evangelizing rural people in all parts of the world. Saint Alphonsus' ministry of spiritual education continues to serve as an enduring example of faith and devotion. He is portrayed in the Basilica in a statue in the west apse of the Upper Church, in the north façade of the Upper Church, and in the Our Mother of Perpetual Help Chapel.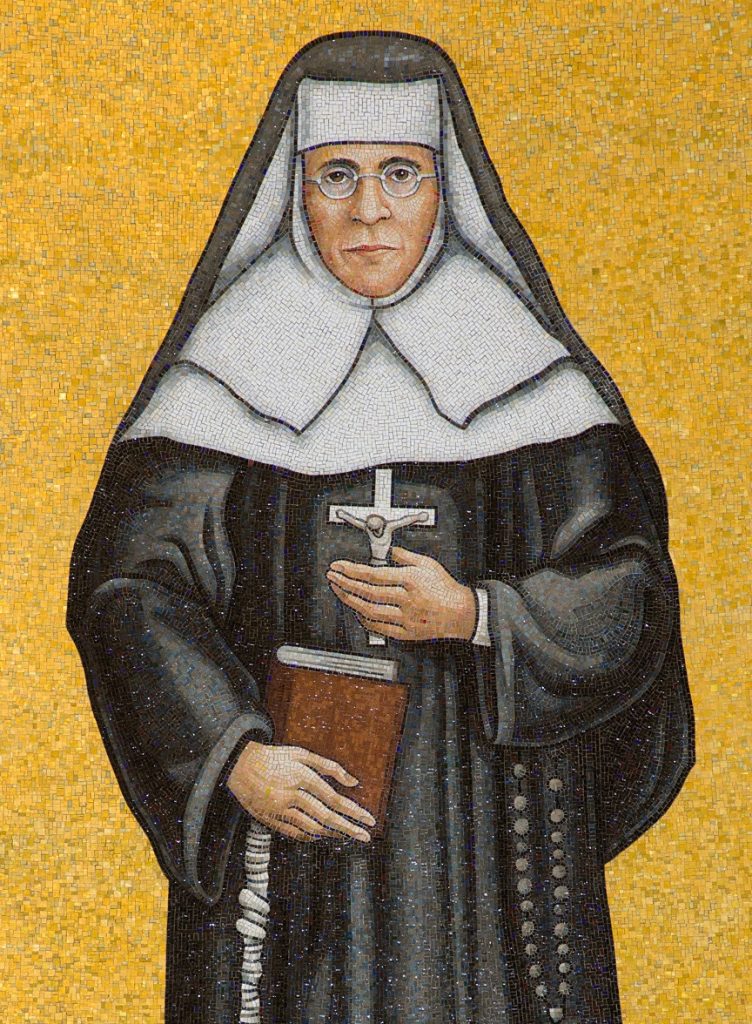 2. Saint Katharine Drexel
Saint Katharine Drexel was the second American-born saint to be canonized and is known for her commitment to racial justice and her educational efforts for minority groups in America. Katharine was born into an affluent Philadelphia banking family in 1858. During her family's travels across the western United States, Katharine was struck by the poor living conditions endured by Native Americans on reservations. She decided to use her inheritance to establish the Sisters of the Blessed Sacrament in 1913. She was an unflagging advocate for minorities, crusading for better educational opportunities and standing against racial discrimination and injustice. In 1894, she opened the first mission school for Native Americans in New Mexico, and in 1915, she founded Xavier University, an institution of higher learning for African Americans in New Orleans.
By the start of World War II, she had founded schools for African Americans in 13 states, and 50 schools for Native Americans in 16 states. Katharine lived to be 97, and was canonized in 2000. She is the patroness of racial justice and philanthropists and is portrayed in the Hall of American Saints, the Trinity Dome, and the Crypt Church sacristy.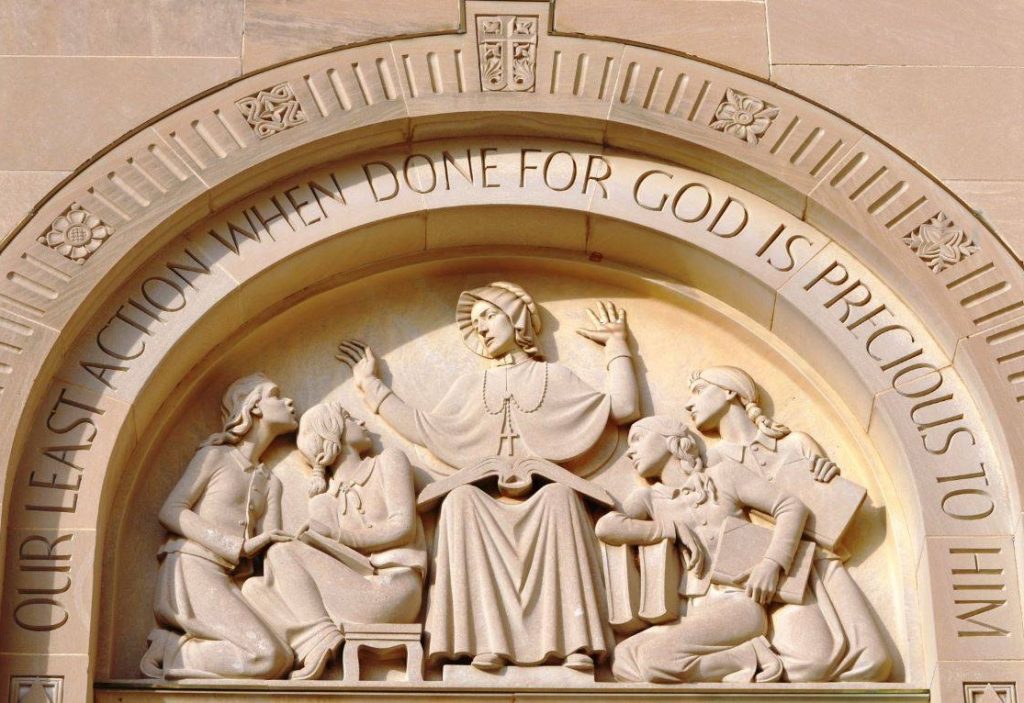 3. Saint Elizabeth Ann Seton
The ​first native-born American citizen to be canonized as a saint, Elizabeth Ann Seton is best known for her role in starting children's parochial education in America. ​Born on August 28, 1774, on Staten Island, Elizabeth was originally raised in the tradition of the Episcopalian church. After spending time in Italy, she was struck by the beauty of Catholicism, and converted in 1805. Following her husband's premature death, Elizabeth started a Catholic school for girls in Baltimore, Maryland, at the request of a priest. Elizabeth's most lasting impact, however, was the founding of the Sisters of Charity of Saint Joseph's in 1809 – the first religious order in America. This order not only helped hospitals and orphans, but also established the parochial education system in America. Elizabeth's devotion to educating children and caring for the less fortunate has had an impact lasting well beyond her own life.
Saint Elizabeth Ann Seton is depicted on the exterior tympana of the west façade, the Hall of American Saints, Miraculous Medal Chapel window, Our Lady of Guadalupe Chapel, and the Trinity Dome Mosaic.
The Vocation of Teaching
We thank God for our teachers, who strive to endow students with a hunger for knowledge and cultivate in them a lifelong intellectual curiosity. As Pope John Paul II once remarked:
The life of a teacher, as I know from personal experience, is very challenging and demanding, but it is also profoundly satisfying. It is more than a job, for it is rooted in our deepest convictions and values. To be intimately concerned in the development of a young person, of hundreds of young people, is a highly responsible task. As teachers, you kindle in your students a thirst for truth and wisdom. You spark off in them a desire for beauty. You introduce them to their cultural heritage. You help them to discover the treasures of other cultures and peoples. What an awesome responsibility and privilege is… the teaching profession.