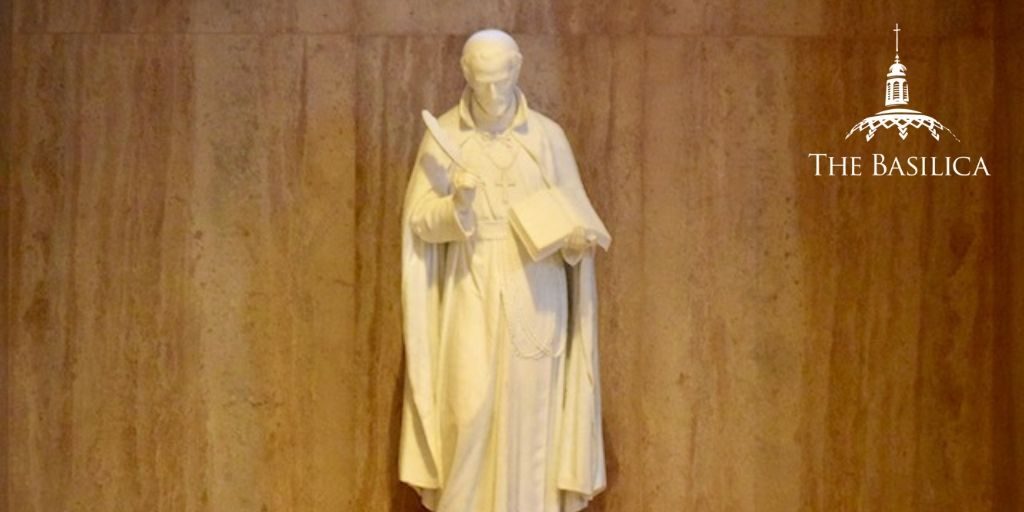 With the arrival of a new school year, this month at the Basilica we'd like to focus on the legacies of saints who were instrumental in furthering education and spiritual teaching. On August 1, we celebrate the Feast Day of Saint Alphonsus Liguori, whose dedication to the spiritual education of rural peoples still serves as an example to the faithful today. A brilliant lawyer and understanding teacher, Saint Alphonsus was a compassionate soul with a zeal for God.  
Transforming Naples with God's Teaching
Saint Alphonsus was born into a family of wealthy nobles in Naples in 1696. As he grew, he proved himself to be an astonishingly bright student, earning his law degree in civil and canon law at only 16 years of age. His legal prowess was of such a high caliber that for the first eight years of his career, he never lost a single case. Eventually overwhelmed by the corruption in the justice system, Alphonsus felt himself destined for a higher calling, and quit practicing law to study Scripture in 1723. 
About three years later, he was ordained, and began ministering to some of the most indigent and crime-ridden districts in Naples. He educated the people in these districts in the truths of Scripture, encouraging them to pray and live moral lives. In the years that followed, the districts reached by Saint Alphonsus' ministry showed vast improvement: prostitution, duels, and theft nearly vanished, and the new members of the faithful met in evening chapels, praying and reflecting upon the Scriptures.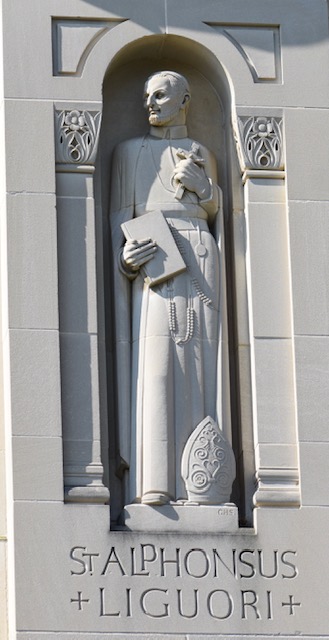 Dedication to the Spiritual Education of Rural People
Having trained the laity sufficiently to carry on his work in the capital, Alphonsus ventured elsewhere to continue his ministry of spiritual education. In the rural hinterlands outside Naples, he discovered pagan people who were severely uneducated, living in material and spiritual poverty. It was here that he founded the order of "Congregation of the Holy Redeemer" in 1732, dedicated to teaching the rural peoples the Word of God. Despite his formidable intellect, Alphonsus was by no means inaccessible in his teaching and writing; he expressed himself clearly and understandably. His direct communication, along with his empathy, made those he ministered to highly receptive to his teachings, resulting in the spiritual transformation of countless lives.
Compassion in a Period of Severity
Saint Alphonsus was an extremely compassionate man, who focused on the importance of prayer and the need for love and mercy. In his teaching, he sought to moderate the contemporary views of his time about God's law, which focused on fear and presented God as a grim punisher of the sinful. Pope Benedict XVI described Alphonsus's approach:
St. Alphonsus proposed a balanced and convincing synthesis of the requirements of God's law, engraved on our hearts, fully revealed by Christ and interpreted authoritatively by the Church, and of the dynamics of the conscience and of human freedom, which precisely in adherence to truth and goodness permit the person's development and fulfillment.
Unfortunately, Alphonsus's more moderate teachings garnered both intense support and opposition. It was not until after his death that the Church and state would officially recognize his religious order. During his lifetime, his own congregation was plagued by dissension, exacerbating his spiritual distress. As his health deteriorated and blindness set in, he was expelled by his own congregation after he made a clerical error. 
Later, the Church was able to recognize the significance of Alphonsus' legacy, canonizing him in 1839, and granting him the title of Doctor of the Church in 1871. Today, members of his order – now called the Redemptorists – continue his work of evangelizing rural people in all parts of the world. Saint Alphonsus' ministry of spiritual education continues to serve as an enduring example of faith and devotion. 
---
Source: 
Butler's Lives of the Saints (ed. by Bernard Bangley)