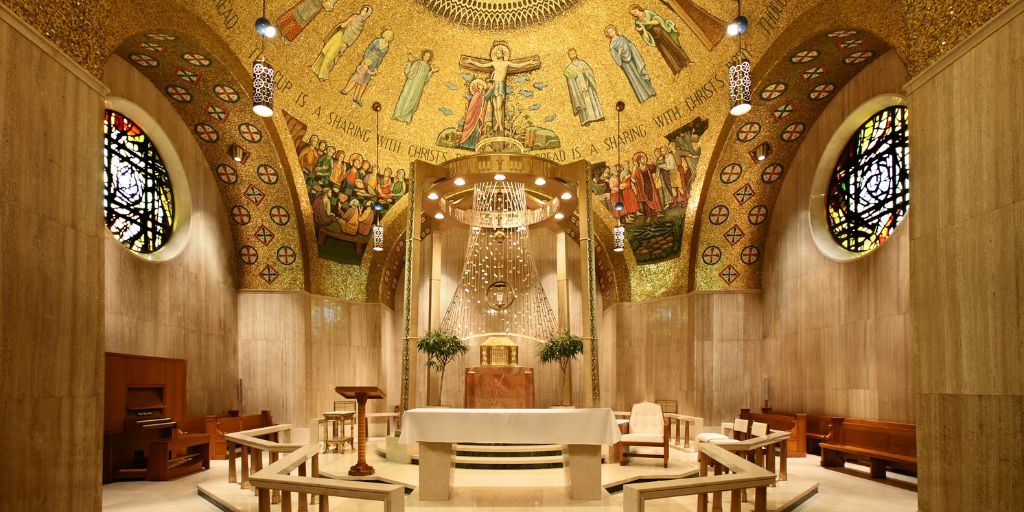 Located in the Great Upper Church, the magnificent Blessed Sacrament Chapel is a place of repose for the Holy Eucharist at the National Shrine, and is a favorite spot for prayer and reflection for the faithful during their visits. Learn about the stunning artwork and history of this beloved chapel and explore it in 360°.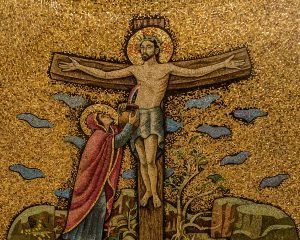 Design of the Chapel
Because the Eucharist is the source and summit of our Christian life, its significance is emphasized throughout the majestic artwork and design of the chapel. At its center, a cascading golden baldachin representing manna falling from heaven calls attention to the Eucharist and reminds the faithful that God supplies our needs for each day, as He did for the Israelites in the desert. Underneath, the Eucharist reposes in a bronze tabernacle.
The dome overhead shows the crucifixion, with Mary at Christ's feet and nineteen figures representing a universal offertory procession. The pendentives of the chapel depict key miracles in Christ's earthly ministry: the Lord's Supper, the Miracle of the Loaves and Fishes, baptism on Holy Saturday, and confirmation. The vibrant mosaics of the chapel were created with 100 different shades of variegated gold, and stained glass windows grace the sides of the chapel and the center of the dome. Inscribed upon the altar is the text: "Food of angels, Food for men. All you lowly come and eat."
Music for the chapel is supplied by a Möller organ that once was found in the Crypt Church. Liturgies and special choir pieces are accompanied by the melodies of its two manuals and 188 pipes.
History of the Chapel
Dedicated on September 20, 1970, by Patrick Cardinal O'Boyle, the Blessed Sacrament Chapel was a gift from the clergy and bishops of the United States, Mr. and Mrs. Edward Menke, and other members of the laity. It was the site where Popes John Paul II, Benedict XVI, and Francis all began their visits to the Basilica, praying silently under its majestic dome.
Virtually Tour the Blessed Sacrament Chapel
Explore this majestic chapel in 360° detail.
Source:
The Basilica Guidebook, Dr. Geraldine Rohling