On September 17, we celebrate the Feast of St. Robert Bellarmine, Doctor of the Church, whose rational defense of the faith was critical in the Church during the Counter-Reformation movement. Today, we invite you to learn more about his life, legacy, and where you can find him portrayed in the Basilica.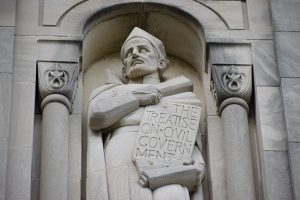 Early Life
Robert Bellarmine was born into a noble family in 1542 in Montepulciano, Italy. As a child he demonstrated great intellectual promise with his extraordinary retentiveness, committing much of Virgil's works to memory and also writing many of his own poems in Italian and Latin.
In 1560, he joined the Society of Jesus and in the years that followed he studied theology at the University of Padua and the University of Leuven in Brabant. After his ordination he then taught at Leuven before serving as the Rector of the Roman College in 1592. Eventually, he was appointed as both the Provincial of Naples and Cardinal in 1594 and 1598 respectively.
The Church's Rational Defender
Bellarmine was a tireless defendant of the Church against the heresies of his era, always grounding his positions in logic and reasoned argumentation. He also wrote on issues of Church and government, refuting the idea of the divine right of Kings and criticizing the pope's authority over secular rulers. He believed that popes only possessed indirect, and not direct, jurisdiction over temporal governments – a view so controversial that it nearly landed Bellarmine's work on a blacklist called the Index.
Following his appointment as Cardinal Inquisitor in 1599, Bellarmine also played key roles in three major trials: those of Giordano Bruno, Galileo, and Friar Fulgenzio Manfredi. According to historian Tom Cowan, after Galileo became involved in a controversy with the Church over his scientific findings about the planets revolving around the sun, Bellarmine concocted a clever ruse for him to avoid having his views impugned against him. He suggested that Galileo present his findings as a hypothesis rather than a fully proven theory, and it worked.
Works by Robert Bellarmine
Not only was Bellarmine a persuasive lecturer and learned professor, but he also penned sundry works on theological and spiritual topics, an occupation which consumed most of his time in the final decade of his life. He is perhaps best known for his commentary on the Psalms, and Art of Dying Well. He passed away peacefully in 1621 and was canonized a saint in 1930.
You can find St. Robert portrayed in the Basilica in the East Portico.
Sources:
"St. Robert Bellarmine," Catholic.org
The Way of Saints, Dr. Tom Cowan
The Basilica Guidebook, Dr. Geraldine Rohling