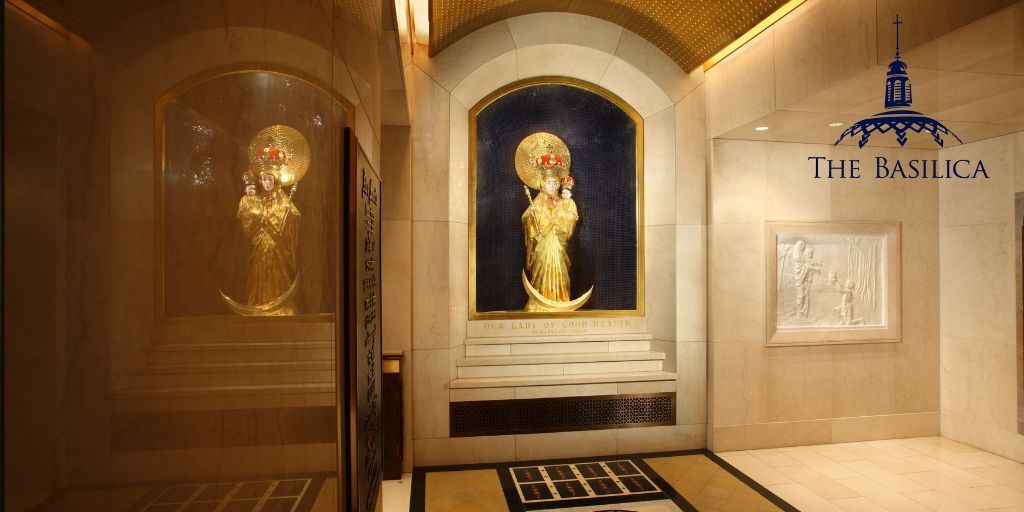 This post is the third in our Mary Across the Continents Virtual Tour series, celebrating the many ways the faithful honor Mary around the world. View the first post and the second post in the series here.
The Blessed Mother is beloved around the world for bringing healing to the faithful who appeal to her for help. In this virtual tour, you can explore how the different traditions of Marian healing are honored in the Basilica in stunning 360°!
Our Lady of Ta'Pinu
In 1691, Filippo "Pinu" Gauci commissioned an oil painting of the Assumption for a chapel on the island of Gozo. Known as Madonna Ta' Pinu, the painting started the devotion to Our Lady of Ta'Pinu. It wasn't until two hundred years later that miraculous events would occur to encourage the growth of the devotion; on June 22, 1883, the Blessed Mother appeared and directed a woman of Gozo to pray in the Chapel of Ta' Pinu. As word spread of Mary's manifestation, the faithful flocked to the spot to seek her intercession, and the site became a popular pilgrimage destination.
Here at the Basilica, Mary is honored under this title with a breathtaking gold mosaic reproduction of the Madonna Ta' Pinu. The work portrays Mary surrounded by angels, who lift her from her tomb and place a crown on her head.
Our Lady of Lourdes
Bernadette Soubirous first saw Our Lady at the grotto of Lourdes in February of 1858. In the months that followed, she had a total of seventeen visions of the Blessed Mother, including one in which Mary instructed her to dig below a rock to expose a natural spring. Since then, a number of miraculous healings from the waters at Lourdes have been recorded by the Church, and today, the spring is one of the most-visited pilgrimage destinations in the world.
At the Basilica, the Our Lady of Lourdes Chapel replicates the grotto at Lourdes, and was the first chapel (besides the Crypt Church) to be constructed at the Basilica. Above its wrought iron gate are the words "I am the Immaculate Conception," that the Blessed Mother spoke to Bernadette.
Our Lady of Vailankanni
Devotion to Our Lady of Vailankanni began in the mid-16th century after a series of three miracles. Mary first appeared with the Infant Jesus to a shepherd boy, then cured a lame buttermilk vendor, and finally, she preserved a ship of Portuguese sailors from a dangerous storm. The sailors constructed a shrine in her honor and dedicated it on the Nativity of Mary, inspiring a devotion that became associated with a nine-day celebration still observed today.
The Our Lady of Vailankanni Oratory at the Basilica features a shimmering gilded statue of the Blessed Mother and a multicolored marble floor patterned to resemble an Indian rug, with the Indian flag at the center. Carrara marble bas-relief sculptures line the sides of the chapel, depicting the three miracles.
Source:
The Basilica Guidebook, Dr. Geraldine Rohling