Mass Schedules
Livestreaming Sundays at 12:00 pm ET
Sunday Masses
Morning:
7:30 a.m., 9:00 a.m., and 10:30 a.m.
Afternoon:
12:00 noon, 2:30 p.m. (en español), and 4:30 p.m.
Daily Masses (Monday-Saturday)
Morning:
7:00 a.m. and 8:00 a.m.
Afternoon:
12:10 p.m. and 5:15 p.m.
Vigil Mass (Saturday):
4:30 p.m.
Holy Days of Obligation Masses
Mass times vary. Please see individual event pages.
Confession Schedules
Sunday
10:00 a.m. to 12:00 p.m. (Noon)
1:15 p.m. to 2:15 p.m. (En Espanol)
2:30 p.m. to 4:30 p.m.
Monday through Saturday
9:00 a.m. to 12:00 p.m. (Noon)
3:00 p.m. to 5:00 p.m.
No Confessions on:
Easter Sunday, Thanksgiving, Christmas Day, and New Year's Day

2022 Summer Organ Recital Series – Monte Maxwell
August 21, 2022 @ 6:00 pm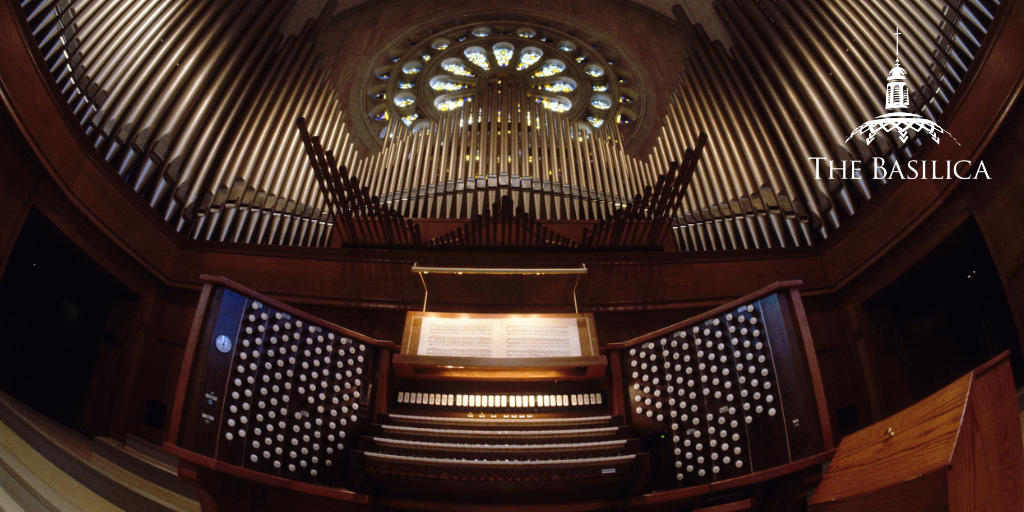 Join the Basilica for the eighth performance in our 2022 Summer Organ Recital Series on August 21 at 6:00 PM in the Great Upper Church. Monte Maxwell of Annapolis, Maryland will perform.
Monte Maxwell
Monte Maxwell, Chapel Organist, Director of Chapel Music and the Midshipmen Symphony Orchestra, began his service at the United States Naval Academy in 1997.
Mr. Maxwell, a native of San Angelo, Texas, earned his Bachelor of Music Degree from Texas Christian University, Fort Worth, studying with Emmet G. Smith. He was then invited to study at the Curtis Institute of Music with John Weaver where he received an Artist Diploma, Curtis' highest degree. Mr. Maxwell earned his Master of Music Degree from the Juilliard School of Music in New York City, also studying with John Weaver. While studying in Philadelphia, Mr. Maxwell was an Associate Organist at the John Wanamaker Store, playing the famed six-manual organ, the largest playing organ in the world.
At the Naval Academy, Mr. Maxwell serves as the principal organist for the Protestant and Catholic services as well as playing for weddings, memorial services, funerals, and performances throughout the year. He commands the five-manual, 268-rank organ in the main chapel, which has recently undergone substantial enhancement under his direction and design. His additional responsibilities include working with the Protestant and Catholic Chapel Choirs, the Protestant Chapel Chorale, the Men's and Women's Glee Clubs, and conducting the annual winter musical theater productions as well as the Naval Academy Midshipmen Symphony Orchestra. He oversees the annual Chapel Organ Concert series which features guest performing artists from across the United States. He has also served as the Chairman of the Naval Academy Music Department and Director of Instrumental Activities.
Mr. Maxwell's annual All Saints' Day Organ Concert has become a staple of the Naval Academy and greater Annapolis cultural community. The standing-room-only event drew some 3,000 people into the Naval Academy Chapel in 1998, breaking all records in attendance for any event throughout the Chapel's history. Due to the popularity of this event, the Academy now offers two ticketed performances of this concert each year. He has performed in the United States, South America, Eastern and Western Europe, and Canada, and is an active member of the American Guild of Organists. In his free time, Mr. Maxwell is an avid roller coaster enthusiast and a member of the American Coaster Enthusiasts.
Related Events