Mass Schedules
Livestreaming Sundays at 12:00 pm ET
Sunday Masses
Morning:
7:30 a.m., 9:00 a.m., and 10:30 a.m.
Afternoon:
12:00 noon, 2:30 p.m. (en español), and 4:30 p.m.
Daily Masses (Monday-Saturday)
Morning:
7:00 a.m. and 8:00 a.m.
Afternoon:
12:10 p.m. and 5:15 p.m.
Vigil Mass (Saturday):
4:30 p.m.
Holy Days of Obligation Masses
Mass times vary. Please see individual event pages.
Confession Schedules
Sunday
10:00 a.m. to 12:00 p.m. (Noon)
1:15 p.m. to 2:15 p.m. (En Espanol)
2:30 p.m. to 4:30 p.m.
Monday through Saturday
9:00 a.m. to 12:00 p.m. (Noon)
3:00 p.m. to 5:00 p.m.
No Confessions on:
Easter Sunday, Thanksgiving, Christmas Day, and New Year's Day

2022 Summer Organ Recital Series – Lisa Mitchell Tyler
August 28, 2022 @ 6:00 pm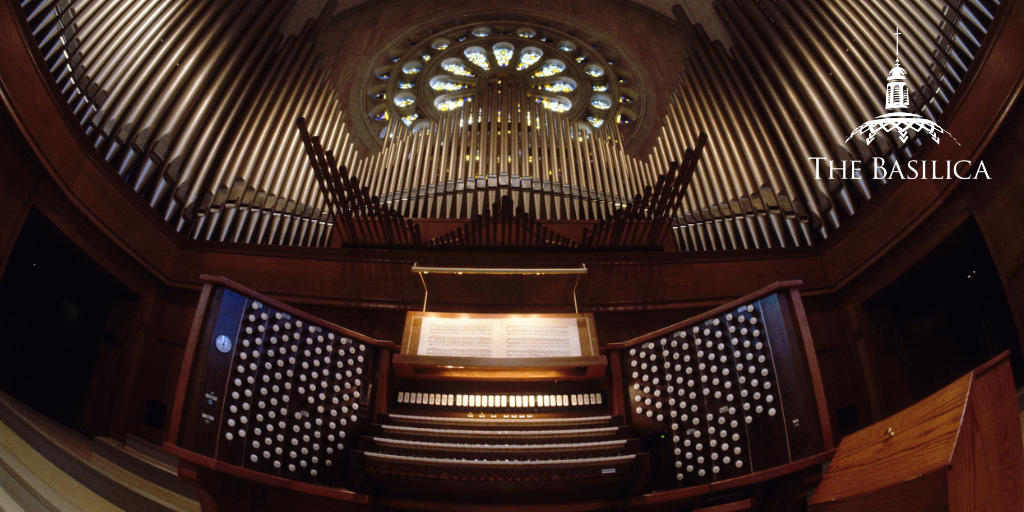 Join the Basilica for the final performance in our 2022 Summer Organ Recital Series on August 28 at 6:00 PM in the Great Upper Church. Lisa Mitchell Tyler of Herndon, Virginia will perform.
Lisa Mitchell Tyler
Lisa Mitchell Tyler is currently serving as Organist/Choir Director at St. Francis Episcopal Church in Potomac, Maryland. Lisa began her organ studies in 1982 with William Neil of the National Symphony Orchestra. She continued her studies at Michigan State University with Corliss Arnold, University of Michigan with James Kibbie, and The Juilliard School with Leonard Raver, organist with the New York Philharmonic. She currently studies with composer/organist Paul Leavitt. She has worked with brass musicians extensively, performing several concerts with Chuck Seipp, former trumpet soloist with The U.S. Army Band. Venues have included National City Christian Church in Washington, D.C., Holy Trinity Catholic Church in Washington, D.C. and St. Andrew the Apostle Catholic Church in Clifton, VA.
In 2017, she performed with trumpeter Phillip Snedecor of the Hartt School of Music at Grace Church in New York City, NY. She has also presented concerts with A. Scott Wood of the Amadeus Concerts at National Presbyterian Church in Washington, D.C.; The Brass of Peace under the direction of Sylvia Alimena at the Franciscan Monastery of the Holy Land, and under their founder Gilbert H. Mitchell at The National Cathedral; and a recital with Jeffrey Work, Principal Trumpet of the Oregon Symphony, at Cherrydale United Methodist Church in Arlington, Virginia. She has performed for the Northern Virginia Chapter of the American Guild of Organists and for the combined D.C. area AGO chapters during the annual Bach Marathon at Chevy Chase Presbyterian Church. She is the recipient of a 2nd place award in the Community Keyboard Division of the Boulder Bach Festival's 2020 World Bach Competition and a Semi-Finalist award in music from the National Foundation for Advancement in the Arts. She lives in Herndon with her husband and two children.
Related Events