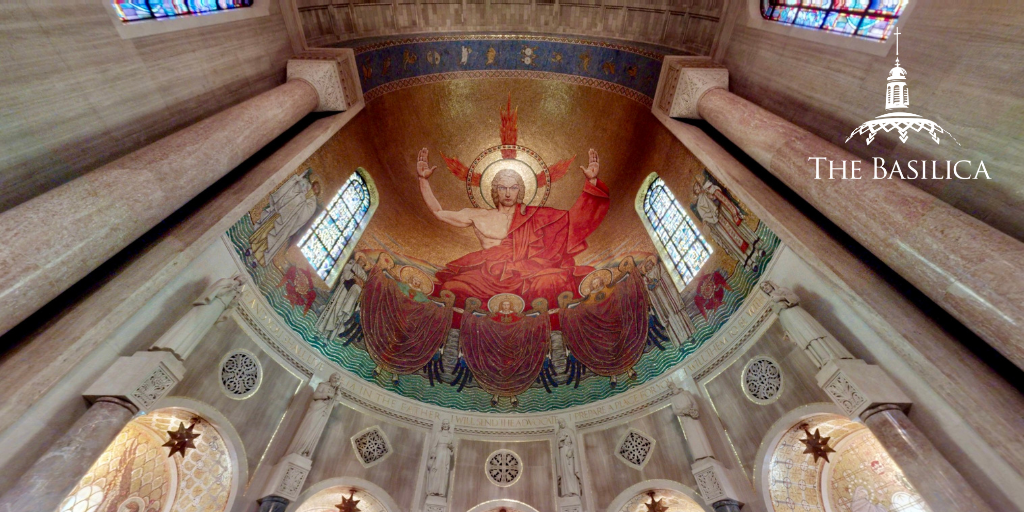 Did you know that the Basilica's mosaics span a combined 93,845 square feet? In early Church history, art played an important role in showing churchgoers what they were unable to read for themselves. Today, the mosaics of the Basilica are still powerful visuals, bringing the truth of the Gospel to life in a tangible way.
We invite you to virtually explore the mosaics of the Great Upper Church and enjoy immersive panoramic views of this breathtaking space.
The Five Domes
The Great Upper Church is composed of five distinctive domes: the Incarnation Dome, the Redemption Dome, the Trinity Dome, the Sanctification Dome, and the Glorification Dome.
These domes form a coherent storyline culminating with the Christ in Majesty mosaic at the end of the North Apse.
Christ in Majesty
The Christ in Majesty mosaic, which dominates the North Apse of the Great Upper Church, is one of the largest mosaic images of Jesus Christ in the world, measuring 34 feet from hand to hand. Featuring more than 4,000 shades and colors, the mosaic is inspired by Isaiah 63:1-2:
"Who is this that comes from Edom,
in crimsoned garments, from Bozrah?
Who is this, glorious in his apparel,
striding in the greatness of his strength?
'It is I, I who announce vindication,
mighty to save.'
Why is your apparel red,
and your garments like one who treads the wine press?" 
St. Joseph the Worker
Located in the vault of the East apse, this mosaic is 3,570 square feet in size and depicts St. Joseph with the Child Jesus.
The Woman Clothed with the Sun
Located opposite the St. Joseph the Worker mosaic in the vault of the West apse is the Woman Clothed with the Sun. Identical in size to its counterpart, this mosaic features imagery that was inspired by Revelation 12:1:
"A great portent appeared in heaven: a woman clothed with the sun, with the moon under her feet, and on her head a crown of twelve stars."
The Creation
Found in the East Transept of the Great Upper Church, the Creation mosaic displays the six days of creation, with Adam and Eve at the center, coming from God's hand. Underneath them, an embryo symbolizes the generations that are to follow them.
The Second Coming
Found in the West Transept of the Great Upper Church, the Second Coming mosaic shows Christ in clouds of glory, reaching out to us on earth. He is flanked by the known saints on the right, and the unknown saints on the left, while distorted persons in blue and green represent those who have rejected Christ.
The Immaculate Conception
This mosaic was a gift of Popes Benedict XV and Pius XI and contains 250,000 pieces of natural stone in 35,000 different hues, sanded smooth to resemble a painting. Taking more than five years to create, it is based on a famous oil painting by the Spanish artist Bartolomé Esteban Murillo, La Purísima Bionda.
Source:
The Basilica Guidebook, Dr. Geraldine Rohling