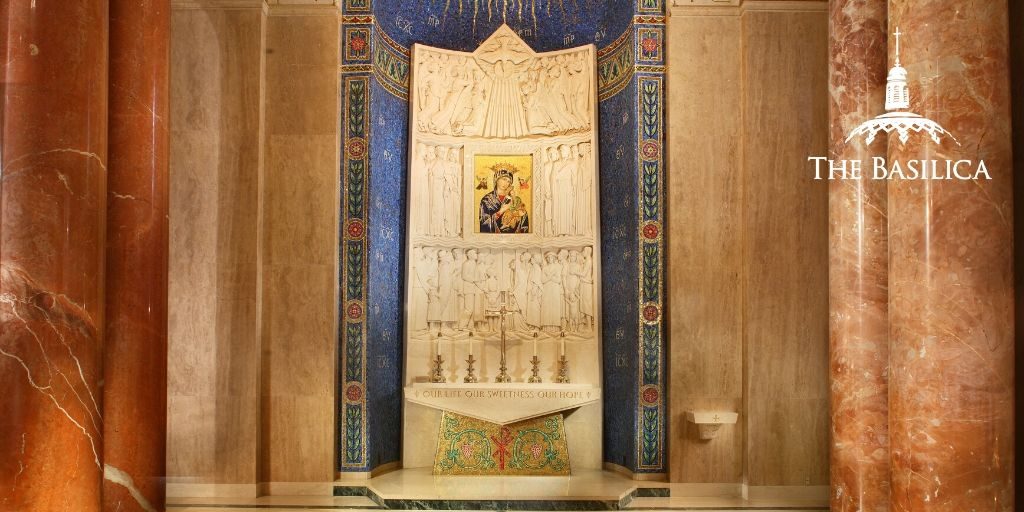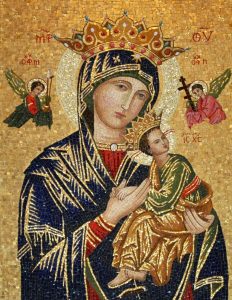 June 27 is the feast day of Our Mother of Perpetual Help, who is known for miracles and answers to prayer. It is associated with a 15th-century Byzantine icon of the Madonna and Child, which is copied in mosaic in the Our Mother of Perpetual Help Chapel in the Basilica.
History of the Devotion
The tradition of Our Mother of Perpetual Help is traced back to 1495. Stolen from a Cretan monastery by a wine merchant a few years after its creation, it was brought to the church of St. Matthew in Rome. For 300 years, it resided at the church, and even survived the church's destruction by Napoleon's army in 1798.
88 years later, Pope Pius IX gave the icon to the Redemptorist congregation at the Church of Saint Alphonsus, where it remains today.
Mother of Perpetual Help at the Basilica
The Mother of Perpetual Help Chapel in the Basilica features a mosaic reproduction of the Mother of Perpetual Help icon. Mary comforts the Child Jesus as he turns in fear from the Archangels Michael and Gabriel, who brandish the instruments of the passion. Surrounding the icon are Botticino reredos depicting saints including Alphonsus Liguori and Luke the Evangelist.
Prayer to Our Mother of Perpetual Help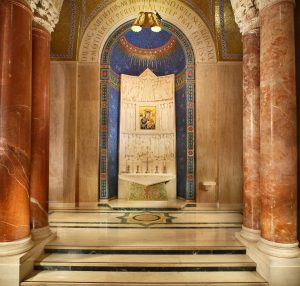 O Mother of Perpetual Help, grant that I may ever invoke your most powerful name, which is the safeguard of the living and the salvation of the dying.

O Purest Mary, O Sweetest Mary, let thy name henceforth be ever on my lips.

Delay not, O Blessed Lady, to help me whenever I call on you, for, in all my needs, in all my temptations I shall never cease to call on you, ever repeating thy sacred name, Mary, Mary.

O what consolation, what sweetness, what confidence, what emotion fill my soul when I pronounce your sacred name, or even only think of you.

I thank God for having given you, for my good, so sweet, so powerful, so lovely a name.

But I will not be content with merely pronouncing your name: let my love for you prompt me ever to hail you, Mother of Perpetual Help. Amen.
---
Light a Candle at the Basilica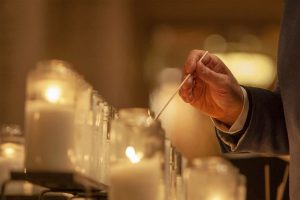 In honor of Our Mother of Perpetual Help, we invite you to light a candle today at the Basilica. Vigil candles burn in the chapels throughout the Upper Church and lower crypt level of the National Shrine. Each candle represents the faith of the supplicants and their fervent prayers entrusted to the intercession of the Blessed Mother.