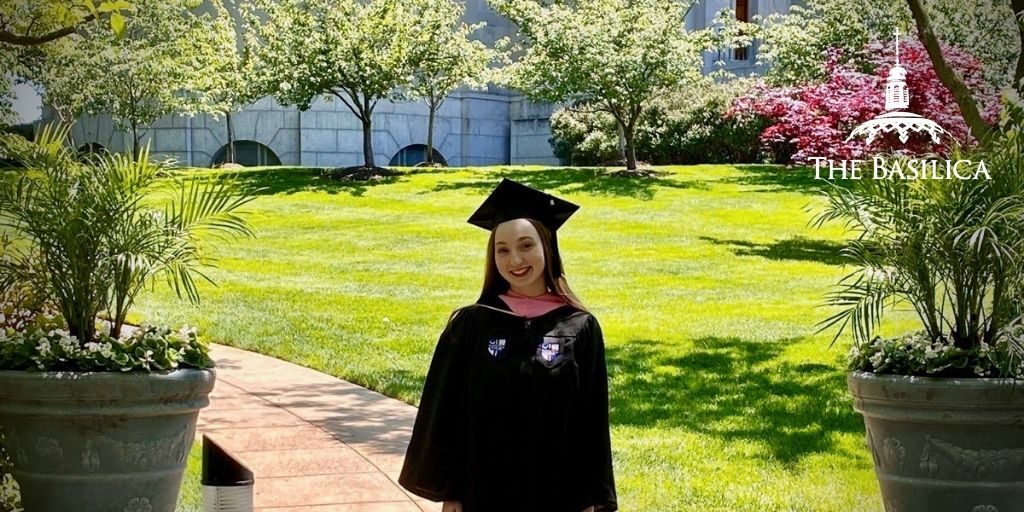 When Sophia first visited the Basilica on an elementary school field trip, she had no idea how significant of a role it would play in her life. Growing up in Maryland allowed her to visit frequently, and when it was time to pick a college, she chose Catholic University of America (CUA) in part because of its proximity to the Basilica.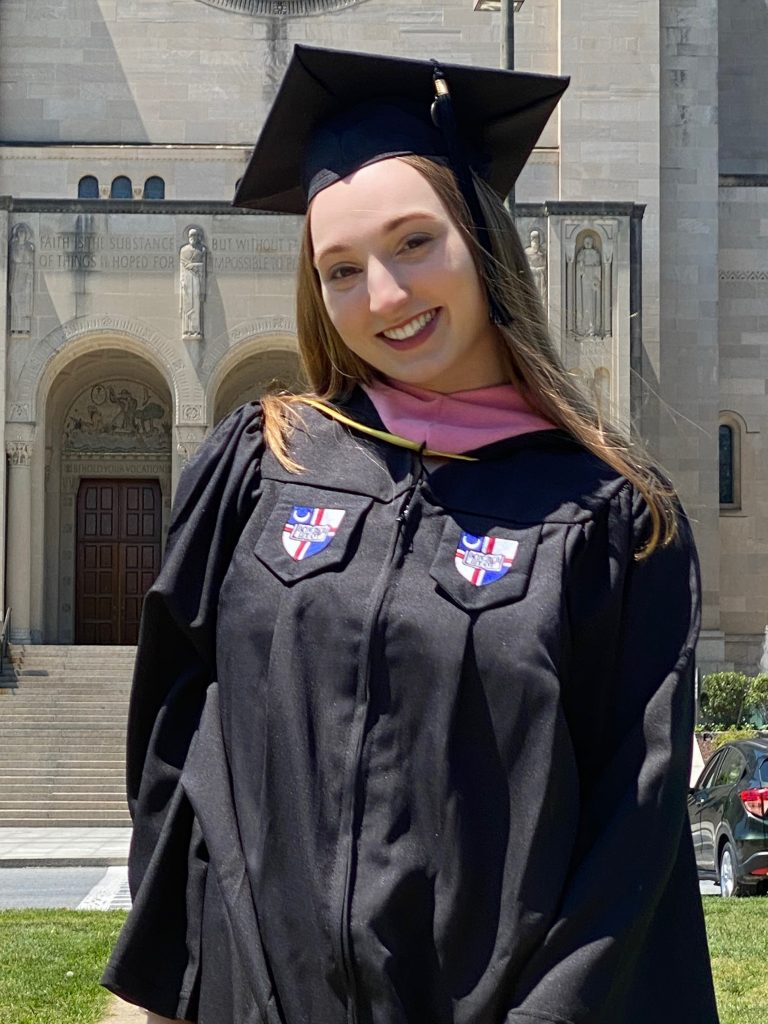 Sophia was involved with the Basilica throughout her time at CUA as a Vocal Performance major and she continues to be active in the life of the church. From cantoring for CUA Masses to working as a switchboard receptionist, gift shop sales associate, and now a donor relations associate, she has served in various capacities at "America's Catholic Church."
Today, Sophia shares about her experience as a musician and employee at the Basilica and how it has impacted her life.
How did you first become interested in music? Tell us a little about your musical background and aspirations.
I have always loved music and first started singing in my church children's choir when I was seven years old. Later, I began taking voice lessons and joined the Peabody Children's Choir. Through Peabody I had the privilege of singing at St. Peter's Basilica in Vatican City, and was in a production of Leonard Bernstein's Mass at the Kennedy Center with the Baltimore Symphony Orchestra. From there I continued singing chorally, but also became interested in opera and musical theatre. It wasn't until college that I returned to sacred music, cantoring regularly at school Masses and parishes in the D.C. area. This sparked my desire to pursue a career in sacred music, and I continue to sing for Masses to this day!
How have you been involved musically at the Basilica? What do you most enjoy about music at the Basilica?
I have cantored for the St. Thomas Aquinas and Holy Spirit Masses broadcast on EWTN, as well as the 4:00 p.m. CUA Mass. I also had the privilege of singing in four Christmas concerts at the Basilica. It's truly been a pleasure to sing in such an extraordinary space, and to work with the Basilica's organists Ben and Andrew. Singing here has taught me how to be a better cantor and musician in general.
What pieces of music are most meaningful to you, and why?
Two incredibly meaningful works for me are the Allegri "Miserere Mei" and Rachmaninoff's "Ave Maria." These two works exude the beauty and transcendence of sacred choral music, reminding me why I chose to pursue music as a vocation. Sacred musicians can have an immeasurable impact on the hearts and minds of the faithful, bringing them ever closer to God. That's why I love being a musician – because I can bring peace and healing to others in their time of need.
What is your favorite place in the Basilica? Is there a spot that has special meaning for you?
The Our Lady of Lourdes Chapel and the Our Lady of Pompei Chapel are my two favorite places in the Basilica. The recreation of the grotto in the Our Lady of Lourdes Chapel with the illumination of the candlelight in the dark room creates the perfect setting for meditation and prayer. And the star-filled "sky" and Italian mosaic of the Our Lady of Pompei Chapel are simply breathtaking.
As a music major, my life was often hectic, and I found that going to reflect in some of my favorite chapels in between classes helped me re-center. I think the Basilica reaches college students particularly because it transports them to a place of serenity and peace amidst the constant stress of college life.
What role has the Basilica played in your life? What is the most rewarding aspect of your involvement at the Basilica?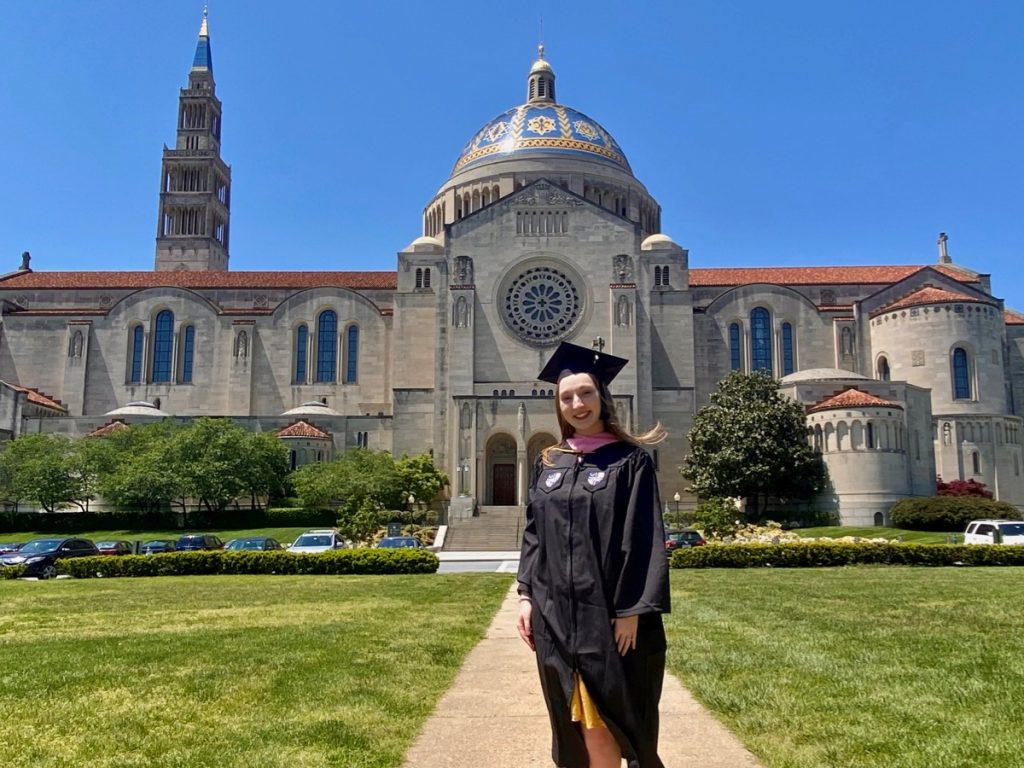 Singing and working at the Basilica have been such a blessing throughout my college career and beyond. The staff are wonderful and have provided me with so many opportunities to work and serve here in the Shrine.
The most rewarding aspect of my involvement at the Basilica is being able to work in such an incredible space that serves as a pilgrimage site for individuals from all over the world. The beauty of the Basilica is unparalleled, and I feel so blessed to be surrounded by it every day. I take great pride in knowing that my work helps create an impactful, spiritual experience for our visitors.