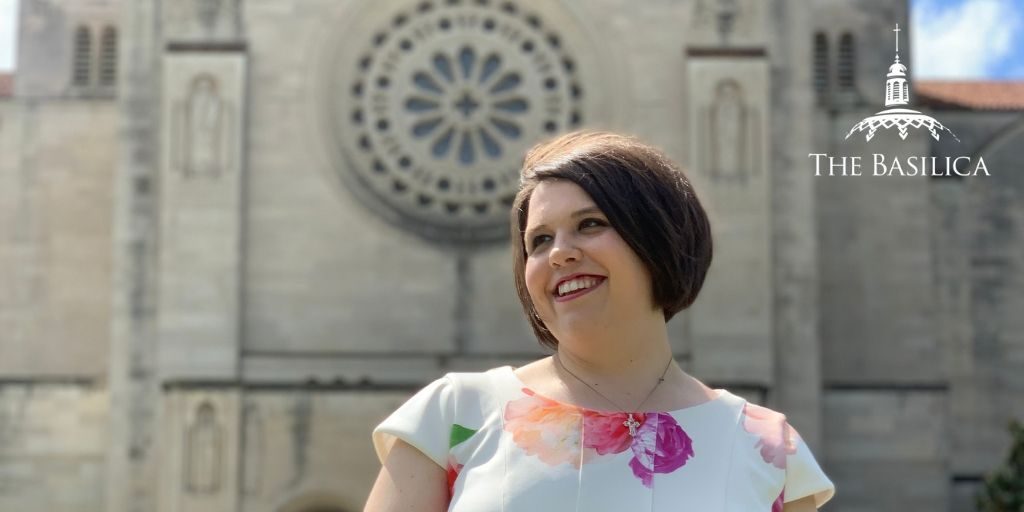 Legend Alexandra Thurman has served for over five years as a volunteer in various capacities at the Basilica. Though she is currently completing her graduate degree at the Royal Veterinary College in England, she continues to be involved in the work of the Basilica. Today, she shares her story, and just why the Basilica remains so significant in her life.
When I first came to Washington, D.C. to tour Catholic University of America (CUA) for my undergrad, I was immediately attracted to the beauty and splendor of the Shrine, which is adjacent to my school. Little did I know that my life would change drastically in the five years that followed. After I began attending CUA, the Basilica announced they were looking for volunteers to fill in various capacities; so I emailed the Liturgy Director and asked: "Is there a limit to the number of things I can do?" Within the next few months, I had officially volunteered and was commissioned as an altar server, lector, and Extraordinary Minister of Holy Communion. You would find me every Sunday at the 9:00 a.m. Mass as well as at about four or five 8:00 a.m. weekday masses…but now, when I am home, you will find me at almost all of them on a Sunday. This was only the beginning.
"Daughter of the Shrine"
A few years later, the Basilica was looking for a part-time switchboard receptionist, and with my background in my old parish, I thought that it would be a good fit. Every Saturday morning and Sunday afternoon, and sometimes, all day on both weekend days, I would come in to the Shrine and "work." Honestly though, I have never seen my involvement at the Basilica as work. As I got to know the full-time staff, they expressed an interest in having me in other departments. Since then, I have been involved in Liturgy, Pilgrimage, Visitor Services, and numerous other departments. At the time of my college graduation, I had been involved in preparations for the 2015 Papal Visit by Pope Francis, the Installation of the Trinity Dome, and so much more.
Considering that I study in England, you may be wondering how the Shrine still remains so central in my life. During my summer breaks in college, I remained in D.C. and continued to volunteer at the Basilica instead of returning to Pennsylvania. Now, I seize every possible opportunity to come home to D.C., and to the Shrine. These past Christmas and Easter holidays, I was in the building almost every day either working, decorating, or simply having fun. One of my nicknames both at CUA and now in London is the "Daughter of the Shrine."
The Basilica Family
I have built relationships with so many people at the Shrine that I couldn't ever imagine life without them. The Basilica truly gave me family members I never thought I would have, with whom I have shared joy, laughter, tears, and love. For family is not defined by blood, and as far as I am concerned, I have the best family and most beautiful home in the world.
During the completion of the Trinity Dome, right before the workers put the mosaic tiles on the foundation, the entire staff of the Shrine had the opportunity to sketch their names in the stone. This was a very heartfelt moment knowing that we, as a Shrine family, worked together along with the generosity of so many benefactors and donors across the United States to see the completion of this crowning jewel of the National Shrine dedicated to Our Lady. Underneath the breathtaking images of the Holy Trinity and our Blessed Mother are all the people who put their minds, hearts, and strength into this place to signify that everything we do here is for God and his people.
The National Shrine: A Beacon of Hope
During these past five years, people have asked why I am "so religious now" and where my desire to work and volunteer comes from. Being raised Catholic, I always practiced my faith regularly, but the passion to serve Christ and his flock came from my theological education and experiences at CUA and the National Shrine. We live in a society today where external distractions prevent us from serving God and his people and personal pride gets in the way of us extending kindness to those all around us, especially to the most vulnerable in society. But during Mass, my eyes are constantly opened.
This phenomenal place is more than just America's Catholic Church; it is a beacon of hope for all those who want to grow closer to God and experience spiritual comfort and tenderness.
It is a place where you can come and share your own personal triumphs and sorrows or simply strengthen your faith. It has become my personal home in the heart of our nation's capital and a constant reminder of the many gifts God gives us on a daily basis. For God truly gives us what we need, and I am proud to be a daughter of Christ and a daughter of the Shrine.