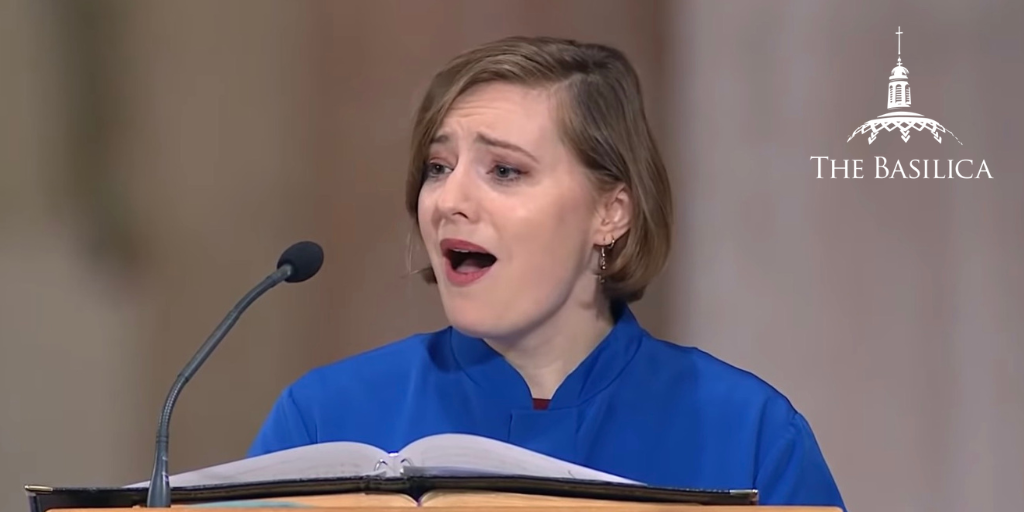 Award-winning vocalist Crossley Hawn has sung with the Basilica for over a decade, uplifting countless audiences with her clear voice and keen musical sensitivity. During her tenure here, she has achieved a number of significant milestones – from singing for presidents and performing on a Grammy-award winning recording to meeting her husband in the choir! A self-described "vocal chameleon," Crossley wears a variety of musical hats, singing everything from jazz and pop to opera and early classical styles. Here at the Basilica, she's performed under the batons of Dr. Leo Nestor and Dr. Peter Latona, serving as staff soprano.
In today's Faces of the Basilica post, Crossley shares about her vocal career, how she first became involved at the Basilica, and what it means in her life.
Can you tell us a little about yourself? How did you first become involved at the Basilica?
I am a freelance singer, living in Maryland and working throughout the D.C. area. I grew up on a farm in Loudoun County, Virginia, riding horses and singing every opportunity I had, which was mostly putting on concerts for the farm animals and my family. I sang in choirs all through school and started voice lessons at 12 years old. I was fortunate to sing with a wonderful church choir and a stellar high school choir program. At 17, I participated in the Washington National Opera's Institute for Young Singers, which was held at The Catholic University of America, through which I participated in a master class with opera singer/CUA professor Sharon Christman. Upon graduation from high school, I moved to the big city to attend The Catholic University of America to study opera with Sharon, and to minor in theology. I sang in multiple choirs under the direction of Dr. Leo Nestor, and frequently participated in concerts and Masses in the Basilica's Great Upper Church and Crypt Church throughout my undergrad years. I knew I wanted to stay in the DC area, and auditioned for the Choir of the Basilica immediately upon graduation, in May of 2010, and fortunately, Dr. Latona was looking for a staff soprano at the time.
You met your husband in the Basilica Choir – would you like to share the story of how you got together?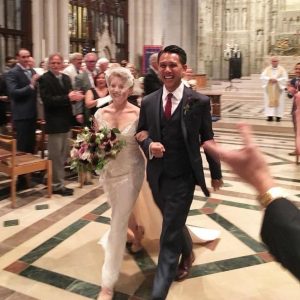 I first saw Allan in 2012 when he subbed at the Shrine, and the thing I remember about him was his smile. It was so warm and open and sincere that it stayed with me, even when I had no idea what his name was. Allan later joined the choir as a staff bass in 2013. I was in a relationship at the time, but I would frequently catch him looking at me during Mass, so while I knew he was interested, we started out as friends. My relationship eventually ended in August of 2013, and after that, two of my soprano partners (and best friends) started taking bets on how long it would take for Allan and me to start dating. I told them they were crazy and that I was determined to be a single, independent woman! They were of course correct to take bets, and over the next four months, Allan did an impressive tightrope dance of being present in my life and staying on my radar without crowding me or interfering with my quest for singledom. Around Christmastime, he sent me a recording of a song he'd written and performed for me, and my single status was a lost cause after I heard it. We started dating at the end of 2013 and got engaged in 2016.
What do you most enjoy about singing for the Basilica?
Over the years, the Shrine has become something of a second home for me. I have spent a lot of time there, between my jobs in the choir, canting, working as choir manager, and in other various administrative positions over the years. The space is magnificent of course, and the music and choir are incredibly high quality, but my favorite thing about singing for the Basilica is, hands down, the people. I have met my husband and my very best friends at the Shrine. Many of my Shrine colleagues are like family to me, and I love them dearly. It's a true gift that I can go to work and spend time with some of my favorite people.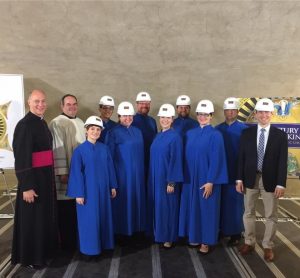 You sing in a variety of styles – everything from medieval canticles to classic jazz and sacred music. What's your preferred style to sing and why?
Variety is the spice of life. I would be unfulfilled as an artist performing in only one style of music, and I'm lucky that I have occasion to put on many different musical hats in my career. I grew up singing pop and rock music, knowing very little of the classical world until I started voice lessons in middle school. Throughout high school, I became interested in pursuing opera, because that's a real way to have a career in music, and my voice seemed to fit it well. I studied opera in undergrad, and really enjoyed it (especially being on stage and acting), but my favorite music-making experiences occurred in chamber choir. I loved the sound world of early and sacred music and connected with it more than I did most opera, so after graduating, I went in that direction with my career. As a homebody and an introvert, I did not have the personality for a serious career in opera, and I didn't have the desire to be constantly auditioning, competing, traveling and hustling. Fortunately, D.C. is an early music haven, and I've been blessedly busy and fortunate in my career here. I've always been a bit of a vocal chameleon, and it's important to me to continue singing in the style of my contemporary/jazz roots, even when most of my professional gigging is Medieval, Renaissance and Baroque music.
Outside the Basilica, you've performed in a wide range of roles and venues – can you share some highlights with us?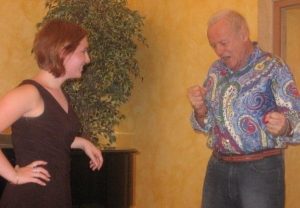 CUA's opera program is stellar, and in my time there, I was fortunate enough to perform six or seven lead roles. My favorite was Susanna in Le Nozze di Figaro. I felt like that role fit like a glove.
In 2009, I went with some folks in my opera program to Italy to do master classes and performances. By some happy coincidence, we happened to be staying in a hotel in Perugia with Sir Anthony Hopkins,  who also happened to be my favorite actor. We would dine with him in the mornings, trying to keep our composure, and eventually, after being invited, he popped into one of our masterclasses. I performed a duet and an aria for him, and I don't think I've ever been more nervous in my life. I'm sure I sounded dreadful…I could hardly breathe. He got up, and talked about life in show biz, and looked at me and winked and said, "You've got it." I'm positive he says this to everyone in these situations, but it still made me swoon.
In 2021, a recording I performed on and project-managed (fundraising, donor relations, press relations) with NY-based Experiential Orchestra won a Grammy! This was a very exciting achievement, made more thrilling by the fact that it was a premiere recording of female composer Dame Ethel Smyth's work The Prison. Smyth was a suffragette and a brave advocate of female rights in the early 1900's, and I was proud to be part of getting this amazing work out there for the world to hear.
What impact has the Basilica had on your life?
The Basilica has had more of an impact on me than I can possibly express. It's where I met my husband, where I've forged my deepest friendships, where I have made countless professional connections, and where I do my best to bring people deeper into the faith through song. What greater gift is there? I've always believed that we are given gifts from God in order to give those gifts away to others, for and through Him.