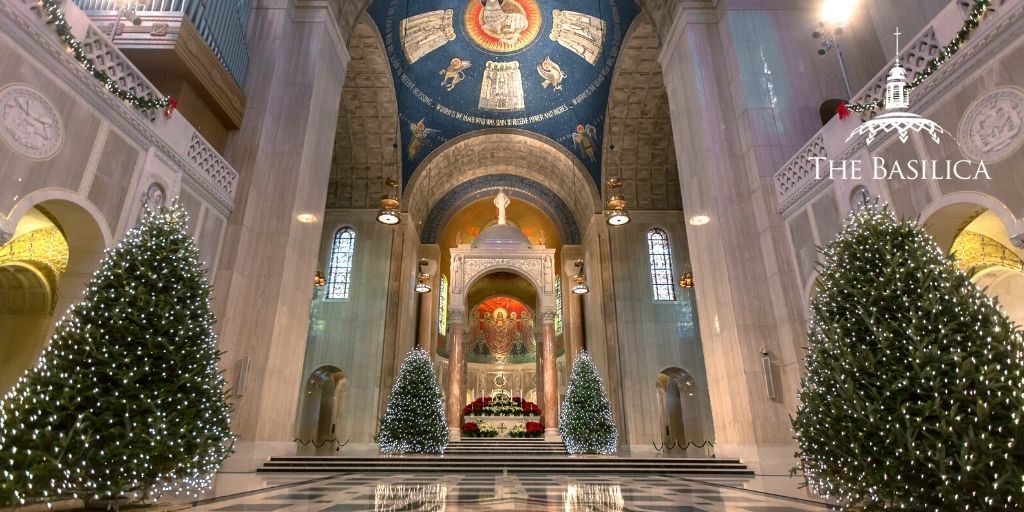 "[And the angel said] 'For today in the city of David a savior has been born for you who is Messiah and Lord'…And suddenly there was a multitude of the heavenly host with the angel, praising God and saying: 'Glory to God in the highest and on earth peace to those on whom his favor rests.'" – Luke 2:11, 13-14
Though our celebration of the Advent and Christmas seasons looks different this year, our reason to rejoice remains constant: the Messiah has been born! We may face trials and sorrows, but we rejoice in Christ our Savior, who brings restoration and hope. Learn more about how we are celebrating at the Basilica this year, virtually and in-person.
Each Sunday of Advent – Mass and Vespers
As we anticipate the birth of the Messiah, join us for Mass, livestreamed each Sunday of Advent at 12 p.m., and at 2:30 p.m. in Spanish. Vespers will also be livestreamed at 4:00 p.m. each Sunday of Advent.
Download Our Advent Devotionals
This weekly presentation of writings, both ancient and new, offers individuals and families the opportunity to pause for a moment of spiritual preparation for the Nativity of Our Lord. Each Sunday of Advent, a new booklet will be added to this page.
December 8 – Solemnity of the Immaculate Conception
We invite you to join us in celebrating our Patronal Feast Day, the Solemnity of the Immaculate Conception.  Masses will be celebrated at 8 a.m. and at 12 p.m.  Archbishop Christophe Pierre, Apostolic Nuncio to the United States, will be the principal celebrant and homilist of the noon Mass which will be livestreamed and broadcast on EWTN.
December 24 – Choral Meditations on the Nativity and Solemn Mass on Christmas Eve
Listen as the musicians of the Basilica glorify God through song, with musical meditations on the Nativity. The yuletide program will include music from Basilica carillonneur Robert Grogan, Basilica organists Benjamin LaPrairie and Andrew Vu, and the Choir of the Basilica.
December 25 – Solemn Mass on Christmas Day
Rejoice with us as we celebrate the birth of our Savior! Solemn Noon Mass and Solemn Spanish Mass at 2:30 will be livestreamed on the Basilica website.
December 25 – Christmas Dinner
Each year, the Basilica provides meals for those who are alone or in need living in the District of Columbia and surrounding areas on Christmas Day. Though there will be no in-person meal this year, meals are available for pickup or delivery. Please make sure to reserve your meal by December 18. Volunteers are also needed to prepare and deliver meals.