Sunday Masses
Vigil:
5:15 p.m. (Saturday)
Morning:
7:30, 9:00, 10:30
Afternoon:
12:00 (Solemn Liturgy), 1:30 (en español),
4:30
Daily Masses (Monday-Saturday)
Morning:
7:00, 7:30, 8:00, 8:30
Afternoon:
12:10 and 5:15
Holy Days of Obligation Masses
Vigil Mass: 5:15 p.m.
Morning:
7:00, 7:30, 8:00, 8:30, 10:00
Afternoon:
12:00 and 5:15
Confession Schedules
Sunday
10:00a.m. to 12:00p.m.
12:30p.m. to 1:30p.m. (en español)
2:00p.m. to 4:00p.m.
Monday to Saturday
7:45a.m. to 8:15a.m.
10:00a.m. to 12:00p.m.
3:30p.m. to 6:00p.m.
No Confessions on:
Easter Sunday, Thanksgiving, Christmas Day, and New Year's Day

Choral Meditations on the Nativity and Solemn Mass on Christmas Eve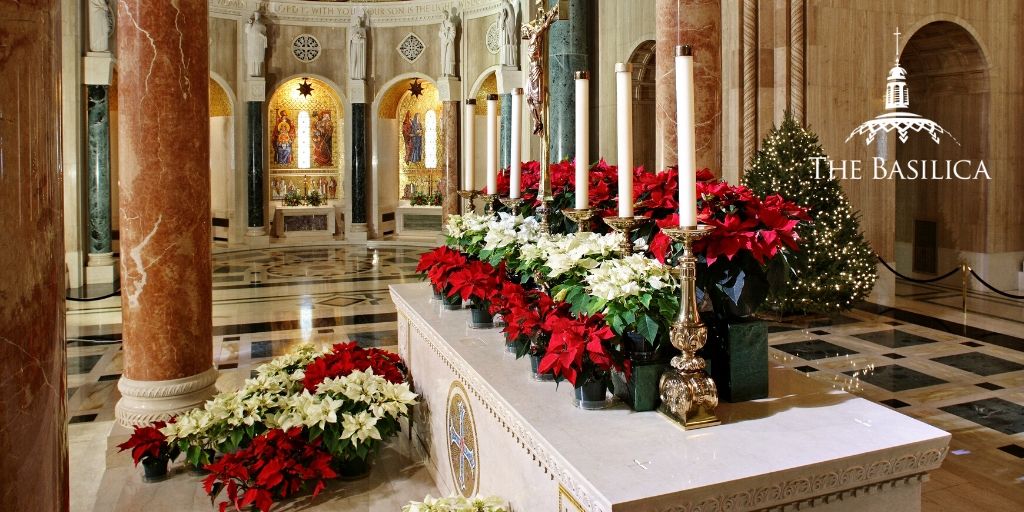 The Basilica of the National Shrine of the Immaculate Conception invites you to join us on December 24, as we celebrate the birth of our Lord and Savior, Jesus Christ.
9:00 p.m. – Musical Meditations on the Nativity in the Great Upper Church with music from the Knights Tower Carillon by Basilica Carillonneur Robert Grogan and from the Gallery Organs by Basilica Organists Benjamin LaPrairie and Andrew Vu.
10:00 p.m. – Choral Meditations on the Nativity – Great Upper Church
10:30 p.m. – Solemn Vigil Mass on Christmas Eve – Great Upper Church
Related Events