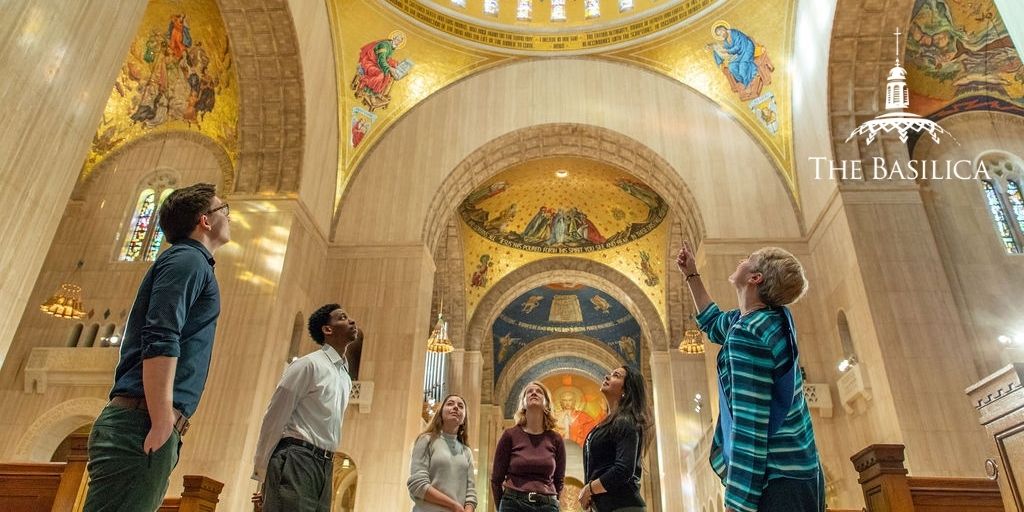 Interested in visiting the Basilica this summer, but not sure what to do? Whether you enjoy sacred art and music, or are looking for a quiet place to pray, there are endless opportunities. But with over 80 chapels and oratories to explore, it can be difficult to know where to start.
That's why we're here.
Here are five things you can do and see at the Basilica this summer.
1. Discover the Basilica Gardens
During the summer months, the peaceful gardens of the Basilica are brimming with vibrant blooms and lush foliage. Walk along the terrace of Mary's Garden to the Magnificat Fountain, or sit by the reflecting pool and contemplate the Scripture passages inscribed in the stone. In the Rosary Garden, you can admire the flowers and pray through each of the Mysteries as you gaze on the colorful mosaics depicting each one.
2. Learn about Marian Traditions from Around the World
Did you know that the Basilica not only honors Mary as the patroness of the United States, but celebrates Marian traditions from around the world? With over 80 chapels and oratories dedicated to the Blessed Mother under various titles, visitors can learn about popular Marian traditions such as Our Lady of Guadalupe and Our Lady of Lourdes, or other devotions like Our Lady of Ta'Pinu.
3. Be Inspired by Uplifting Sacred Music
Every Sunday during July and August, the Basilica hosts organ recitals at 6:00 p.m. featuring the Basilica's own organists as well as acclaimed guest organists from across the U.S. and Canada. Not only can you hear some of the finest sacred and classical repertoire on the majestic organs of the Basilica, but you'll also have the chance to hear the beloved Knights Tower Carillon performed by Dr. Robert Grogan, our Carillonneur and Organist Emeritus, in a prelude before each performance.
And the best part? All performances are free! View calendar.
4. See a Dazzling Array of Stained Glass
The stained glass of the Basilica never shines brighter than when it's illuminated by the golden rays of the summer sun. Admire the kaleidoscope of colors in the Basilica's stained glass – from the depictions of Christ and Mary in the Nave Clerestory windows to the Rose windows that grace the west and east transepts and south gallery. You also won't want to miss the smaller gems like the Eva (Eve) and the Tree of Life and Queen Esther windows.
5. Explore the National Shrine Shops
At the National Shrine Shops, you can browse sacred jewelry and rosaries, books, home décor, and more. Whether you're looking for a gift for a friend or buying for yourself, there's something for everyone – from St. Michael socks to Our Lady of Lourdes lotions! And every purchase you make helps support the mission and ministry of the National Shrine.