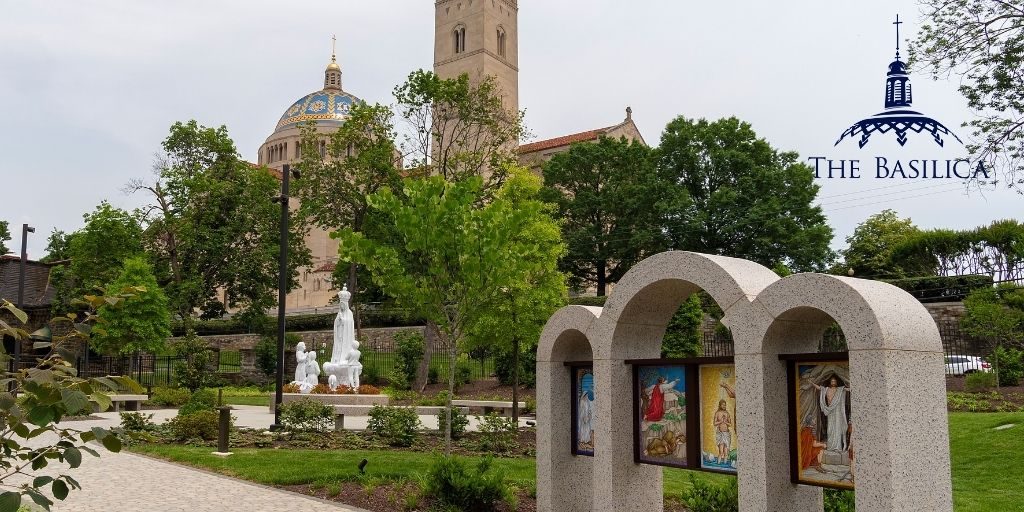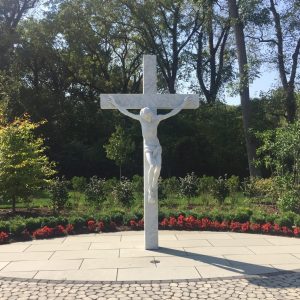 Completed in 2017, the Rosary Walk and Garden provides a peaceful space for prayer and meditation outside the Basilica. Its art includes marble sculptures of Our Lady of Fatima and Christ Crucified, along with the Joyful, Sorrowful, Glorious, and Luminous Mysteries of the Rosary depicted in vibrant mosaic detail. Explore the contemplative beauty of the Rosary Garden in this post.
Marble Statues
Upon entering the Rosary Garden, visitors are greeted by a Carrera marble statue of Our Lady of Fatima with the three shepherd children to whom she appeared, Lúcia dos Santos, Francisco Marto, and Jacinta Marto. Another marble statute stands at the lower west side of the garden, depicting the crucified Christ and forming the beginning and end of the Rosary. Both statues were designed by Rambusch Decorating Co. and crafted by Franco Cervietti Studios in Pietrasanta, Italy.
Design of the Garden
The walkway of the Rosary Garden is designed to resemble a rosary strand with beads. Its path winds to five different granite arches, with each arch containing a set of one decade of the Rosary. Each set of mysteries has a different-colored bordered: the Joyful, blue; the Sorrowful, purple; Luminous, white; and Glorious, gold. The mosaics were designed by David Gavasheli, and created by Artistic Mosaics by Travisanutto of Spilimbergo, Italy.
The First Arch
The first arch contains the Annunciation to Mary, the Agony of Christ in the Garden, the Baptism of Christ by John, and the Resurrection.
The Second Arch
The second arch depicts the Visitation of Mary, the Scourging at the Pillar, the Wedding Feast at Cana, and the Ascension of the Lord.
The Third Arch
The third arch displays the Nativity, the Crowning with Thorns, the Proclamation of the Kingdom of God, and the Coming of the Holy Spirit.
The Fourth Arch
The fourth arch features the Presentation at the Temple, the Carrying of the Cross, the Transfiguration of Jesus, and the Assumption of Mary.
The Fifth Arch
The fifth arch displays the Finding of Jesus in the Temple, the Crucifixion, the Institution of the Eucharist, and the Coronation of Mary.
"Let us Pray, O God, whose only begotten Son, by His life, death, and resurrection, has purchased for us the rewards of eternal salvation. Grant, we beseech Thee, that while meditating on these mysteries of the Most Holy Rosary of the Blessed Virgin Mary, that we may both imitate what they contain and obtain what they promise, through Christ our Lord. Amen." – Rosary Prayer