Mass Schedules
Sunday Masses
Vigil:
5:15 p.m. (Saturday)
Morning:
7:30, 9:00, 10:30
Afternoon:
12:00 (Solemn Liturgy), 1:30 (en español),
4:30
Daily Masses
Morning:
7:00, 7:30, 8:00, 8:30
Afternoon:
12:10 and 5:15
Holy Days of Obligation Masses
Vigil Mass: 5:15 p.m.
Morning:
7:00, 7:30, 8:00, 8:30, 10:00
Afternoon:
12:00 and 5:15
Confession Schedules
Sunday
10:00a.m. to 12:00p.m.
12:30p.m. to 1:30p.m. (en español)
2:00p.m. to 4:00p.m.
Monday to Saturday
7:45a.m. to 8:15a.m.
10:00a.m. to 12:00p.m.
3:30p.m. to 6:00p.m.
No Confessions on:
Easter Sunday, Thanksgiving, Christmas Day, and New Year's Day

November 2019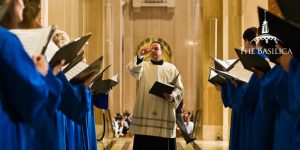 Join us for this special choral concert for the Commemoration of All Souls. Repertoire to be announced.
Find out more »
+ Export Events