Sunday Masses
Vigil:
5:15 p.m. (Saturday)
Morning:
7:30, 9:00, 10:30
Afternoon:
12:00 (Solemn Liturgy), 1:30 (en español),
4:30
Daily Masses (Monday-Saturday)
Morning:
7:00, 7:30, 8:00, 8:30
Afternoon:
12:10 and 5:15
Holy Days of Obligation Masses
Vigil Mass: 5:15 p.m.
Morning:
7:00, 7:30, 8:00, 8:30, 10:00
Afternoon:
12:00 and 5:15
Confession Schedules
Sunday
10:00a.m. to 12:00p.m.
12:30p.m. to 1:30p.m. (en español)
2:00p.m. to 4:00p.m.
Monday to Saturday
7:45a.m. to 8:15a.m.
10:00a.m. to 12:00p.m.
3:30p.m. to 6:00p.m.
No Confessions on:
Easter Sunday, Thanksgiving, Christmas Day, and New Year's Day

Solemnity of the Most Holy Body and Blood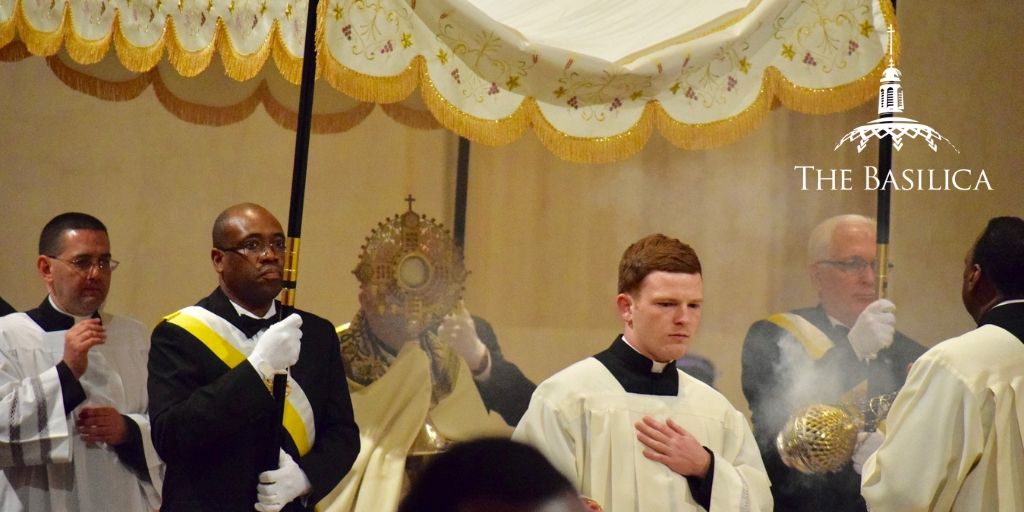 On Sunday, June 23, the Basilica will celebrate the Solemnity of the Body and Blood of Christ (Corpus Christi). The Holy Sacrifice of the Mass will take place at the following times:
Vigil (Saturday):
5:15 p.m.
Morning:
7:30, 9:00, 10:30
Afternoon:
12:00 (Solemn Liturgy), 1:30 (en español), 4:30
At the end of the 12 Noon Mass, the faithful will participate in the time-honored tradition of a Eucharistic Procession.
Related Events