Sunday Masses
Vigil:
5:15 p.m. (Saturday)
Morning:
7:30, 9:00, 10:30
Afternoon:
12:00 (Solemn Liturgy), 1:30 (en español),
4:30
Daily Masses (Monday-Saturday)
Morning:
7:00, 7:30, 8:00, 8:30
Afternoon:
12:10 and 5:15
Holy Days of Obligation Masses
Vigil Mass: 5:15 p.m.
Morning:
7:00, 7:30, 8:00, 8:30, 10:00
Afternoon:
12:00 and 5:15
Confession Schedules
Sunday
10:00a.m. to 12:00p.m.
12:30p.m. to 1:30p.m. (en español)
2:00p.m. to 4:00p.m.
Monday to Saturday
7:45a.m. to 8:15a.m.
10:00a.m. to 12:00p.m.
3:30p.m. to 6:00p.m.
No Confessions on:
Easter Sunday, Thanksgiving, Christmas Day, and New Year's Day

20th Annual Healing Mass and Pilgrimage in Honor of Our Mother of Miracles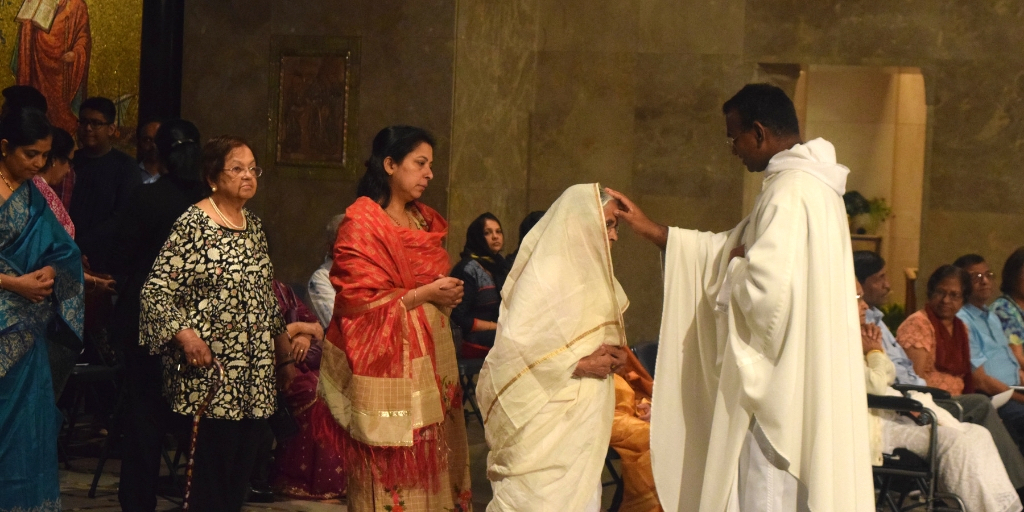 The Mother of Miracles Pilgrimage will take place on May 25, 2019 at 12:30 p.m in the Crypt Church at the Basilica of the National Shrine of the Immaculate Conception. Join us for this Marian day of devotion, which is dedicated to Our Lady of Good Health, Velankanni.
Program:
12:30 p.m. Assemble in Mary's Garden
1:15 p.m. Procession to the Crypt Church
1:45 p.m. Introduction by Father Binoy Akkalayil, O.S.S.T and Master of Ceremonies Karen Kurian
1:50 p.m. Recitation of the Rosary by Children
2:15 p.m. Addressing the Children by Father Alvert Pulliyadan
Special prayers and Blessing of the children
Distribution of Mother of Miracles Pins and Rosary to the children
3:00 p.m. Healing Mass
Main Celebrant: His Excellency Dennis Madden, D.D. PhD, Auxiliary Bishop of the Archdiocese of Baltimore
4:50 p.m. Final Blessing and Blessing of the Sick
Procession to the Our Lady of Good Health Oratory
4:55 p.m. Exposition of the statue of Our Lady of Good Health
Related Events