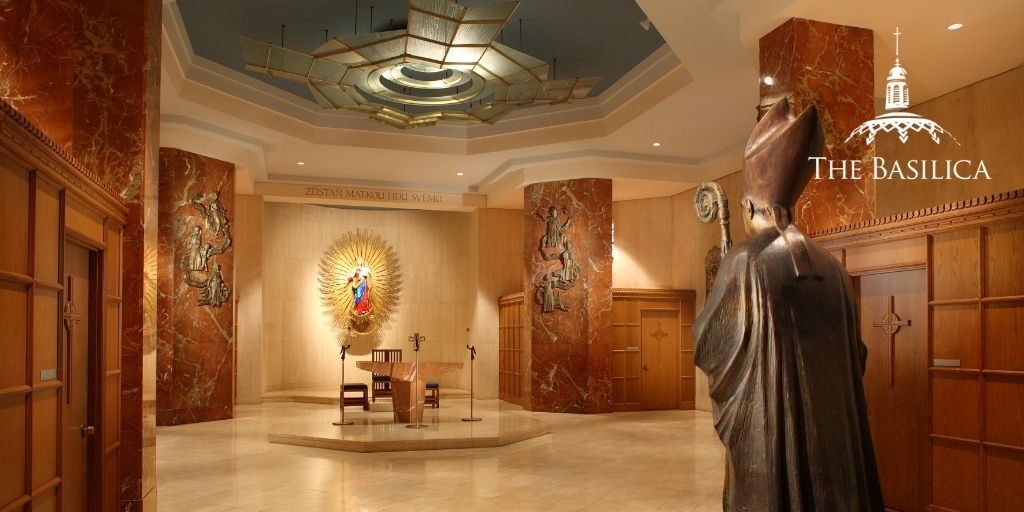 "Saint John Neumann, patron of immigrants and sick children, pray for us."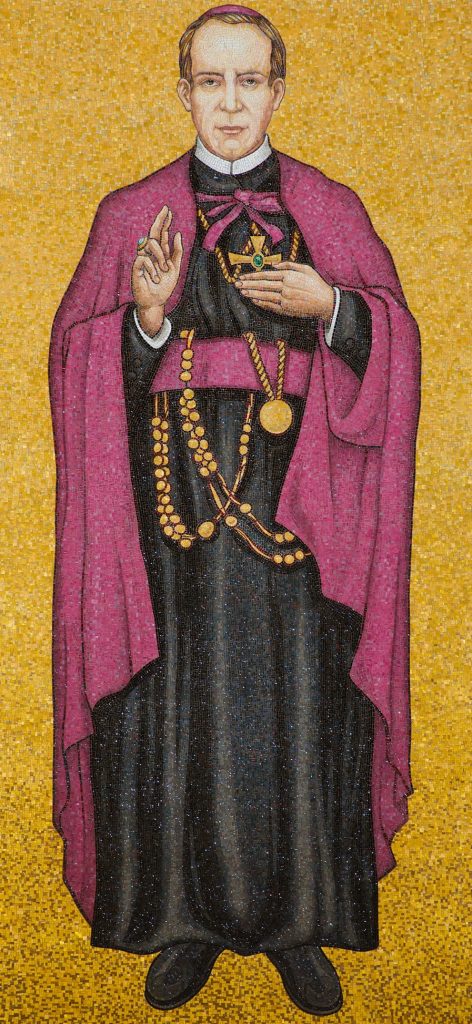 Did you know that Saint John Nepomucene Neumann was the first male American to be canonized? The patron of immigrants and sick children, Saint John Neumann's zeal for ministry serves as an inspiration to the faithful today. He is honored in the Basilica in Memorial Hall, the Our Lady of Holy Hostýn Chapel, the Second Coming mosaic, the Our Mother of Perpetual Help Chapel, the southeast nave clerestory window, and the Trinity Dome mosaic.
Early Life
From an early age, John Nepomucene Neumann had a keen sense of a higher calling to the priesthood. This motivated him to be a diligent student, enrolling at a diocesan seminary and later at a university in Prague to study theology.
However, at the conclusion of his studies, John found himself faced with a seemingly insurmountable obstacle:  Bohemia already had plenty of priests, and none of the dioceses in his native land would ordain him. Seeking an alternative, he applied to dioceses in the United States, but received no response. Yet John was not easily deterred; taking a leap of faith, he sailed across the ocean with only $40 in his pocket, arriving in New York City in 1836. Only a month later, he was ordained and spent four years working with German immigrants in Buffalo. Though John felt the work was meaningful, he found his life to be lonely and difficult. Longing for a greater spiritual community, he joined a Redemptorist order and continued his ministry up and down the East Coast.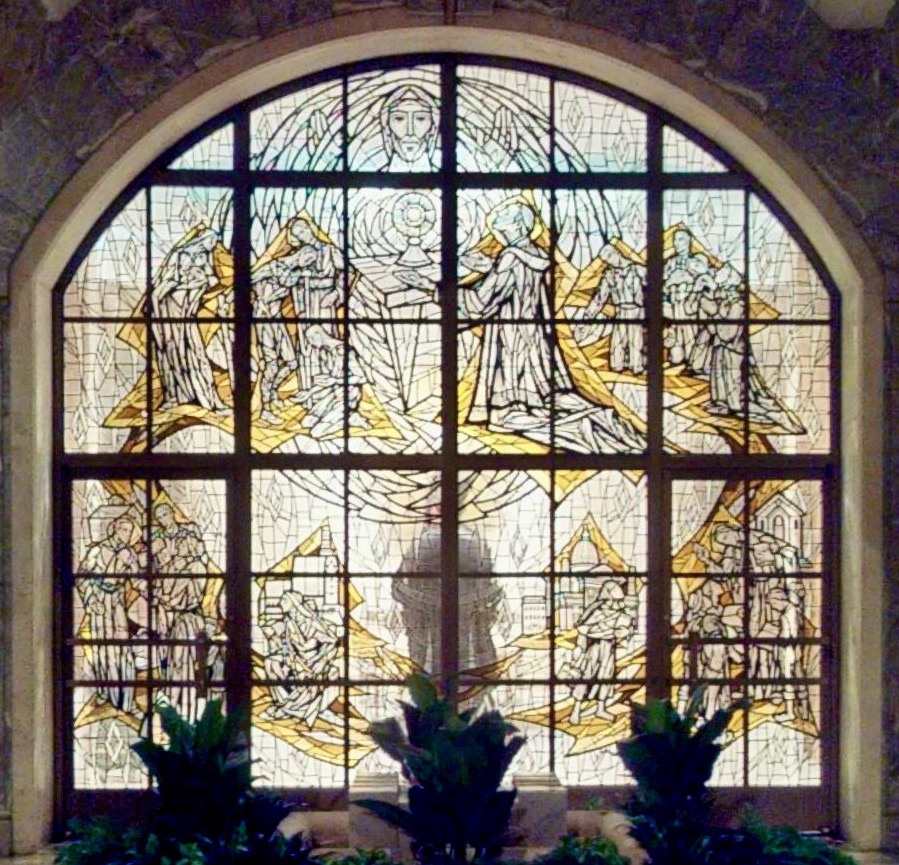 John Neumann's Heart for Immigrants
John's hard work was recognized in 1852, when he was appointed bishop of Philadelphia. In this beautiful American city, he dedicated himself to the oversight of building schools, churches, and a cathedral. He was particularly committed to offering educational opportunities to immigrant children. In his opinion, doing so could not only strengthen their commitment to the faith, but it could also equip them to flourish in society.
The American hierarchy approved two catechisms written by John in 1852, and in the years that followed, the works became standard texts. Whether he was founding churches and schools, or writing his catechism or articles in newspapers, John left an indelible mark on the lives of thousands of Americans. He passed away in 1860 after suffering from a stroke in Philadelphia and was canonized in 1977.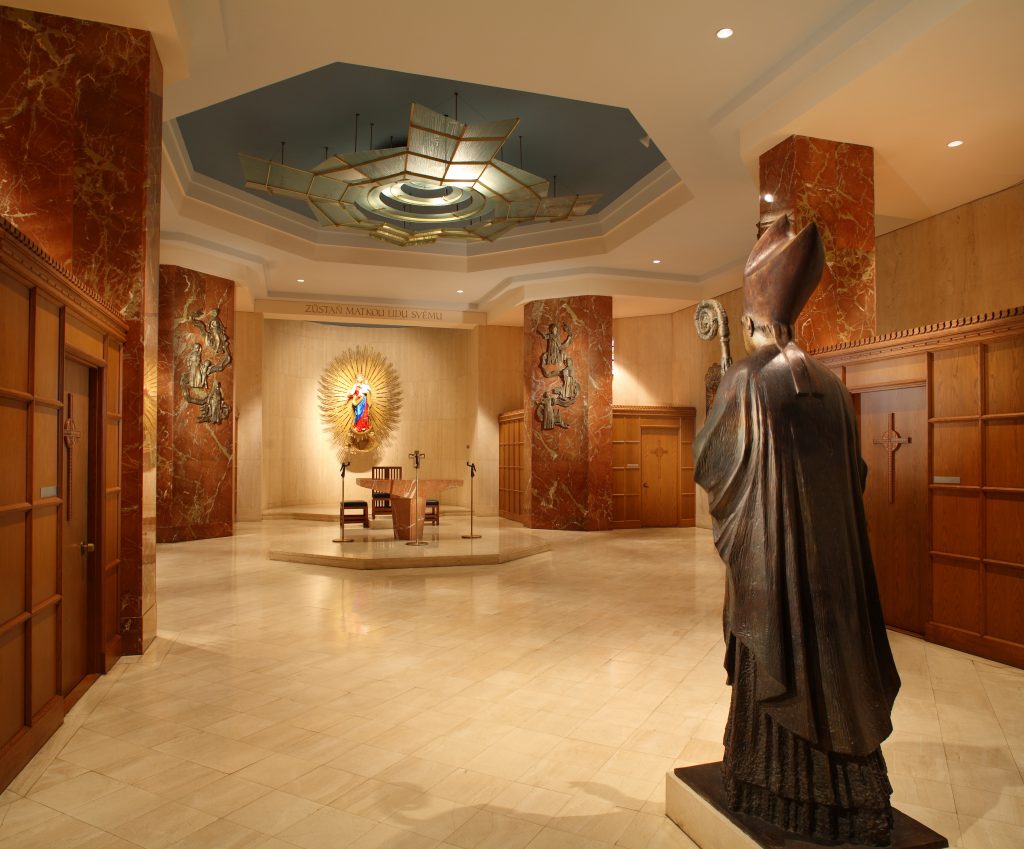 Honoring St. John Nepomucene Neumann in the Basilica
Perhaps the most significant place honoring St. John Neumann in the Basilica is the Our Lady of Holy Hostýn Chapel. The stained-glass entrance by Isabel Piczek is a montage of the life of John Neumann: his missionary work with new settlers, his love for children as a founder of the parochial school system, and his devotion to the Blessed Sacrament. A heroic-size bronze statue of Saint John Nepomucene Neumann stands at the entrance of the chapel, leading pilgrims to Our Lady. To the right, is a bronze reliquary of John Neumann adorned with garnets, as well as the "first stone" of this chapel, blessed by Pope John Paul II on October 7, 1979, during his visit to the National Shrine. The stone holds three containers of soil: (L-R) from the birth house of John Neumann, from the Shrine of Holy Hostýn, and from the crypt of Saint Wenceslaus in Prague.
Sources:
Basilica Guide and Tour Book, Dr. Geraldine Rohling
Cowan's The Way of Saints
---
Light a Candle at the Basilica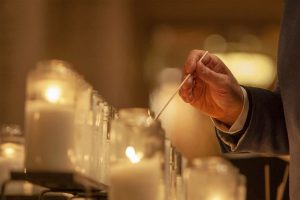 In honor of St. John Neumann, we invite you to present your intentions, both great and small, to Our Lady by lighting a candle today at the National Shrine. Vigil candles burn in the chapels throughout the upper church and lower crypt level of the National Shrine. Each candle represents the faith of the supplicants and their fervent prayers entrusted to the loving intercession of the Blessed Mother.