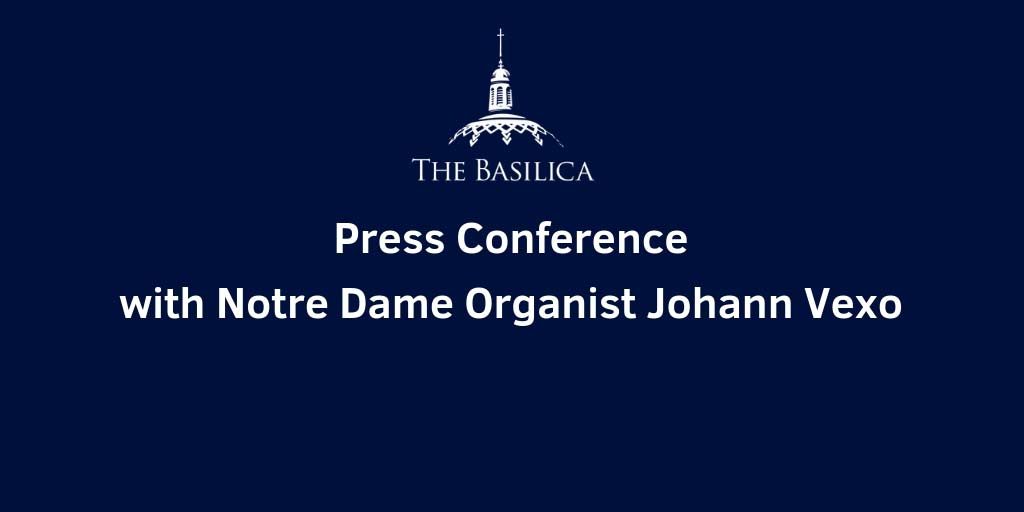 Thursday, April 25 at 10 a.m. in the Basilica's Great Upper Church
in advance of Notre Dame Benefit Concert at the Basilica this Friday, April 26 at 7 p.m.
Notre Dame Organist Johann Vexo—who was playing the organ at the time devastating fire broke out at the Cathedral the evening of April 15—will speak at a press conference hosted by the Basilica in its Great Upper Church on Thursday morning, April 25, at 10 a.m.
Mr. Vexo will discuss his experience at Notre-Dame de Paris before and after the fire as well as his participation in the special concert to benefit the rebuilding and restoration of the Cathedral. The concert will take place at the Basilica in its Great Upper Church on Friday evening, April 26 at 7:00 p.m. and will feature performances by Mr. Vexo and the Choir of the Basilica. (More information on the benefit concert may be found in this press release.)
Photos and B-roll may be taken immediately following Mr. Vexo's media availability Thursday morning as he rehearses for Friday night's benefit concert on the Basilica's Great Organ in the South Gallery of the Great Upper Church.
WHAT: Press Conference/Media Availability with Notre Dame Organist with Photo and B-Roll Opportunity
WHEN: Thursday, April 25 at 10:00 a.m.
WHO: Notre Dame Organist Johann Vexo
Rev. Msgr. Walter Rossi, Rector of the Basilica (Brief Opening Remarks)
WHERE: Basilica of the National Shrine of the Immaculate Conception
Great Upper Church
400 Michigan Avenue, NE
Washington, DC 20017
RSVP: Jacquelyn Hayes, Director of Communications


[email protected]