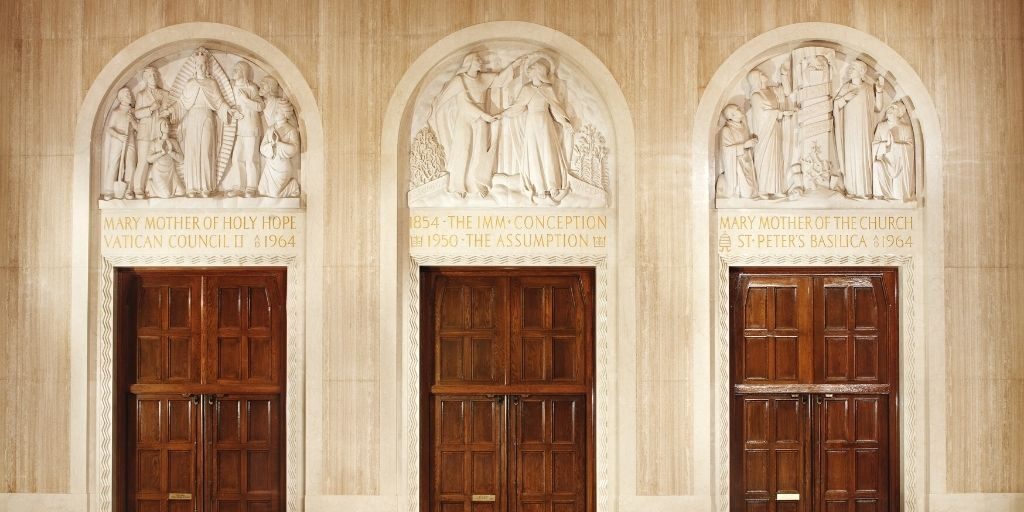 On the Monday after Pentecost, we celebrate the Memorial of Mary, Mother of the Church, honoring Mary's role in guiding and directing the faithful in spiritual growth. Mary was first given the title Mother of the Church in 1964 by Pope Paul VI. Later, in 2018, Pope Francis decreed that the Monday after Pentecost be celebrated as a feast to "The Blessed Virgin Mary, Mother of the Church."
As Pope Benedict XVI once said,
Mary did not receive God's gift for herself alone, but in order to bring him into the world: in her fruitful virginity, God gave men and women the gifts of eternal salvation (cf. Collect). And Mary continually offers her mediation to the People of God, on pilgrimage through history towards eternity, just as she once offered it to the shepherds of Bethlehem. She, who gave earthly life to the Son of God, continues to give human beings divine life, which is Jesus himself and his Holy Spirit. For this reason she is considered the Mother of every human being who is born to Grace and at the same time is invoked as Mother of the Church.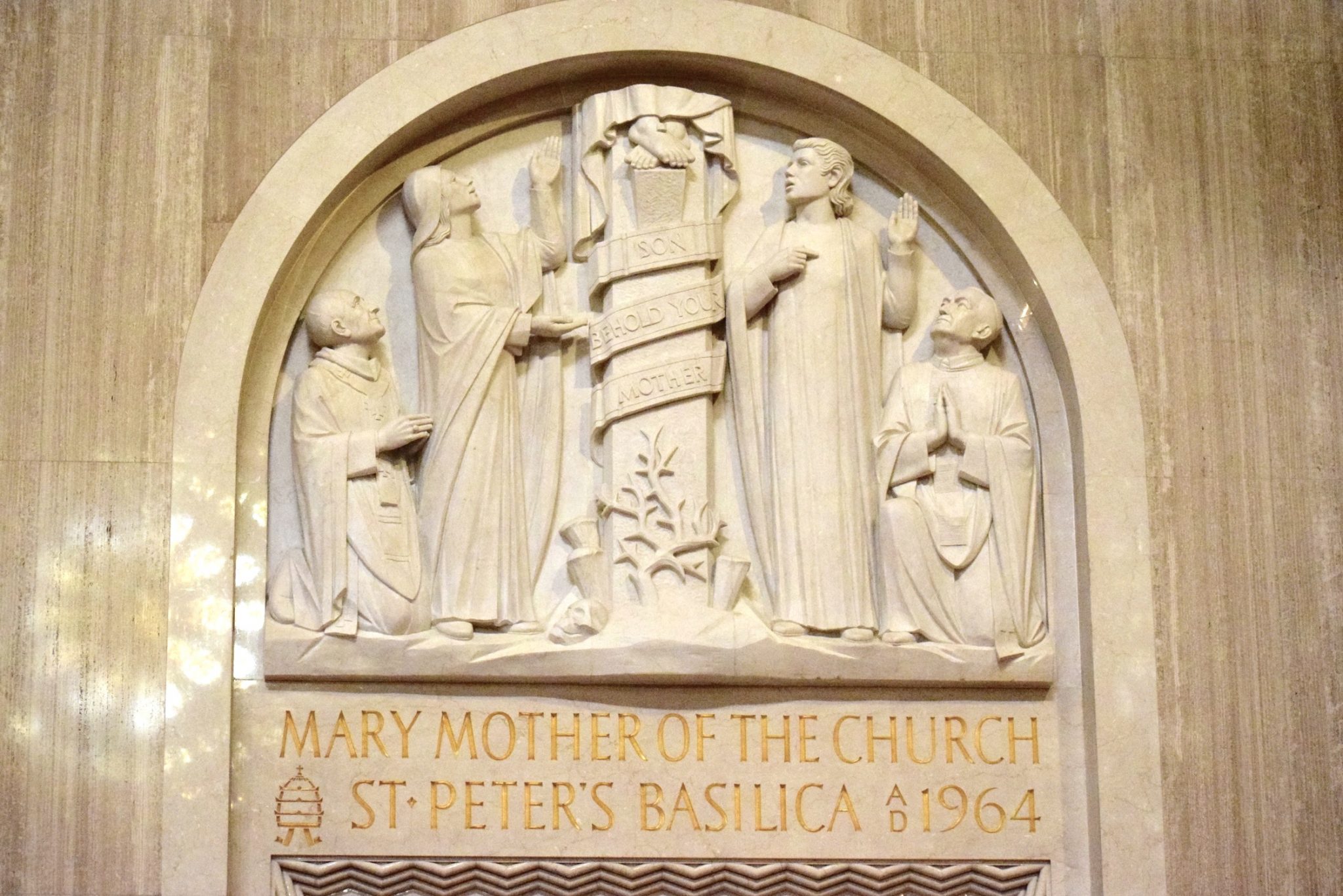 In this virtual tour, we invite you to explore the different ways Mary is depicted as the Mother of the Church in the art of the Basilica.
West Tympana
In the West Tympana of the Great Upper Church, Pope Paul VI is depicted giving Mary the title Mother of the Church in 1964. This marble relief stands alongside others portraying significant events in the development of Marian doctrine, including the teaching of Mary as the Mother of Holy Hope, and the definition of the Immaculate Conception.
The Universal Call to Holiness
Mary is also depicted as Mother of the Church in The Universal Call to Holiness sculpture located in the rear of the Great Upper Church. She helps lead the faithful to Christ, to walk in holiness as they are empowered by the Holy Spirit.
Mary, Queen of Missions 
In her role as the Queen of Missions, Mary works to help direct unbelievers to Christ and equips the faithful as they carry out the Great Commission to "Go into the whole world and proclaim the gospel to every creature." (Mark 16:15)
Our Lady of Ephesus
Our Lady of Ephesus is a Marian title that reflects Mary's special role in the early development of the Church. According to tradition, Mary lived with John in his home at Ephesus (modern day Turkey) after the death and resurrection of Christ. In Ephesus, she helped grow the early Church through her prayer and encouragement. Later, in A.D. 431, the Church formally recognized Mary's role in the Incarnation, declaring her to be the Theotokos — "the God bearer" — at the Council of Ephesus. The first church dedicated to Our Lady was built at Ephesus in the second century.