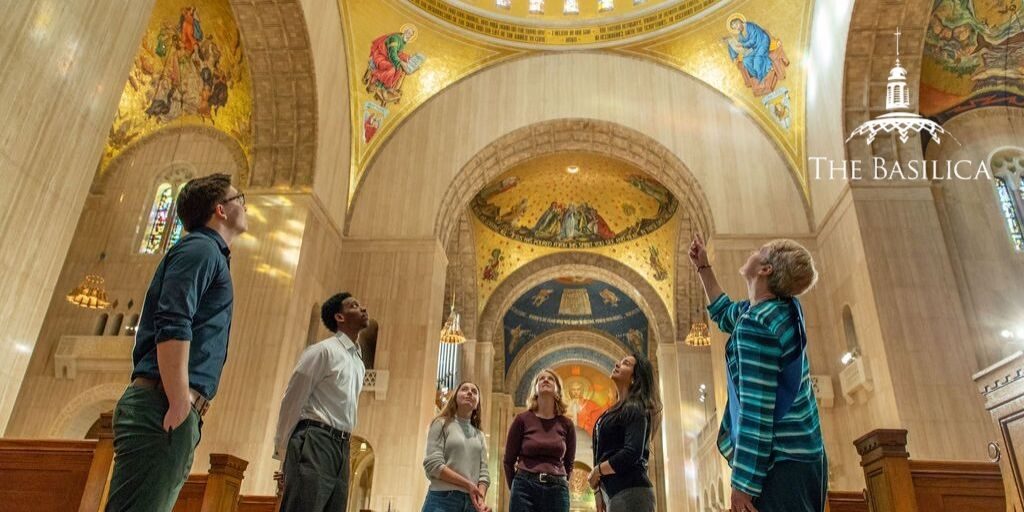 How do you get from the United States Air Force Academy to the Basilica? Today, Dee Steel tells us about her journey to the largest Catholic Church in North America. Among the first class of women to attend the United States Air Force Academy, Dee Steel became Director of Visitor Services at the Basilica in 2017 after five years of serving as a volunteer. She oversees the work of more than 100 volunteer docents who facilitate more than 4,000 tours for more than 50,000 visitors annually. Today, she shares about her experience working at the Basilica and how it has impacted her life, faith, and family.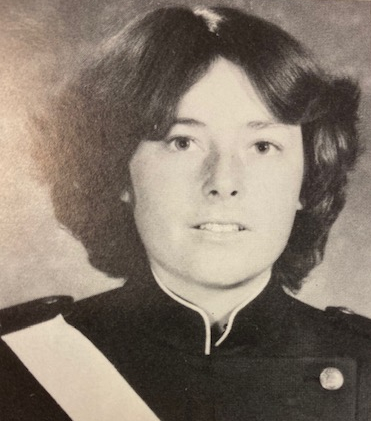 Tell us about your background as a United States Air
Force Academy graduate and how you were first introduced to the Basilica.
After graduating from the Academy, I stayed in the Air Force for four years, while my husband (whom I met at the Air Force Academy) retired after a 32-year career. I didn't stay there very long because we found out we were expecting twin sons, and already had a one-year-old son. It proved to be a good decision because we had another son and another set of twins, and it was a full-time job to orchestrate their schooling and sports schedules while travelling the world as an Air Force family. While my husband was still active duty and working at Fort McNair in D.C., I visited the Basilica with a spouses' club for the first time. I loved the Shrine from that moment on. When we settled in Virginia after my husband's retirement, I saw a notice in my church bulletin recruiting volunteers at the Shrine, and the rest was history.
What role has the Basilica played in your life, and how has it impacted your faith?

 
Less than a year after I began volunteering at the Basilica, our family suffered the worst of tragedies. Our son James, an Air Force active duty pilot, was killed in a plane crash while deployed to Afghanistan. I can say for certain that the Shrine was my haven of peace, and I know Our Lady helps me even now dealing with that loss.
Being at the Shrine so often has helped me grow in my faith, as the opportunity for frequent Daily Mass can't help but increase devotion. It has inspired me to become a part of the Mass as a lector and an Extraordinary Minister of Holy Communion- which are such special ministries. 
I can also say definitively that the Basilica influenced my husband's conversion to Catholicism in the last year. He had volunteered to help during National Prayer Vigil for Life events as well as Christmas and Easter Masses, which inspired him.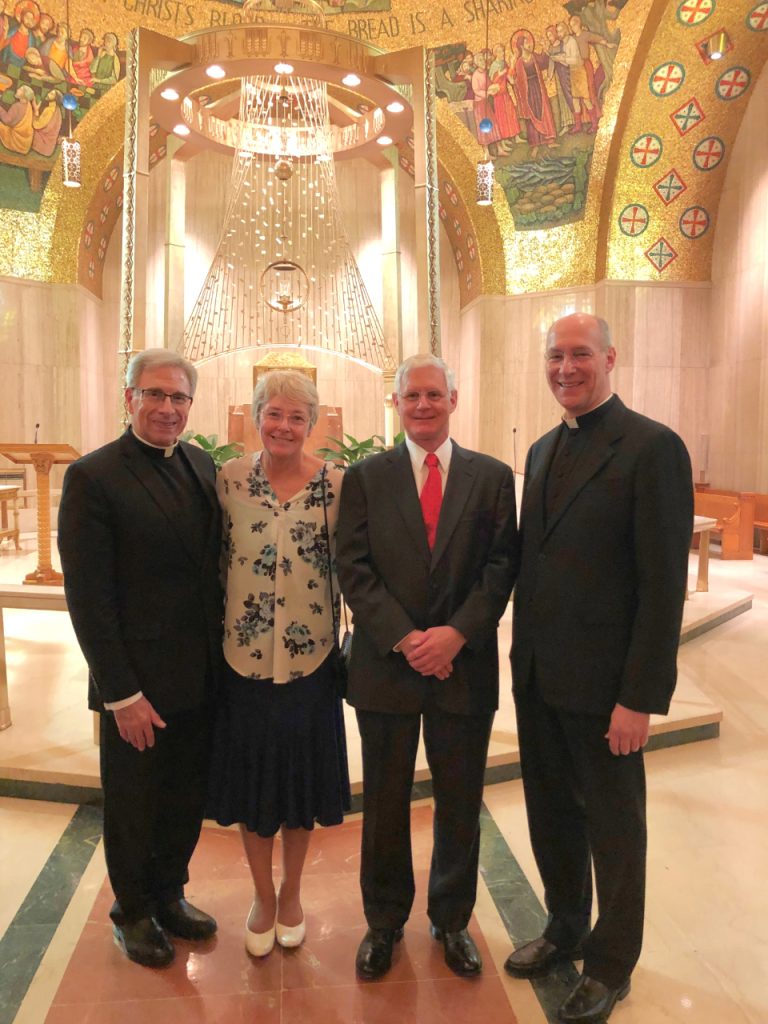 What are some of your favorite places – or places that carry special meaning for you – at the Basilica?

 
I will always remember the Blessed Sacrament Chapel as the place my husband entered into Full Communion in the Catholic Church. I will also never forget praying there one year ago, during my daughter's difficult labor and delivery of my grandson, little Greyson James Murphy, who was born unresponsive, code blue, but was revived within minutes of my prayers.
What do you recommend a first-time visitor should do or see? Are there any hidden gems of the Basilica that visitors might miss?

   
If anyone can visit when the Christmas decorations are up, I would highly recommend that; there are beautiful nativity scenes at various places around the Shrine. In Memorial Hall there is an exquisite one with each figure made of Venetian colored glass; the only other one of its kind in existence is in the Vatican. The Rosary Walk and Garden outside has beautiful depictions of all the mysteries of the Rosary and Our Lady of Fatima with the children to whom she appeared. Perhaps the most impactful statue is the Crucifixion of Our Lord. No other sculpture has such a realistic representation of the impact of the weight of His body on the skin on His foot – the skin folds above the brutal nail give a painfully real image of how intense his pain must have been. These are just two examples, but I could go on and on with other favorites.
What do you enjoy most about working at the Basilica?
It's hard to say which aspect I enjoy the most, because it's all good. The staff I work with at the Shrine are incredible and inspiring people; the volunteers I recruit and manage are dedicated and enthusiastic about our faith, Our Lady, and the Shrine; and I get to experience moments of grace from being present for huge pilgrimages and Masses. I'm continually humbled to be able to schedule Masses not only for priests leading large groups, but for so many individual priests from around the world who just want a little private Mass in a small chapel. Not only are the chapels beautiful, but they are all places of living, breathing prayer and consecration of the Eucharist. All of this makes my job more like joyful service than "work"!
I just love everything about serving at the Shrine – I get to arrive early in the morning and see the moon shining over the dome with the lights of the tower as background. Just another day at the office? Really? It's a truly special place, and I think people are drawn here because it helps them find peace in a chaotic world.
---
Take a Tour of the National Shrine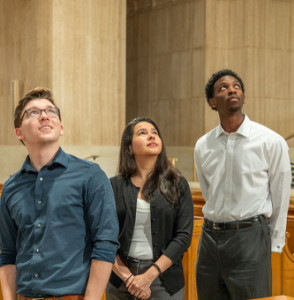 If you would like to tour the Shrine, we offer free guided tours that last just under one hour. The tours include visits to chapels on both levels, and information on the history of the Shrine, its architecture and ecclesiastical artwork. View the magnificent mosaics ornamenting the chapels and the domes in the Great Upper Church, as well as several majestic sculptures depicting Jesus Christ, Mary the Mother of God, and many saints.