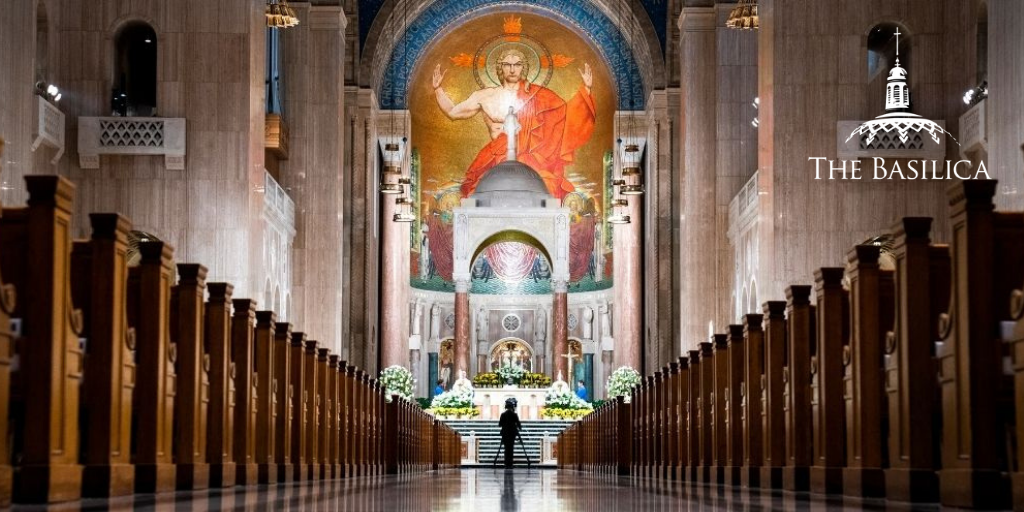 When the COVID-19 pandemic struck in March 2020, the Basilica closed to the public for a non-weather-related event for the first time since its opening – nearly a hundred years ago. With churches around the world shuttered and people sheltering in place as lockdown orders went into effect, many of the faithful were unable to attend Mass in person. Seeking to provide spiritual encouragement, the Basilica launched a livestream ministry to bring the Mass into the homes of Catholics – not just in America, but around the world.
Even as U.S. restrictions have loosened, the Basilica has continued to stream the Mass in both English and Spanish to thousands of viewers every week. The impact of the ministry has been profound – and the outpouring of messages we receive continues to show just how much the livestream has meant to the faithful.
Today, we would like to share some of those messages with you, and encourage you to take part in this ministry every Sunday. 
From the United States – "Mary's Shrine has become my home church"
I serve as an engineering officer aboard the USNS COMFORT T-AH 20. She is a 1000-bed naval hospital ship operated by a hybrid crew of U.S., Merchant Marines (civilians) and uniformed US NAVY personnel… In late March of 2020 we were deployed to assist in covid relief for New York City.

[O]nce having arrived there, [we] had to remain on the ship. We had no chaplain on board, and there were no religious services available. In that atmosphere, I found your livestream broadcast of the Mass. The first time I watched it on my little iPhone, I wept… I was just so overwhelmed. Since then, I have participated in the Mass with you via livestream ever since.

We have largely been locked down on this ship for a year or more… I miss my wife of 41 years who I haven't been able to see on any predictable basis, and I miss being free to go home. The beauty of the Mass, the choir singing, the cantor's chanting and the sermons that you and the other priests deliver have sustained me for over a year… In a very real way, Mary's Shrine has become my church for now. While I miss my home parish, I have come to love you and the community at the Basilica for all that you have given me…

Thank you, Msgr Rossi, for taking care of us spiritually. Please, don't give up.

With a grateful heart,

Vivat Jesu!

Bert 
From Canada – "Genuinely moving during this difficult time"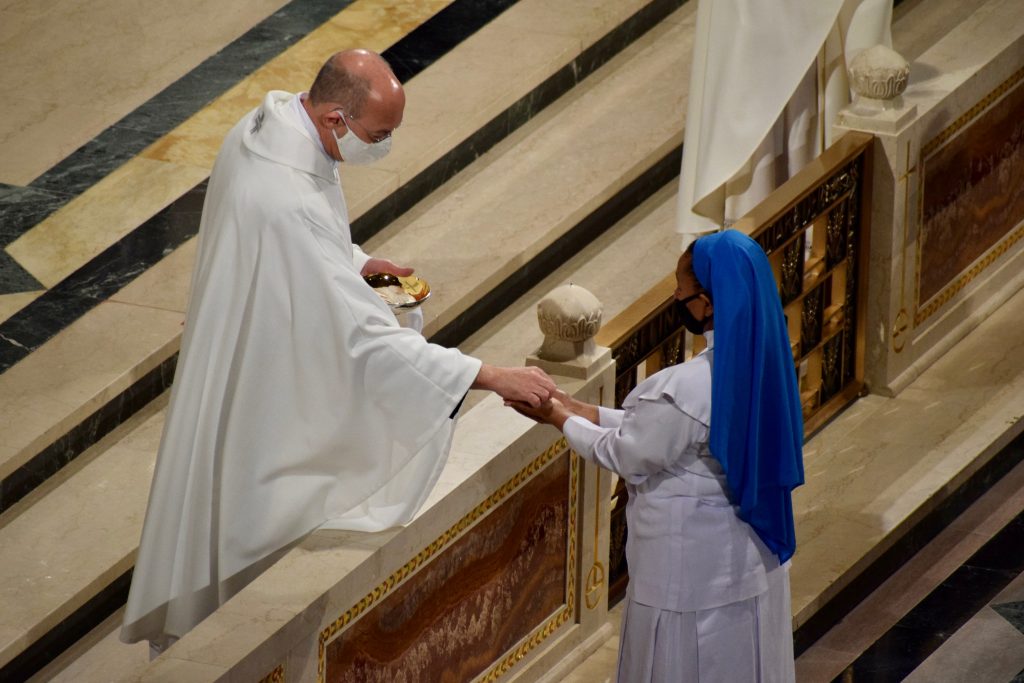 I wanted to send a brief message thanking you for providing the livestream Mass from the main church on Sundays during the pandemic. The liturgy is so beautiful and all of the priests who have said Mass have said it so prayerfully that it has been genuinely moving during this difficult time. I have watched every Sunday from Lucan, Ontario, Canada since the pandemic began and I am truly grateful…

Best Regards,

Trevor
From Colombia – Helping a family grow together in Christ
Our family has felt blessed to be able to share the Mass during this current crisis with the faith community of the Basilica of the National Shrine of the Immaculate Conception. We are stationed in Bogotá, Colombia, with the U.S. Government…

We'd also like to convey our appreciation to Monsignor Rossi and the other priests, deacons, acolytes, choir members, readers, and all who have performed this very important and meaningful service during this time. It has been a way for our family to grow in Christ together.

Thank you!

John and María Elena
From England – "A joy and a blessing"
Thank you so much for your beautiful Sunday Masses. Because of the lockdown rules, I have been unable to attend my tiny local Catholic Church at Hassop, Bakewell, England… Consequently, being able to share in your worship is, indeed, a joy and a blessing.

With many thanks to all who make this possible,

Cynthia
From New Zealand – Beautiful and meaningful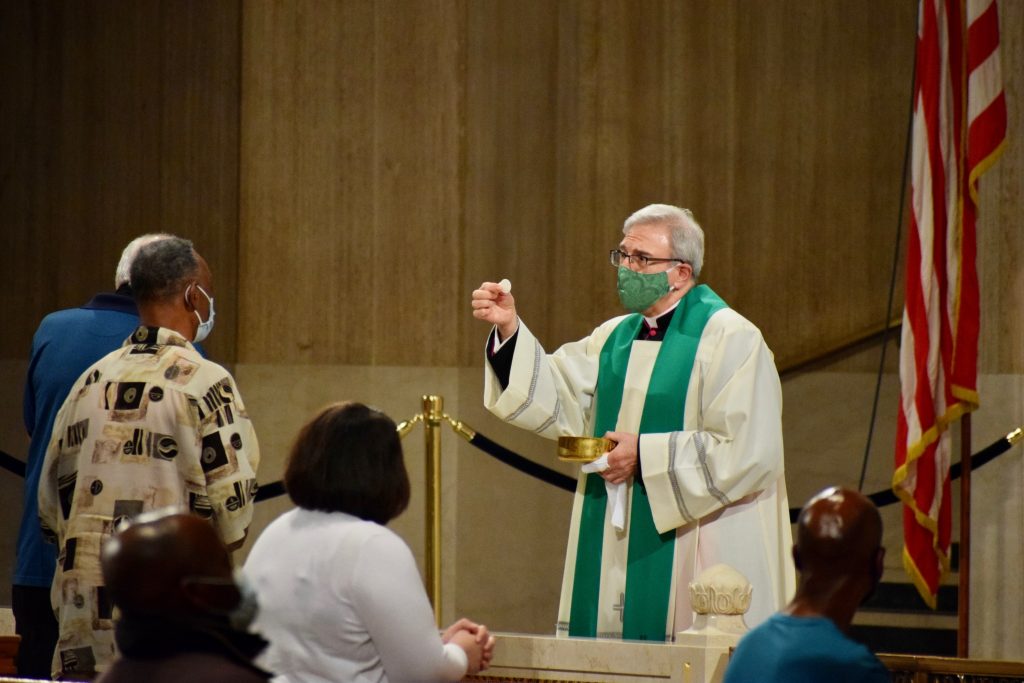 Three of my friends and I have been enjoying your Sunday Masses since we started lockdown for coronavirus in NZ. We would like to thank you for the beautiful simplicity and spirituality of the Mass, as well as the meaningful sermons. We also enjoy the readings and singing, both beautifully executed. You are very much appreciated in a distant corner of the world.

Thank you, and God bless you all.

Barbara
From Philippines – Practical, relatable homilies
My family and I have been attending online Sunday Masses in your church for several weeks now. I just wanted you to know that we love the way Masses are celebrated – we love the homilies of the priests, (very practical and easy to relate to and understand), the reader, and Psalmist – they're both great. I hope one day my family and I can visit in person.

Thank you and God bless us all!

– Dexter, from the Philippines
From South Africa – "Perfectly selected" musicians and readers
My husband Mike and I have been following your online Masses every Saturday since South Africa went into lockdown and we feel very blessed and privileged to be able to participate from such a long way away. We really enjoy the Masses. The priests give wonderful homilies and the people (organist, singers and reader) are so perfectly selected.

Thank you again for this wonderful opportunity you provide to all…

Many blessings to you all.

Sincerely,

Margaret
From Zambia – "Your talents have touched my heart"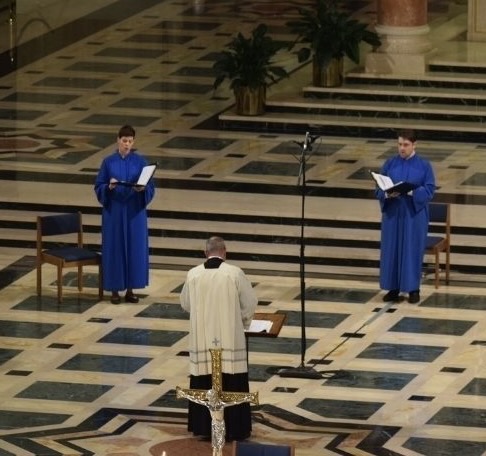 It is with great appreciation and thankfulness that I write this message. I have been following the livestreamed Mass from the Basilica of the National Shrine of the Immaculate Conception for the last couple of months… It has been a wonderful privilege to join in your celebration of the Holy Eucharist. Thank you for the beautiful music and inspiring messages of hope and encouragement. A big thank you to the choir, choir director, organist, and the cantors who have painted the liturgical celebration with such beautiful sounds. Also, my utmost appreciation to the lector for her poignant deliverance of the word of God. Your talents have touched my heart. May you continue with the wonderful work of evangelization.

God bless you richly.

– A viewer from Zambia
---
We invite you to support the National Shrine Livestream Ministry.