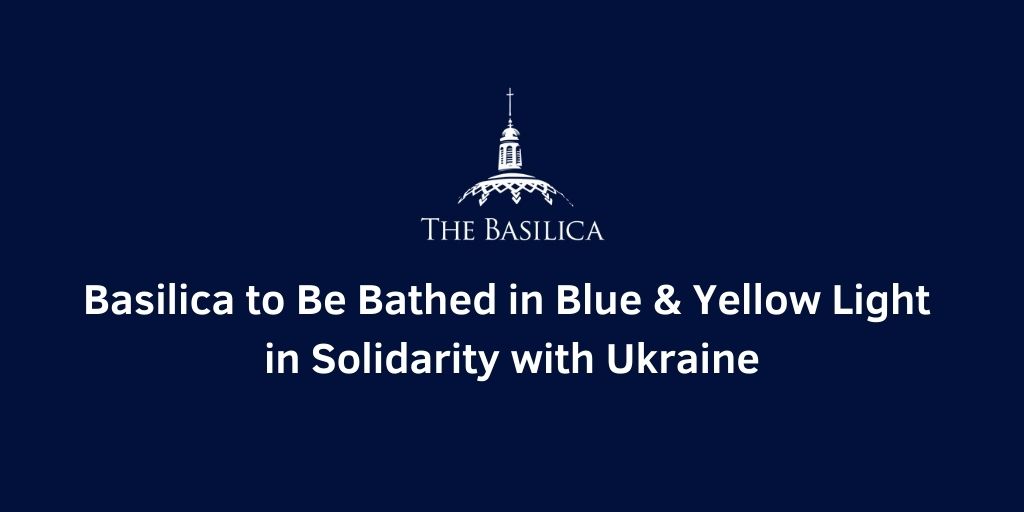 Basilica to Be Bathed in Blue and Yellow Light in Solidarity with Ukraine
Sunday, February 27th through Sunday, March 6th
Statement from Monsignor Walter Rossi, Rector of the Basilica:
"Pope Francis has called for a Day of Prayer and Fasting for Peace in Ukraine on Ash Wednesday, March 2, 2022. In light of the invasion of Ukraine on February 24, 2022, the Basilica of the National Shrine of the Immaculate Conception will be bathed in light with the colors of the Ukrainian flag beginning Sunday evening, February 27, through Sunday evening, March 6, as a symbol of our solidarity with the Ukrainian people and as a reminder to all those who pass by Mary's Shrine to raise a prayer for an end to the war and for peace to return to that troubled land."
###
ABOUT THE BASILICA
The Basilica of the National Shrine of the Immaculate Conception is the largest Roman Catholic church in North America, and it is among the ten largest churches in the world. Dedicated to the patroness of the United States, the Blessed Virgin Mary under her title of the Immaculate Conception, the Basilica is the nation's preeminent Marian shrine and patronal church and has been designated a national sanctuary of prayer and pilgrimage. Among those who have visited the National Shrine during its 100-year history are Pope Francis, Pope Benedict XVI, Saint Pope John Paul II, and Saint Mother Teresa of Calcutta.