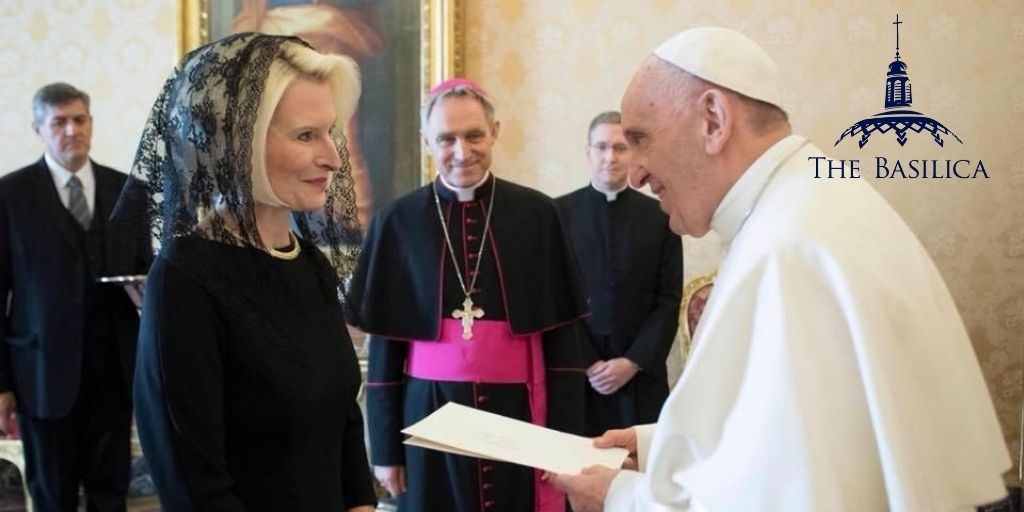 Ambassador Callista Gingrich has been involved in the life of America's Catholic Church for years – from singing in the choir to partnering with Monsignor Walter Rossi to present a special exhibit at the Basilica in celebration of the 35th anniversary of diplomatic relations between the Holy See and the United States. Today, she discusses her work as Ambassador to the Holy See, her involvement with the Basilica, and what it means to live out her faith in the public square.
Tell us what brought you to Washington, D.C. and about your path to becoming Ambassador to the Holy See.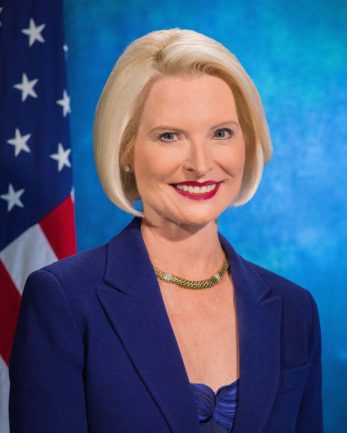 In 1988, I graduated from Luther College in Decorah, Iowa, and moved to Washington, D.C., for the "summer" to work on Capitol Hill as an intern in Congressman Steve Gunderson's office. Like many interns, I stayed in Washington and was blessed to have a fulfilling career as a congressional aide on Capitol Hill for over 18 years. Following my service on the Hill, I led a multimedia production company, authored seven children's American history books, co-authored two other books, and produced nine documentary films, including one about Saint John Paul II's historic pilgrimage to Poland in 1979. In 2017, I was honored to be nominated by President Donald J. Trump to serve as the U.S. Ambassador to the Holy See.
What is it like serving as the Ambassador to the Holy See?
It has been an incredible and fulfilling experience serving as our nation's ambassador to the Holy See. The United States and the Holy See collaborate on many important foreign policy objectives. From advancing religious freedom and interfaith dialogue, to combatting human trafficking, to delivering humanitarian assistance, to preventing conflict and violence, our partnership with the Holy See is a worldwide force for good.
How has working as the Ambassador impacted your faith?
Rome is an extraordinary city and the Vatican is the center of Catholicism. This journey has greatly strengthened my faith. Every time I participate in a meeting at the Vatican or attend a papal liturgy at St. Peter's Basilica, I feel honored and blessed.
What are some of the challenges of living out your faith in the public square?
God is at the center of my life, personally and professionally. I have always talked about my faith publicly. In fact, I had the honor of delivering this year's commencement address to the Ave Maria School of Law where I encouraged graduates to embrace their faith.
My husband, Newt, and I have worked on several projects that explore the central role of faith in the public square in our nation's history. We are blessed in the United States with the right to worship freely. Safeguarding religious freedom is fundamental to the founding principles of the United States. Advancing and defending this inalienable right is an important component of U.S. foreign policy today.
Tell us about your background in music. What instruments do you play?
Music has always been an integral part of my life. I served as an organist at St. John's Catholic Church in Whitehall, Wisconsin, throughout junior high and high school before becoming a music major at Luther College in Decorah, Iowa. My primary instruments include piano and French horn, and I also sing. I was blessed to be a member of the Choir of the Basilica of the National Shrine of the Immaculate Conception from 1996 to 2017, and a member of the City of Fairfax Band from 1989-2017. Singing under the direction of Dr. Peter Latona at the Basilica was an experience of a lifetime.
How and when did you become involved in music at the Basilica?
In 1996, I was encouraged by my friend and longtime member of the Basilica Choir, Louis Reichwein, to audition for the choir as an alto. I auditioned for Dr. Leo Nestor in October 1996 and was blessed to become a member of the choir.
What has been your favorite piece of music to perform? Was there a performance that was particularly meaningful to you?
I have always loved performing the music of Palestrina and other Renaissance composers. One of my favorite pieces to sing is Sicut Cervus, a beautiful motet for four voices, composed by Palestrina. I am grateful to have experienced many wonderful musical moments over the years with the Basilica Choir: singing for Christmas and Easter liturgies; singing for Pope Emeritus Benedict XVI during a vesper service in the Crypt Church in 2008; performing for Pope Francis during a Mass at the Basilica in 2015; and singing with the choir in Italy on multiple occasions.
What is your favorite event you've been involved in at the Basilica?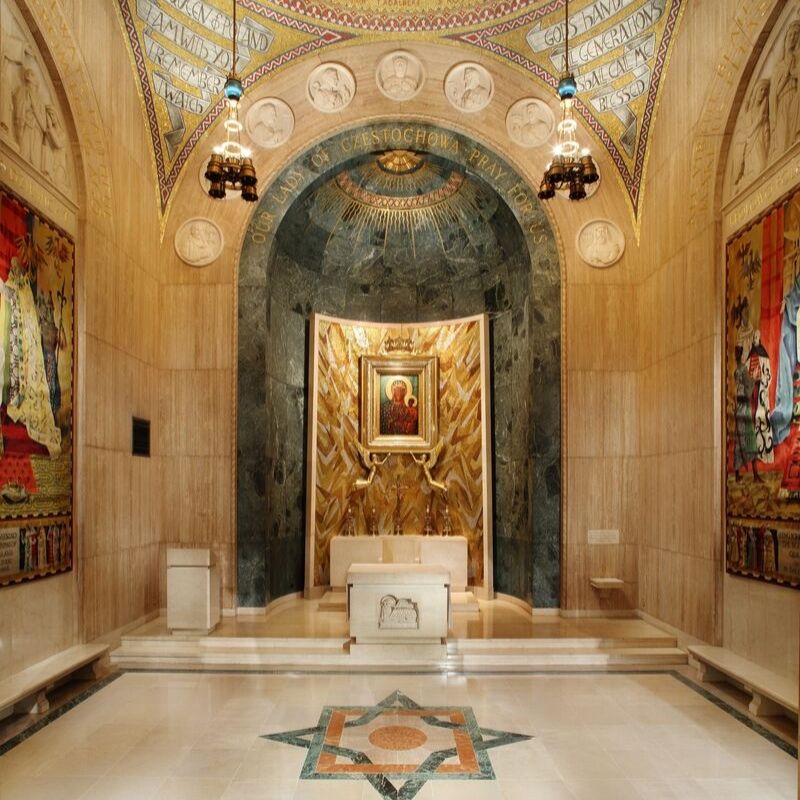 The papal visits in 2008 and 2015 were very special. The funeral Mass for Supreme Court Justice Antonin Scalia in 2016 was profoundly moving as well. As Ambassador to the Holy See, it was gratifying to host the Choir of the Basilica in Rome in 2019 to strengthen our diplomatic ties through music. It was also a pleasure to partner with Monsignor Walter Rossi and the Basilica on a special 35th anniversary exhibit in 2019 at the U.S. Diplomacy Center and at the Basilica of the National Shrine. The exhibit celebrated 35 years of diplomatic relations between the United States and the Holy See.
What is your favorite chapel or artwork at the Basilica? Is there a spot that has special significance?
Worshiping and singing in the Crypt Church is always special and memorable. There is a beautiful mosaic of Saint Cecilia (the patron saint of musicians) in the Crypt that I often visit. As an American of Polish ancestry, I love praying and lighting candles in the Polish chapel before the image of Our Lady of Czestochowa. And, of course, the choir room has a very special place in my heart.