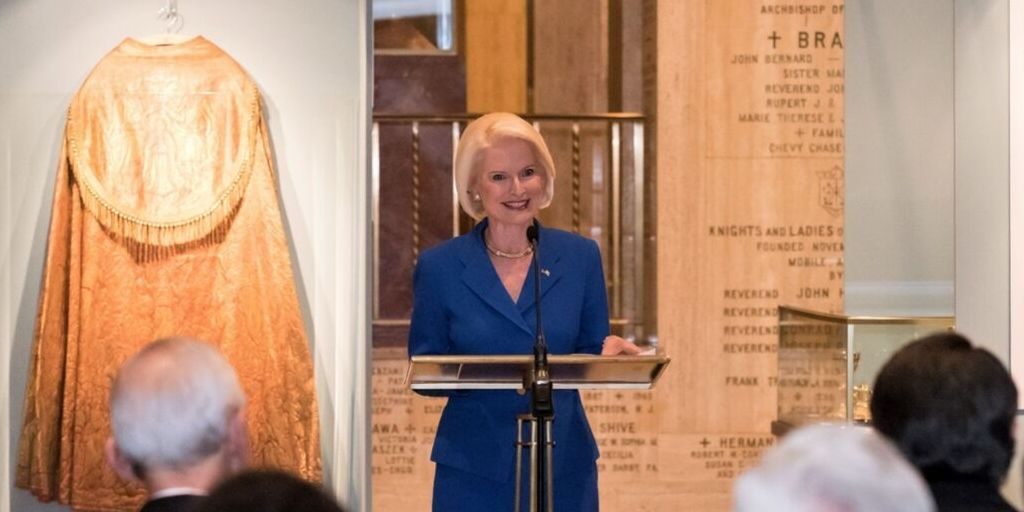 A new exhibit at the Basilica, "The United States and the Holy See: A Worldwide Force for Good," highlights the 35th anniversary of formal diplomatic relations between the United States and the Holy See.
Exhibit Artifacts
Running through November 25, the exhibit includes significant objects such as:
The personal chalice of Archbishop Francesco Satolli, the first apostolic delegate to the United States
The chalice used by Pope Francis in the 2015 Canonization of Saint Junípero Serra at the Basilica
The cope worn by Pope Benedict XVI for the celebration of Vespers at the Basilica
1953-1954 Marian Year Cruets given by Pope Pius XII
And more!
Opening Speech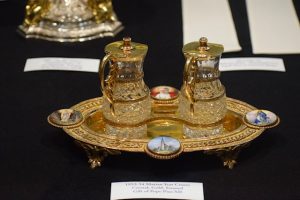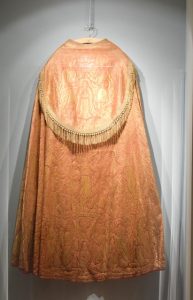 United States Ambassador to the Holy See, Callista Gingrich, spoke at the opening of the exhibit:
The Basilica of the National Shrine of the Immaculate Conception has a special place in my heart. For twenty years, I had the honor and privilege of singing with the remarkable Choir of the Basilica, under the direction of my dear friend, Dr. Peter Latona.

Of course, as the U.S. Ambassador to the Holy See, I know that the Basilica of the National Shrine shares a place in the hearts of millions of Catholics in the United States and around the world.

Throughout its history, the National Shrine has played an important role in the life of the Catholic Church in the United States, and America's relationship with the Holy See.

The Basilica has welcomed dignitaries and pilgrims from all walks of life. Saint John Paul II, Pope Benedict XVI, and Pope Francis have all visited the National Shrine, which receives nearly one million guests each year.

It is no surprise that the National Shrine is affectionately known as America's Catholic Church. And this exhibit further highlights that fact.

I'm so honored that a few items in this exhibit were featured this summer in an exhibit at the U.S. Diplomacy Center, in Washington, D.C.

As this exhibit illustrates, America's friendship with the Holy See has grown over the centuries into a global partnership based on common values, mutual respect, and moral leadership….In short, our partnership is a worldwide force for good – advancing peace, freedom, and human dignity around the world.
Exhibit Details
Name of exhibit: The United States and the Holy See: A Worldwide Force for Good
Curator: Dr. Geraldine M. Rohling, Archivist and Curator of the Basilica
Location: Memorial Hall
Duration: Exhibit runs through Monday, November 25, 2019