Mass Schedules
Livestreaming Sundays at 12:00 pm ET
Sunday Masses
Morning:
7:30 a.m., 9:00 a.m., and 10:30 a.m.
Afternoon:
12:00 noon, 2:30 p.m. (en español), and 4:30 p.m.
Daily Masses (Monday-Saturday)
Morning:
7:00 a.m. and 8:00 a.m.
Afternoon:
12:10 p.m. and 5:15 p.m.
Vigil Mass (Saturday):
4:30 p.m.
Holy Days of Obligation Masses
Mass times vary. Please see individual event pages.
Confession Schedules
Sunday
10:00 a.m. to 12:00 p.m. (Noon)
1:15 p.m. to 2:15 p.m. (En Espanol)
2:30 p.m. to 4:30 p.m.
Monday through Saturday
9:00 a.m. to 12:00 p.m. (Noon)
3:00 p.m. to 5:00 p.m.
No Confessions on:
Easter Sunday, Thanksgiving, Christmas Day, and New Year's Day

Worldwide Rosary to Pray for an End to the Pandemic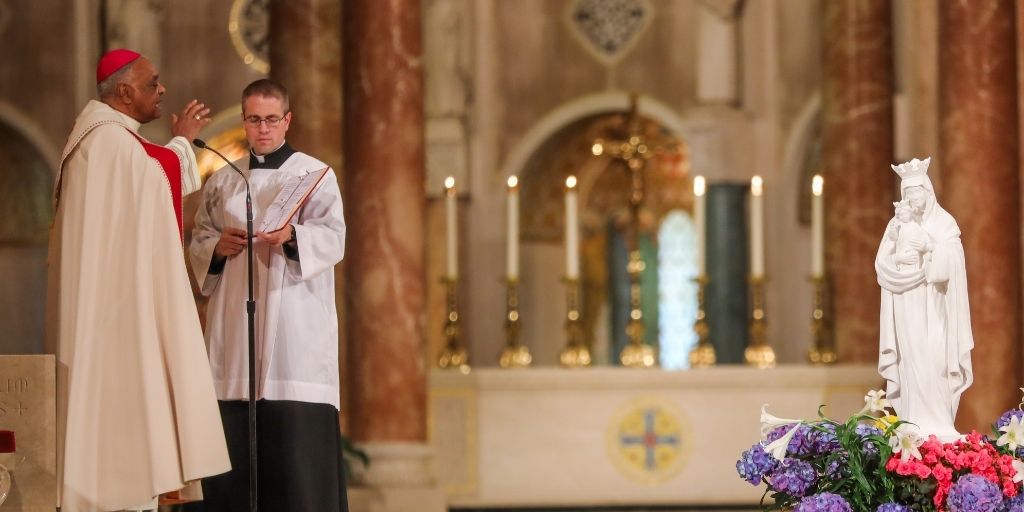 The Basilica of the National Shrine of the Immaculate Conception has been chosen by the Holy See to lead the worldwide recitation of the Rosary on Monday, May 17, at 12 noon ET/6pm Rome time, in response to Pope Francis' call for a "marathon" of prayer during the month of May "to ask for the end of the pandemic."
Cardinal Wilton Gregory, Archbishop of Washington and Chairman of the National Shrine Board of Trustees, will prayerfully lead the Joyful Mysteries of the Rosary from the Basilica's Great Upper Church.
With the ability to accommodate 1,000 people socially distanced in the Great Upper Church with other safety protocols in place, the event is open to the public and the faithful are encouraged to join this vital prayer effort in person by registering at www.nationalshrine.org/mass-registration.
For those unable to attend in person, the recitation of the Rosary will be livestreamed at www.nationalshrine.org/mass and will be shared with the Holy See for transmission throughout the world.
For additional information, please view the press release.
Related Events