Mass Schedules
Livestreaming Sundays at 12:00 pm ET
Sunday Masses
Morning:
7:30 a.m., 9:00 a.m., and 10:30 a.m.
Afternoon:
12:00 noon, 2:30 p.m. (en español), and 4:30 p.m.
Daily Masses (Monday-Saturday)
Morning:
7:00 a.m. and 8:00 a.m.
Afternoon:
12:10 p.m. and 5:15 p.m.
Vigil Mass (Saturday):
4:30 p.m.
Holy Days of Obligation Masses
Mass times vary. Please see individual event pages.
Confession Schedules
Sunday
10:00 a.m. to 12:00 p.m. (Noon)
1:15 p.m. to 2:15 p.m. (En Espanol)
2:30 p.m. to 4:30 p.m.
Monday through Saturday
9:00 a.m. to 12:00 p.m. (Noon)
3:00 p.m. to 5:00 p.m.
No Confessions on:
Easter Sunday, Thanksgiving, Christmas Day, and New Year's Day

Lourdes Pilgrimage Experience
November 19, 2022 @ 1:00 pm

-

4:00 pm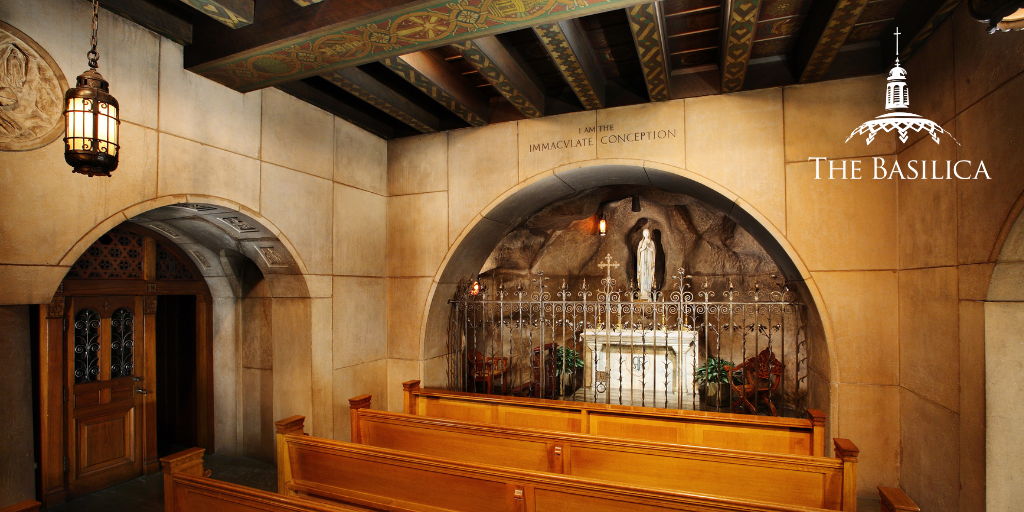 Mary's Shrine invites the faithful to a special Lourdes Pilgrimage Experience on Saturday, November 19, from 1:00 p.m. to 4:00 p.m. Sponsored by Our Lady of Lourdes Hospitality North American Volunteers, the pilgrimage will offer a virtual yet very tangible experience of Lourdes from the Crypt Church of the Basilica. A Plenary Indulgence will be granted to all the faithful who attend, under the usual conditions.
During the Lourdes Pilgrimage Experience, pilgrims will be immersed in the Message of Lourdes through prayer, commentary, and catechesis; have an opportunity to touch an actual piece of the Grotto Rock where Our Lady, the Immaculate Conception, appeared to Saint Bernadette in 1858; and prepare their own petitions to be hand-delivered to the Grotto in France.
Pilgrims will also pray the Rosary during Exposition of the Blessed Sacrament and, following Benediction, will participate in a candlelight procession to the Basilica's Chapel of Our Lady of Lourdes, a replica of the Grotto. Pilgrims will also receive a bottle of authentic, undiluted Lourdes Water from the Spring in Lourdes as a keepsake.
What better way to virtually experience Lourdes than to attend this pilgrimage at our nation's preeminent Marian shrine and patronal church, the Basilica of the National Shrine, dedicated to our Lady under her title, the Immaculate Conception.
Those who attend are invited to participate in the National Shrine's 12:10 p.m. Mass in the Crypt Church before and the 4:30 p.m. Vigil Mass of the Solemnity of Our Lord Jesus Christ King of the Universe in the Great Upper Church after to begin and end this special pilgrimage.
Related Events