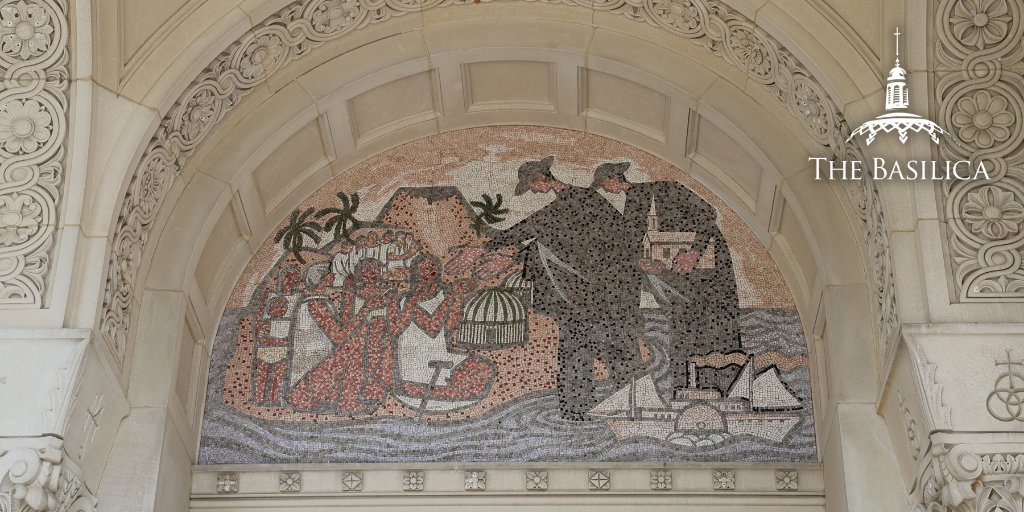 This week, we observe the 378th birthday of the Venerable Padre Eusebio Francisco Kino. An intrepid explorer, he not only made groundbreaking improvements to the understanding of California geography, but was also a foundational figure in the New World missions effort and a defender of the O'odham people. Today, we invite you to learn about his life, legacy, and where you can find him portrayed at the Basilica.
Early Life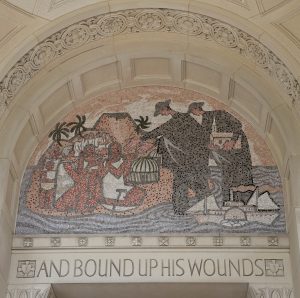 Though Eusebio Francisco Kino is primarily known for his work in California, his story begins across the sea in the Italian Alps, where he was born in 1645. At age 21, he joined the Society of Jesus and trained to be a priest while serving as a science professor at prominent European universities, becoming ordained in 1677. This was his life for 13 years – until one fateful voyage changed the course of his career.
In 1681, he set sail for the New World, and in the year that followed he was selected to be the royal cosmographer and a missionary on the California Expedition. He then worked in Baja California and San Bruno before eventually settling in the Pímeria Alta
Padre Kino's "Little Utopias"
Drawing inspiration from Thomas More's Utopia, Kino sought to create mission communities that resembled the Early Church – committed to nonviolence, equality, and the sharing of property. He worked primarily with the O'odham, or Pima people in northern Sonora and southern Arizona, and shared much of his livestock with the villagers. Above all, he strove to cultivate capacities of self-sufficiency in his communities, teaching the O'odham people new technologies and agricultural techniques that would enable them to be independent in the colonized world.
Padre Kino: The Peacemaker and the "Padre on Horseback"
Padre Kino won the respect of the O'odham people thanks to his simple lifestyle, rigorous self-discipline, and heart for the poor. He lived very conservatively, sleeping on sheepskin, following a plain diet, and abstaining from tobacco and alcohol. But it was his fearless advocacy that won their hearts. During his time in Pimería Alta, the Spanish government pursued silver mining operations and tried to forcibly conscript the O'odham people into labor for them. Padre Kino repeatedly protected the O'odham people against enslavement and mistreatment, even riding 1,500 miles on horseback in seven weeks to personally deliver a written complaint to colonial officials detailing and denouncing the unjust treatment of the O'odham. He also worked tirelessly to maintain peace between the O'odham and the colonists; when fights threatened to break out between them, Kino quashed false rumors on both sides and made it possible for them to live in harmony.
Padre Kino's Legacy
Over the course of his lifetime, Padre Kino founded 24 missions, baptized over 4,500 people, and left what historians call "one of the best accounts of a daily life of a missionary in the New World." Aside from his mission work, Kino also distinguished himself as an intrepid explorer, trailblazing new lands beyond the Spanish frontiers. His 50 distinct expeditions included a discovery of land passage to California, which corrected a misconception of the time that the area was an island. Kino also created more accurate maps of the region, which became the authoritative references used for the next 150 years.
Padre Kino was fearless in following God's call for his life, no matter where it took him. His zeal for the Gospel, committed prayer life, and passionate justice for the vulnerable stand as an example for generations to come of faithful living. You can find Padre Kino portrayed in the Basilica in the East Portico tympanum mosaic.
Sources:
"Eusebio Francesco Chini," Dicastery for the Causes of Saints.
"Eusebio Francisco Kino," National Park Service.
"Padre Kino – Our Padre on Horseback," Kino Historical Society.
"Padre Kino Biography," Kino Historical Society.