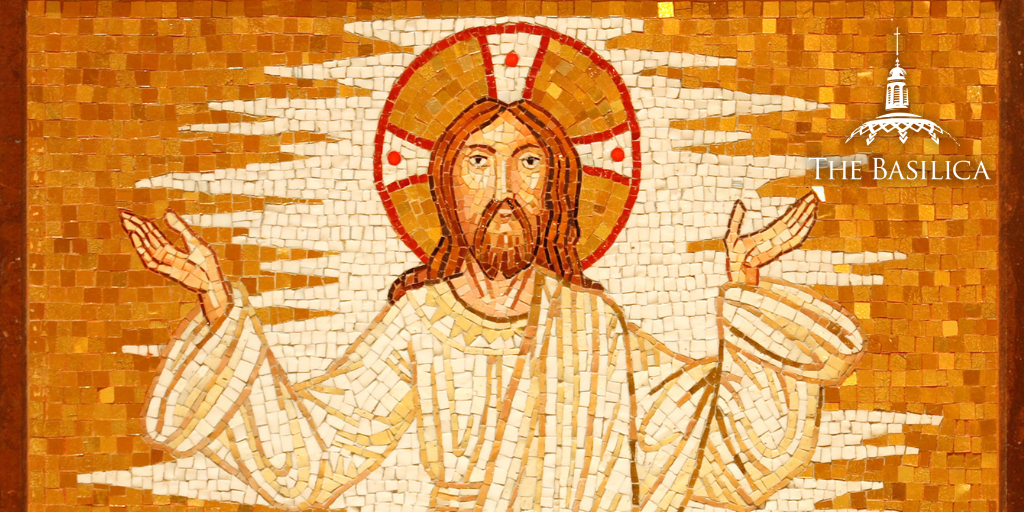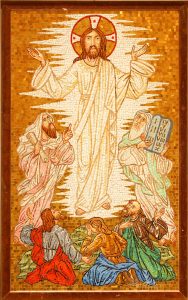 On August 6, we celebrate the Feast of the Transfiguration of the Lord, honoring a significant event in Jesus' life and ministry. Not only did the Transfiguration confirm Jesus' identity as God, offering a glimpse of His glory, but it demonstrated how He fulfilled the Old Testament Scriptures. As you meditate upon this Luminous Mystery this week, we invite you to explore three places where you can find it portrayed in the art and architecture of the Basilica.
1. The Our Lady of Pompei Chapel
The Transfiguration is portrayed in the Our Lady of Pompei Chapel along with the other four Luminous Mysteries of the Rosary in mosaics created by Leandro Miguel Velasco and Rambusch Decorating Co. Warm tones pervade the scene, which shows Jesus surrounded by an aura of dazzling white, looking down at Elijah, Moses, and the three disciples.
2. The Rosary Garden Mosaic
In the Rosary Garden, the Transfiguration is brought to life in brilliant blue tile mosaic. This portrayal does not include the disciples, but instead presents a more intimate composition of Jesus and the prophets: with Elijah on the left and Moses on the right, indicated by the stone tablets in his hands. This mosaic is one of 20 total mosaics in the Rosary Garden portraying the different decades of the rosary – the Glorious, Joyful, Sorrowful, and Luminous mysteries.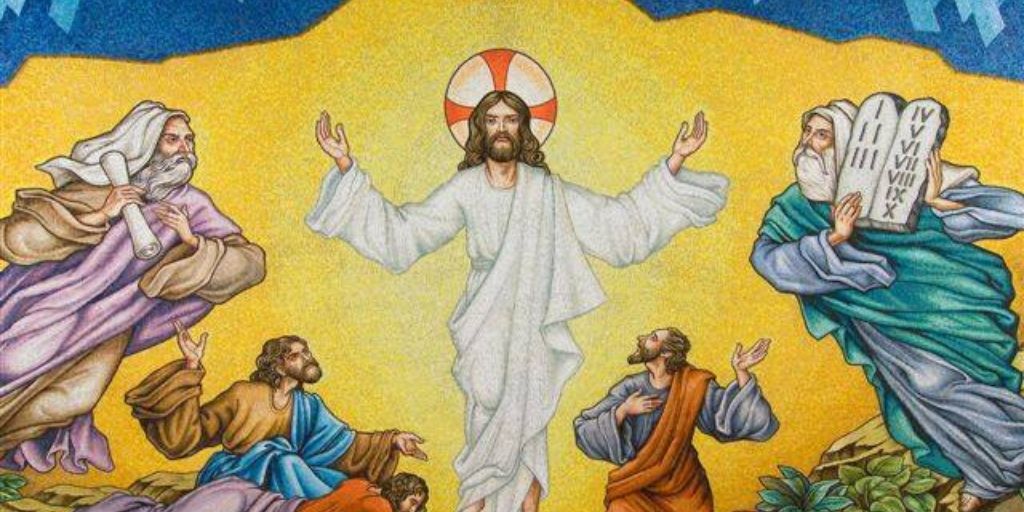 3. The Incarnation Dome
The Transfiguration is depicted in one of the four quadrants of the Incarnation Dome, each of which focuses on a different aspect of the Manifestation of Jesus. Located in the south nave, the mosaic's area totals 3,780 sq. ft. – the same size as the Redemption mosaic! In this depiction, Jesus is portrayed against a background of shimmering gold set on a deep blue. The quadrants surrounding the Transfiguration depiction include the Annunciation, the Nativity, the Wedding Feast at Cana.
Source:
Rohling, Geraldine M., PhD, MAEd. The Basilica of the National Shrine of the Immaculate Conception: Guide and Tour Book. Washington, D.C.: Basilica of the National Shrine of the Immaculate Conception, 2018.