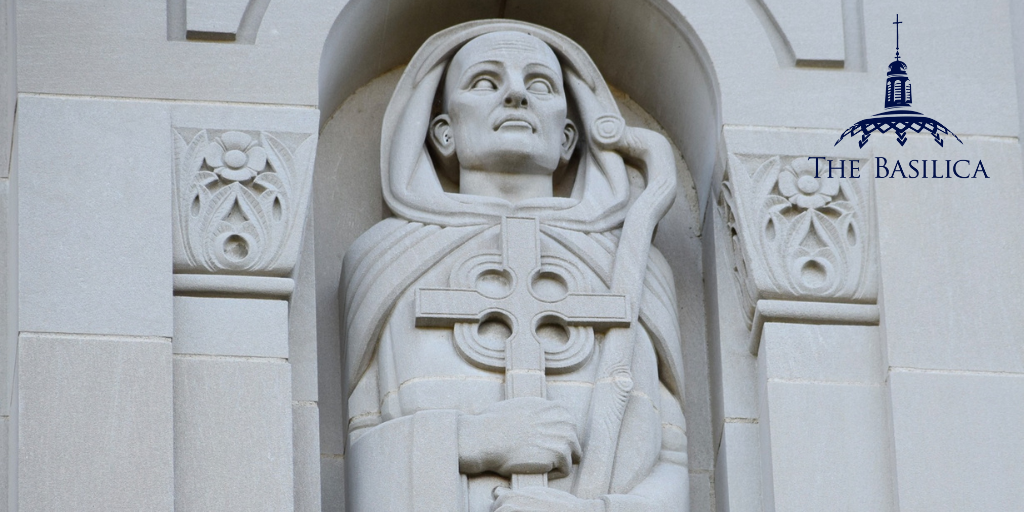 On November 23, the Church celebrates the Feast of St. Columban, an Irish monk who was instrumental in fostering monastic life across Europe. When God called him abroad, St. Columban answered – even when other forces tried to stop him. In today's post, we invite you to learn more about his critical contributions to the Church and where you can find him portrayed in the Basilica.
Early Life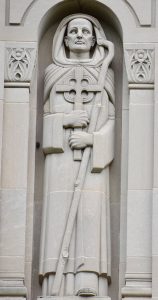 Born in Leinster, Ireland, in 543, Columban received a rigorous education and grew up to be a very attractive young man. Unfortunately, his winning appearance captured the attention of many young women, and he found himself looking to monastic life to maintain his purity. Despite his own mother's misgivings, he joined a monastery on an island in Lough Erne called Cluain Inis.
At Cluain Inis, Columban continued in study, prayer, and religious life, first under the guidance of Abbot Sinell and then Saint Comgall in the Abbey of Bangor in County Down. There, Columban made his formal vows as a monk, and continued to live in contemplation until age 45, when he felt God asking Him to be a missionary.
St. Columban Goes on a Mission
At first, the abbot refused his request to go abroad, but Columban eventually prevailed and set out with 12 other men to first Britain and then France, where the Church struggled with corruption and attacks from invaders. Columban and his followers founded monastic communities across Europe, overseen by Columban himself and subject to his strict requirements of Irish asceticism. But the growth of the monastic communities led Columban to seek more and more seclusion to the point where he used an intermediary to speak with the monks and frequently isolated himself.
St. Columban Meets Opposition
In France, Columban clashed with government and spiritual authorities for bringing Irish religious customs into their region. While some accounts hold that he escaped after his criticism of Prince Thierry's illicit relationship landed him in prison, others say that he was banished from the continent for his conflicting spiritual practices. Whatever the case, he set out to return to Ireland around 610, only to stay on the continent due to bad weather. God's mission for him there, it seemed, was not finished: he continued to found more monasteries in Switzerland and Italy, meeting with less opposition than he had in France. His last monastery was founded in Bobbio in 614, one year before his death.
At the Basilica, you can find St. Columban portrayed in the north façade.
Sources:
Butler's Lives of Saints, ed. Bernard Bangley
"St. Columbanus," Catholic News Agency
The Basilica Guidebook, Dr. Geraldine Rohling
The Way of Saints, Dr. Tom Cowan