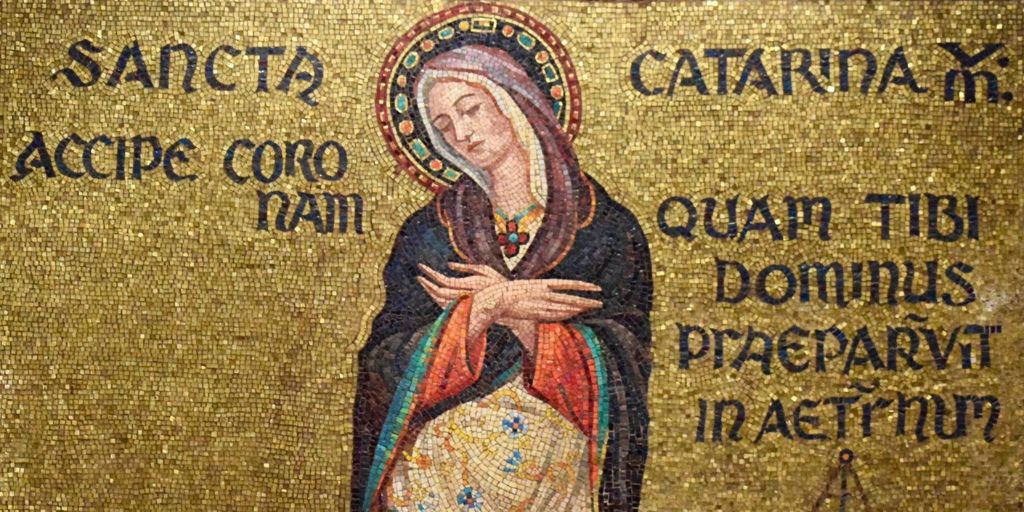 On November 25, the Church celebrates the Feast of St. Catherine of Alexandria, who was distinguished by her intellect and articulate defense of Christianity in an era of extreme persecution. Remembered as an unflinching defender of the faith, she is one of the notable virgin martyrs portrayed in the East Apse of the Crypt Church. Today we invite you to learn more her life and legacy.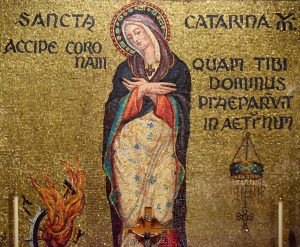 Early Life
Tradition holds that Catherine was born in Egypt under the reign of Maximian in the 3rd century. According to various texts, following the death of her mother, Saint Catherine of Alexandria devoted herself to a life of study. After seeing a vision of the Blessed Mother and converting to Christianity, Catherine pleaded with her suitor, Emperor Maxentius, to cease his persecution of the Christians. In response, he challenged her to debate 50 of his best philosophers, expecting an easy win. But her articulate defense of Christianity was so profound that many of them converted, as well as an estimated 200 soldiers and members of the royal family.
Angered by her victory and refusal to marry him, the emperor condemned her to death on a spiked breaking wheel, but at her touch, the wheel shattered. She was beheaded ca. A.D. 305 in Alexandria, Egypt.
The St. Catherine Chapel in the Basilica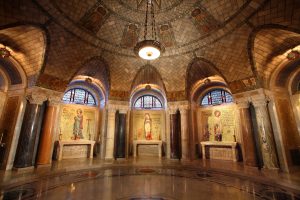 In the Basilica, St. Catherine is honored in mosaic tile in a chapel in the Crypt Church. The St. Catherine mosaic and altar frontal show a flaming wheel and an open book, while the altar appointments also carry the theme of her martyrdom.
The Latin inscription translates:
"Receive the crown which the Lord has prepared for you in eternity." – Common of Virgins, Vespers
Saint Catherine of Alexandria is known as the patroness of philosophers, theologians, apologists, archivists, students, and those who work with a wheel. She is among the 14 Holy Helpers.
Sources:
The Basilica Guidebook, Dr. Geraldine Rohling
"Saint Catherine of Alexandria," Franciscan Media
"St. Catherine of Alexandra," Catholic.org