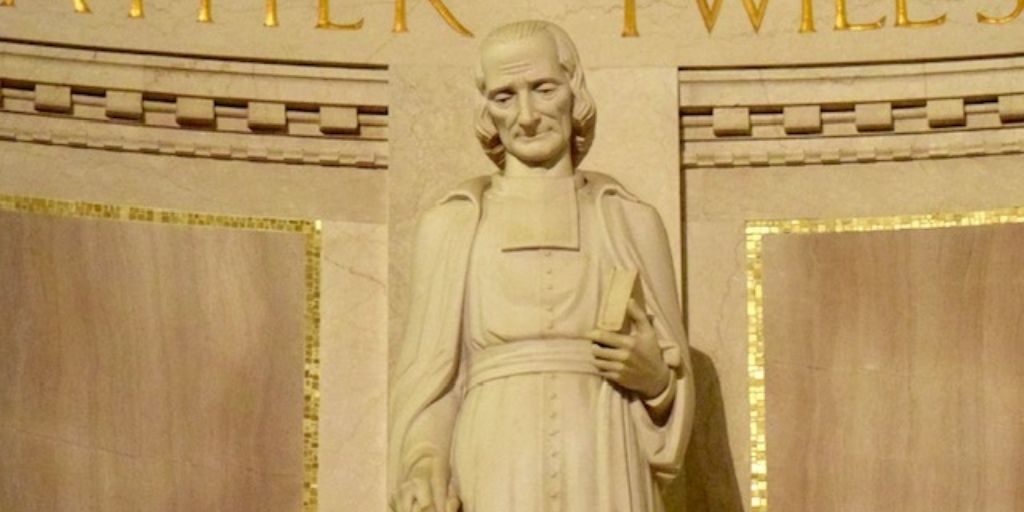 As we reflect on the significance of education this month, today we recognize that standardized evaluations do not always capture the breadth of individual potential. On August 4, we celebrate the Feast Day of Saint John Vianney, who became a devoted servant for Christ and spiritual example, despite having learning difficulties early in his career. 
The Shepherd-Boy Soldier Turned Spiritual Teacher
Saint John Vianney was born to a shepherd-farmer in France in 1786, shortly before the beginning of the Napoleonic Revolution. Vianney was not content to simply tend to the animals at home though; he knew he wanted to study God's word and be involved in ministry. At age 20, he began his theological studies with Abbé Balley, but shortly after was drafted into the army through a clerical mistake. In an unconventionally sanguine turn of events, Vianney fell ill when his battalion was leaving for Spain and stayed behind. When he recovered, he met a man on the road who led him to an encampment of deserters deep in the woods – among whose ranks he could now count himself. For some time, he lived in hiding, evading the notice of the French soldiers nearby until Napoleon declared general amnesty in 1810.
Finally able to resume his studies with peace of mind, Vianney enrolled in the seminary at Lyons. He struggled greatly with Latin – which was unfortunately the language all his classes were conducted in. Although he failed his exams for the priesthood, his personal devotion was so great that Abbé Balley intervened on his behalf, tutoring him privately until he was ordained in 1815.
A Sympathetic Listener
Although Vianney was sent to work at a rural village called Ars, he did not go on to live a life of obscurity by any means. Well-loved by his parish, he was known particularly for his attentive listening skills. He remained in the village for the rest of his life, and gained such great popularity that people traveled from far and wide to come visit him. In the last 15 years of his life, he would spend 12 to 16 hours a day in the confessional, and received 300 visitors a day on average. A special train ticket was sold in Lyons specifically for the pilgrimage to Vianney's parish, and in the final year of his life over 100,000 individuals came to visit him. His encouragement inspired his parishioners, as well as countless others, to lead holier lives. 
A Testament to God's Power in Our Weakness
Vianney was so beloved among the French people that Napoleon sent him the Imperial Order of the Legion of Honor. A humble man, he refused to accept it. With a life so dedicated to ministry, Vianney's own health suffered from overwork, and at age 73, he passed away. 
Vianney's life demonstrates that despite our weaknesses, God may accomplish greatness through our lives. While by the world's standards, Vianney may have seemed like an academic failure, God empowered him to overcome his struggles, and used him for great purposes. Saint Vianney's spiritual teaching encouraged and enriched the lives of hundreds of thousands. Because of his loving devotion to all who came to him, Saint John Vianney is known as the patron of parish priests. 
Saint John Vianney is featured in the north apse of the Upper Church and the west transept mosaic.
---
Sources: 
Butler's Lives of the Saints (ed. by Bernard Bangley)
Cowan's The Way of Saints