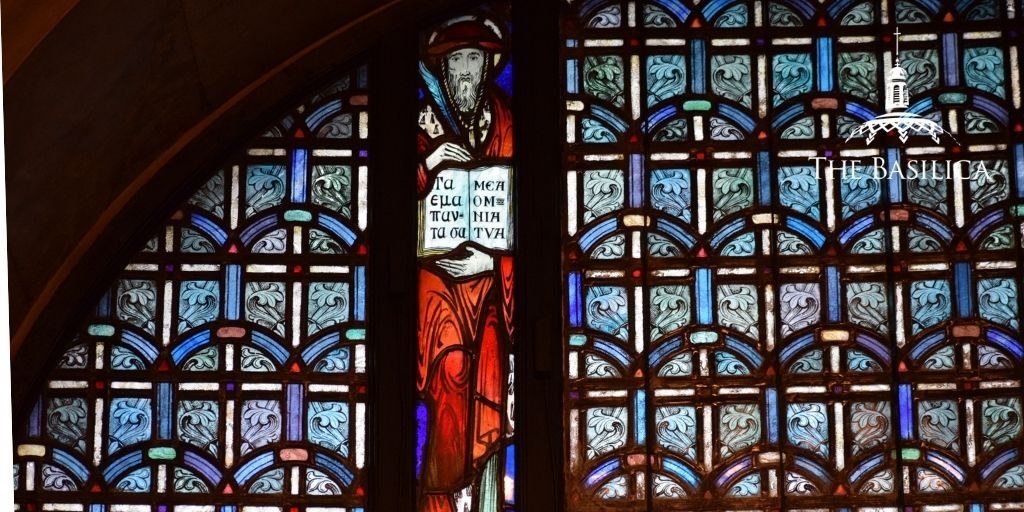 Celebrated on September 30, St. Jerome was one of the great intellectuals of the Church, creating a Bible translation that would be the standard of the Church for centuries. Though in his lifetime he struggled with anger and lived through the fall of Rome, these difficulties did not prevent him from making profound contributions to biblical scholarship. In the Basilica, Jerome is depicted in the east façade, the St. Margaret of Antioch Chapel, and the Baldachin of the Great Upper Church.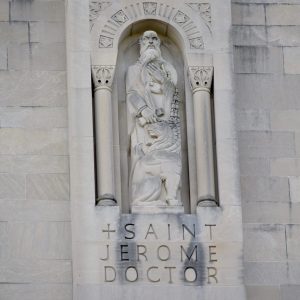 A Brilliant Scholar
One of the greatest scholars of the Church, Jerome was born in the 4th century in northern Italy. When he reached his thirties, he relocated to Syria, living a reclusive life and learning Hebrew, Aramaic, and Greek. He used his extensive linguistic knowledge to create a translation of the Bible called the Vulgate. Using the "vulgar" (everyday) Latin, the translation made the Bible more accessible to common people. The Vulgate became the standard version of the Bible for the Catholic Church and was used for over a millennium.
Ministry in Bethlehem
Though he was ordained as a priest, Jerome did not feel called to a traditional priest role. When he founded a monastery in Bethlehem in 386, he cultivated a healthy community, but he was not without enemies – in fact, he was known for his temper. During his lifetime, he had arguments with St. Augustine, Rufinus, and his monastery was once stormed by a band of Pelagians in protest of his attacks directed toward the theologian.
Living through the Fall of Rome
When learning of the destruction of Rome in 410, he halted his beloved studies to oversee assistance to refugees who were fleeing to Palestine. As he provided lodgings for them, he wrote,
"I have put aside all my study to help them. Now we must translate the words of the Scriptures into deeds, and instead of speaking holy words, we must do them."
As the Roman empire continued to crumble, he became troubled by the destruction, and saddened by the capture of various monasteries. However, in spite of his distress, he continued to make valuable contributions to biblical scholarship. When he died in 420, he was writing a commentary on Jeremiah.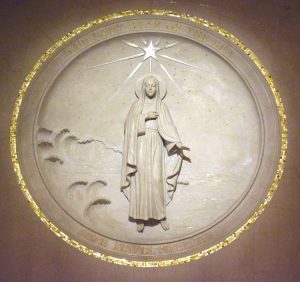 St. Jerome's Devotion to Mary
Jerome had a special fondness for Mary. He defended with fervor the belief that she was a virgin and did not have any other children besides Jesus. He also gave her the title "Star of the Sea" (Ave Maris Stella). Patroness of all who sail the seas, Mary is portrayed under this title in a rondel in the narthex of the Great Upper Church, which shows her stilling the waves while the North Star shines above her. Mary is also represented as Star of the Sea in the Our Lady of La Vang Chapel, which depicts the constellations Ursa Minor and Ursa Major, and the Mary, Queen of All Hearts Chapel.
---
Sources:
Butler's Lives of Saints, ed. Bernard Bangley 
Cowan's The Way of Saints