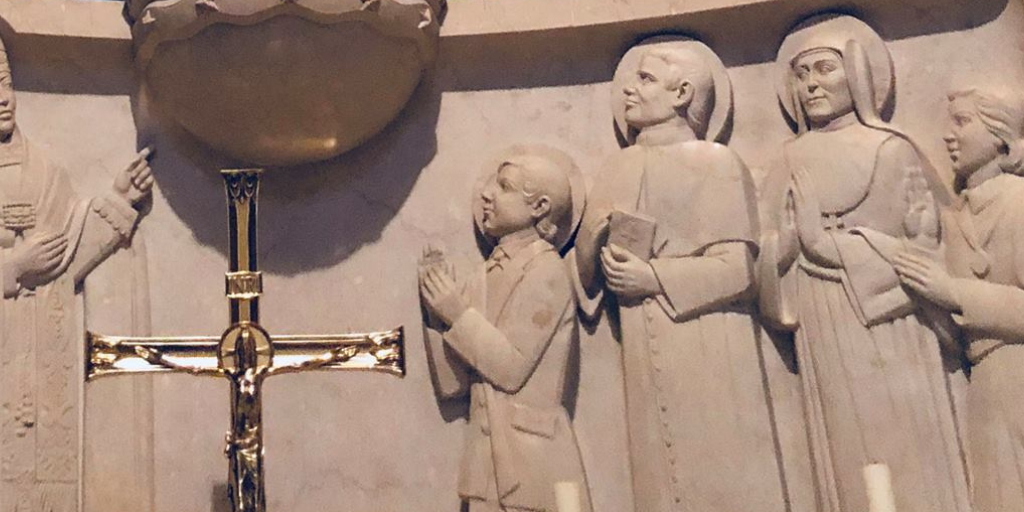 Did you know that Saint Dominic Savio is the patron saint of the falsely accused? A young man from humble origins, Dominic was known for bringing glory to God in the small things. As the Church celebrates the anniversary of his birth this week, we invite you to learn more about his life and legacy, and discover where he is portrayed in the Basilica.
Early Life
The child of a dressmaker and a blacksmith, Dominic Savio was born on April 2, 1842, in the Italian town of Riva, and spent most of his childhood with his nine siblings in the village of Castlenuovo d'Asti.
Dominic was fortunate to grow up in a devout Catholic family, and from a young age he was naturally drawn to religious life. He faithfully attended Mass with his mother, participated in confession, and led a dedicated prayer life. He was often found praying outside on the church grounds, regardless of the season or weather. In addition to living out his faith on a personal level, Dominic also felt called to help the Church, so he volunteered to be an altar server. He rapidly grew in his faith and love for the Lord, and at the age of seven, he petitioned to receive his first communion early. While in Italy at that time, most children had to be 12 or older to receive their first communion, the priest was so amazed by Dominic's spiritual maturity that he granted him an exception – allowing Dominic to experience the "happiest day of his life." That day, Dominic wrote down four notes for himself that he vowed to follow for the rest of his life:
I will go to Confession often, and as frequently to Holy Communion as my confessor allows.
I wish to sanctify the Sundays and festivals in a special manner.
My friends shall be Jesus and Mary.
Death rather than sin.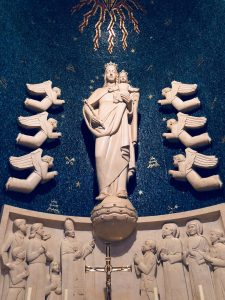 Bringing Glory to God in the Smallest Things
At secondary school, Dominic became known as a thoughtful and intelligent young man. He was very discerning for his age, and often found peaceful solutions to others' quarrels. While Dominic knew he was different from the other boys, he didn't let his fear of their opinions prevent him from pursuing God. According to historic accounts, Dominic once shared:
"I can't do big things. But I want all I do, even the smallest thing, to be for the greater glory of God."
During his time at school, an incident occurred where two of his classmates wanted to cause trouble, so they filled a school stove with non-flammable items and claimed Dominic was the instigator. Instead of telling his teachers that the other boys were at fault, Dominic took the blame, and was reprimanded in front of his peers. When the truth was discovered the following day, his teacher asked him why he didn't speak up, and Dominic simply stated that he was following Christ's example by staying silent in the face of unjust accusations.
Pursuing Priesthood
Realizing the exceptionality of his humble spirit and biblical insight, Dominic's teacher introduced him to Father John Bosco, who taught at the Oratory of St. Francis de Sales. At their meeting, Father Bosco was highly impressed with Dominic's knowledge of theology and apologetics, and invited him to study at the oratory. He even agreed to personally oversee Dominic's education, as he knew the boy was considering the priesthood.
At the oratory, Dominic thrived in his new studies, quickly excelling in all he did. However, not long after he joined, Dominic's health began to suffer. Dominic had always had a delicate constitution, and when he lost his appetite, his doctor recommended he return to his family. Contrary to the doctor's opinion, Dominic did not believe he would ever recover. As days passed and Dominic grew worse, the doctor eventually resorted to bloodletting in his attempts to remedy Dominic's ailments, but to no avail. Tragically, Dominic continued to decline, and on March 9, 1857, he passed away in his sleep at the young age of 14.
The Legacy of Saint Dominic Savio
Deeply moved by Dominic's faith, Father Bosco personally wrote a biography of him titled "The Life of Dominic Savio," which later became a part of the curriculum at many Italian schools. Although many considered Dominic too young to become a saint, he was eventually canonized by Pope Pius XII in 1954. Today, he is recognized as the patron saint of choirboys, the falsely accused, and juvenile delinquents.
Since his death, the faithful have looked to Saint Dominic Savio as a Christ-like example of humility and devotion. As Pope John Paul II once shared:
"Like Saint Dominic Savio, be missionaries of good example, good words, good action at home, with neighbors and colleagues at work. At every age we can and we must bear witness to Christ! Commitment to bear witness is permanent and daily."
At the Basilica, you can find Saint Dominic Savio depicted in a relief sculpture in the Mary, Help of Christians Chapel and in the West Portico.
---
Sources:
St. Dominic Savio, Catholic.org
Saint Dominic Savio, Franciscan Media
Saint Dominic Savio, The Vatican