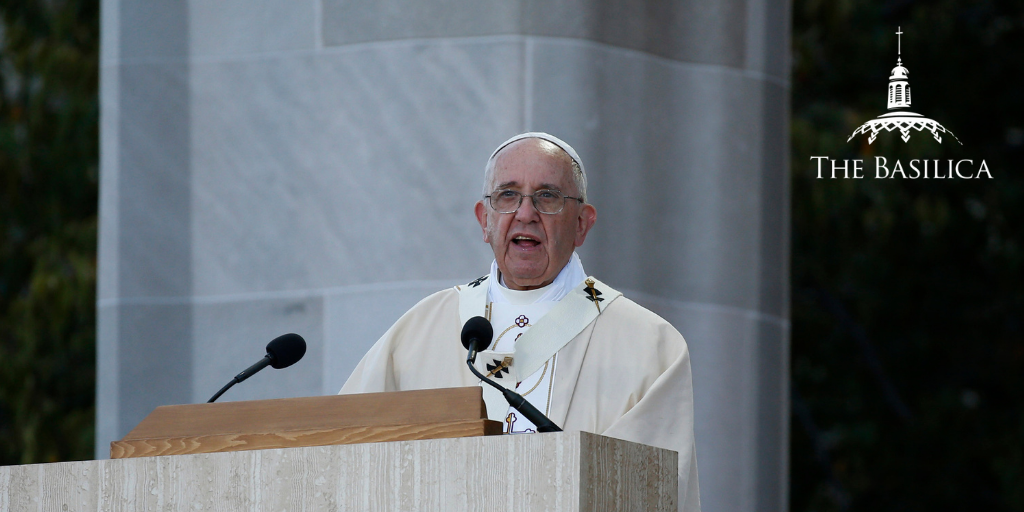 As we recognize National Marriage Week, we're reminded of the importance of embodying love in our marriages and communities. Christ demonstrated the ultimate act of love when He sacrificed His life for us on the cross, and He calls us as believers to love others as He loves us (John 15:12). But how should that love look when it comes to our spouses, families, and communities? Today, we invite you to reflect on the wisdom of the Holy Fathers on the nature of love and marriage.
What Is Love?
Just as mankind is created in the image of God, so should human love serve as a reflection of God's love for us – a love chosen out of free will, embodied through sacrifice and selflessness.
Pope Francis praying during his visit to the Basilica in 2015.

"Do not forget that true love sets no conditions; it does not calculate or complain but simply loves." – Pope John Paul II

"Love, as well as friendship, owe their strength and their beauty to this very fact: that they engender a bond without taking away freedom. Love is free, the promise of the family is free, and this is its beauty. Without freedom there is no friendship, without liberty there is no love, without free consent there is no marriage. Thus, liberty and fidelity do not oppose one another, but rather, they support each other, both in interpersonal and social relationships."

– Pope Francis

"Married love… reveals its true nature and nobility when we realize that it takes its origin from God, who 'is love,' the Father 'from whom every family in heaven and on earth is named'…This love is above all fully human, a compound of sense and spirit. It is not, then, merely a question of natural instinct or emotional drive. It is also, and above all, an act of the free will, whose trust is such that it is meant not only to survive the joys and sorrows of daily life, but also to grow, so that husband and wife become in a way one heart and one soul, and together attain their human fulfillment." – Pope Paul VI
The Call to Love
Regardless of whether you are single or married, for those in the body of Christ, the practice of love is not optional: it is our calling.
Pope John Paul II with Monsignor William F. McDonough, on his first visit to the National Shrine in 1969

"We should never forget that 'love – caritas – will always prove necessary, even in the most just society … whoever wants to eliminate love is preparing to eliminate man as such.' I therefore encourage the faithful to meditate often on the Apostle Paul's hymn to charity and to draw inspiration from it: 'Love is patient and kind; love is not jealous or boastful; it is not arrogant or rude. Love does not insist on its own way; it is not irritable or resentful; it does not rejoice at wrong but delights in the truth. Love bears all things, believes all things, hopes all things, endures all things. Love never ends' (1 Cor 13:4-8)." – Pope Benedict XVI

"God created man in His own image and likeness: calling him to existence through love, He called him at the same time for love.

God is love and in Himself He lives a mystery of personal loving communion. Creating the human race in His own image and continually keeping it in being, God inscribed in the humanity of man and woman the vocation, and thus the capacity and responsibility, of love and communion. Love is therefore the fundamental and innate vocation of every human being." – Pope John Paul II
What Is the Purpose of Marriage?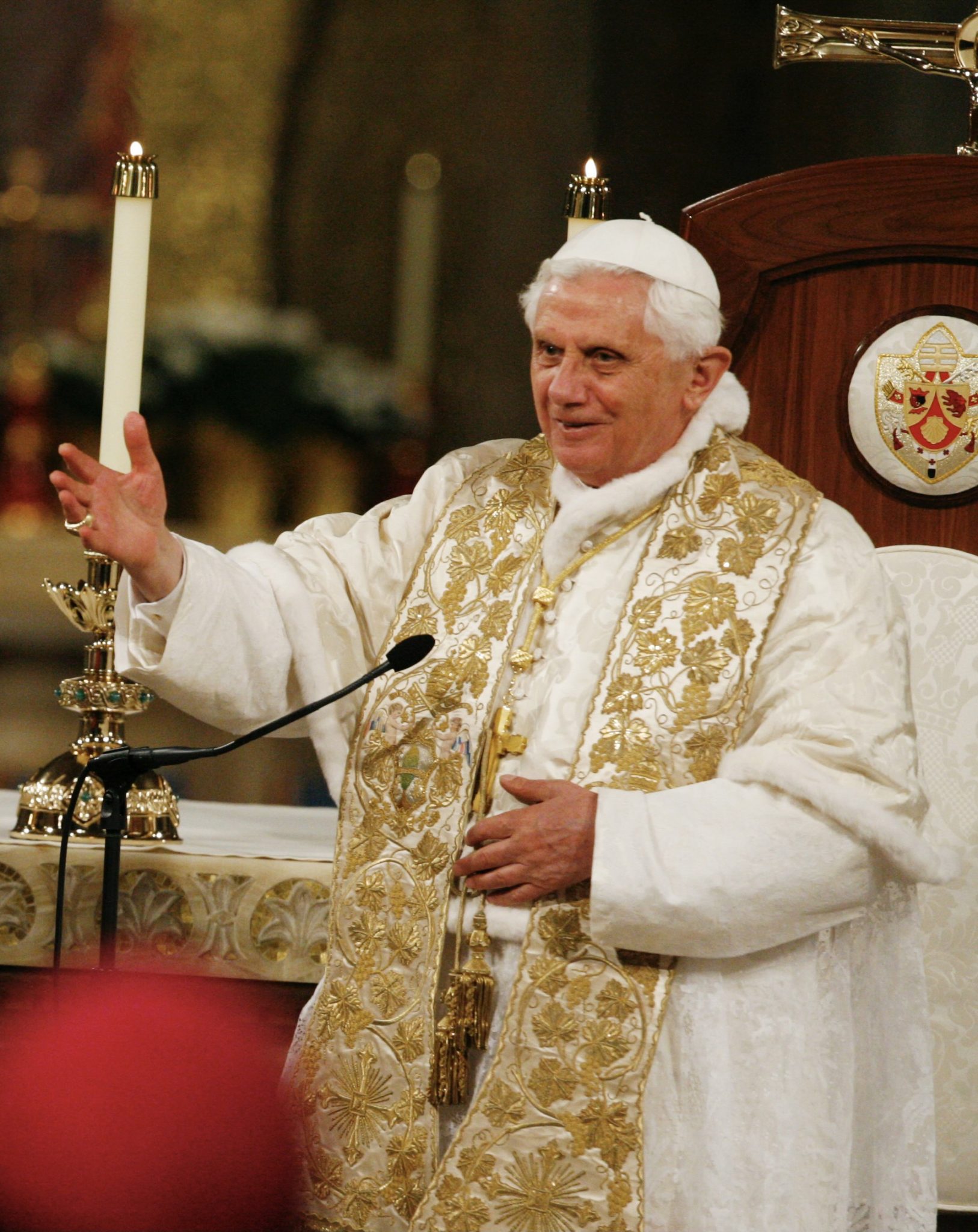 Marriage was instituted by God to serve as a reflection of Christ's relationship with the Church, helping men and women become more Christlike through the practice of selflessness and love.
"[I]t must never be forgotten that the word of God is at the very origin of marriage (Gen 2:24) and that Jesus himself made marriage one of the institutions of his Kingdom (Mt 19:4-8), elevating to the dignity of a sacrament what was inscribed in human nature from the beginning. 'In the celebration of the sacrament, a man and a woman speak a prophetic word of reciprocal self-giving, that of being 'one flesh,' a sign of the mystery of the union of Christ with the Church (Eph 5:31-32).'" – Pope Benedict XVI

"Marriage is the most beautiful thing that God has created. The Bible tells us that God created man and woman, created them in his own image (Gen 1:27). That is to say, the man and woman who become one flesh, are the image of God."­

– Pope Francis
---
Sources:
"Address of the Holy Father." Pope Francis, October 1, 2016. The Vatican
"Familiaris Consortio." Pope John Paul II, November 22, 1981. The Vatican
"Fidelity to the Promise of Love." Pope Francis, October 21, 2015. The Vatican
"Homily at the Jubilee of Youth." Pope John Paul II, August 17, 2000. The Vatican
"Humanae Vitae." Pope Paul VI, July 25, 1968. The Vatican
"Verbum Domini." Pope Benedict XVI, September 30, 2010. The Vatican