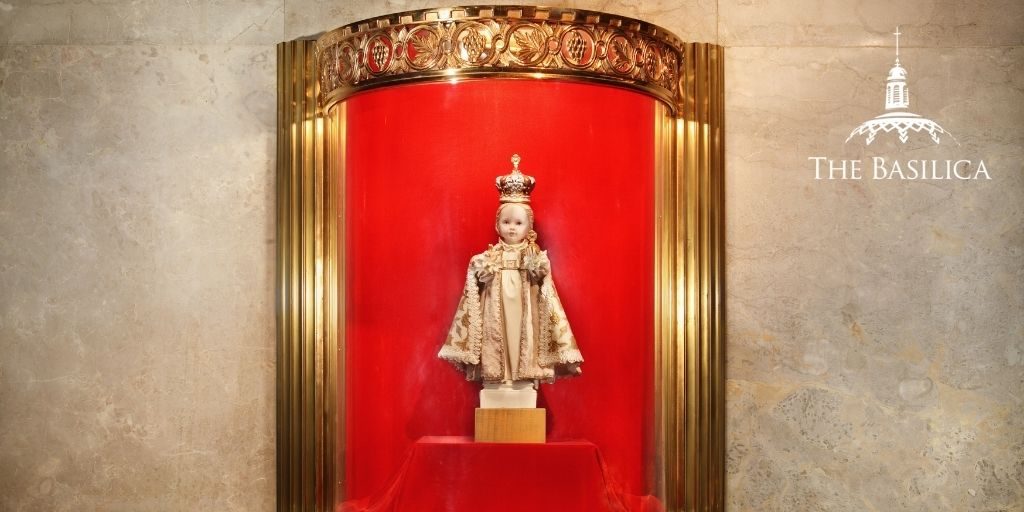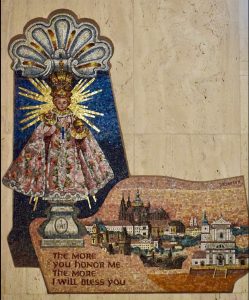 Observed on January 14, the Feast of the Infant Jesus of Prague celebrates the mystery of the Incarnation. Originating in the Czech Republic, tradition holds that the original statue was once possessed by St. Teresa of Ávila and was brought to what was then known as Bohemia by a Spanish noblewoman upon her marriage to a Czech nobleman named Vratislav of Pernstyn. Their daughter, Princess Lobkowicz, gifted the statue to the Discalced Carmelite friars. It now resides in the Church of Our Lady Victorious in Prague.
The Statue of the Infant Jesus of Prague
In His left hand, the Infant Jesus holds a miniature globe topped by a cross, representing His kingship over the world. His right hand is raised in blessing, with two fingers bent to reflect Christ's divine and human nature, and the other three fingers raised to symbolize the unity of the Trinity.
The Infant Jesus of Prague in the Basilica
The statue in the Infant Jesus of Prague Oratory in the nave of the Crypt Church replicates this pose, while being made entirely of porcelain, with 24-carat gold leaf for the brocade of the cape. The thinness of the porcelain gives it the appearance of fabric. It was made for the Basilica by Polish artist Boleslaw Cybis and stands a mere 17 inches tall. The Infant Jesus of Prague is also depicted in mosaic in the Our Lady of Holy Hostyn Chapel.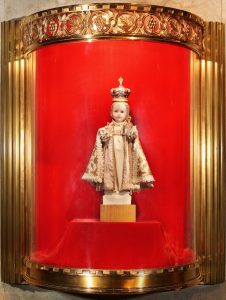 The Significance of the Infant Jesus of Prague
By depicting Jesus as a child, the tradition of the Infant of Prague also emphasizes His humanity, and how we are children of God because of the salvation that He brings us. As Pope Benedict XVI said:
The figure of the Child Jesus, the tender infant, brings home to us God's closeness and his love. We come to understand how precious we are in his eyes, because it is through him that we in our turn have become children of God. Every human being is a child of God and therefore our brother or sister, to be welcomed and respected. May our society grasp this truth! Every human person would then be appreciated not for what he has, but for who he is, since in the face of every human being, without distinction of race or culture, God's image shines forth.

Source:

Basilica Guide and Tour Book,  Dr. Geraldine Rohling