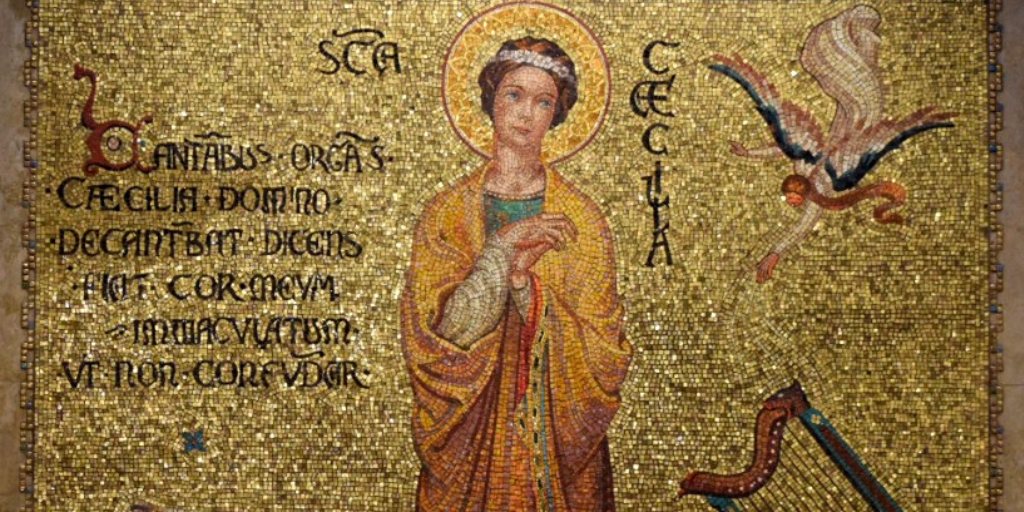 On November 22, the Church celebrates the Feast of St. Cecilia. The patroness of music, musicians, instrument makers, and poets, Cecilia is known for her holiness and devotion to Christ — even to the point of death. Learn about St. Cecilia's story of faithfulness and take a virtual tour of her chapel in the Basilica in our latest post.
The Tradition of St. Cecilia
Born in the Roman empire in the 2nd century, St. Cecilia was a devout Christian whose wealthy family forced her into an arranged marriage with a pagan man named Valerian. Traditional accounts hold that during the wedding, she was so focused on the song of her heart to God that the sound of her wedding music died in her ears.
That night, when her husband sought to consummate the marriage, she told him that it would upset her guardian angel. He asked to see the angel, and she said that if he professed faith in Christ, he would be able to. Cecilia was right: sometime after, Valerian became a Christian and saw the angel.
As a result, Cecilia was able to keep her vow of virginity, and Valerian was baptized along with his brother Tiburtius. Newly dedicated to the faith, together they undertook the illegal work of burying the bodies of martyrs. When they were pressured to renounce their faith, the brothers did not recant, and were martyred. Cecilia attempted to bury their bodies, but was caught and arrested.
The authorities tried multiple ways of executing her, but found it difficult. First, they tried to suffocate her by locking her in a room and heating the furnace to an extreme temperature. When that failed, they tried to behead her, slashing her neck three times. Yet even this attack was not instantly successful; she lived three days after, using her final days to distribute her wealth to the poor.
St. Cecilia at the Basilica
At the Basilica, St. Cecilia is honored with other virgin martyrs in a chapel in the west apse of the Crypt Church. The Venetian mosaic contains 60,000 tesserae, which are fashioned of glass and enamel, just like the mosaics of the early Christian era. She is depicted with a gold harp and musical notation to honor her designation as the patron saint of music. The marble altar is ornamented with lyres, and a crown of flowers on the altar frontal symbolizes the heavenly crown worn by Roman virgins. The Latin text translates, "While the organ was playing, Cecilia sang to the Lord saying: 'Let my heart be spotless so that I may not be confounded.'" (Lauds, First Antiphon).
Tour the Chapel Virtually
Explore the chapel in 360° with our virtual tour!
Sources:
The Basilica Guidebook, Dr. Geraldine Rohling
The Way of Saints, Dr. Tom Cowan