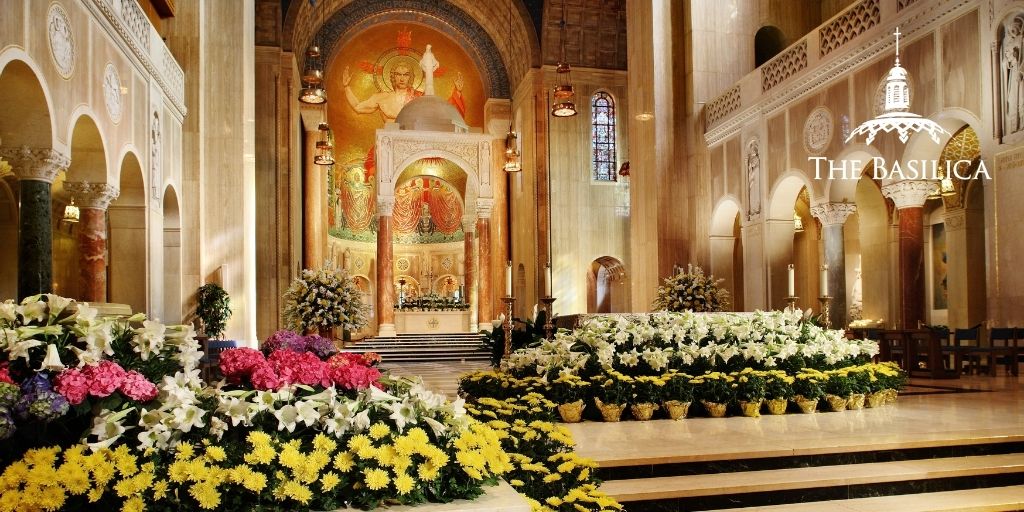 "Behold, I tell you a mystery. We shall not all fall asleep, but we will all be changed, in an instant, in the blink of an eye, at the last trumpet. For the trumpet will sound, the dead will be raised incorruptible, and we shall be changed."
– 1 Corinthians 15:51-52
The jubilant blaring of trumpets marks the Resurrection of Our Lord and Savior Jesus Christ and signals our own Resurrection on the Last Day. In celebration of this holy Eastertide, the Basilica hosts organists from around the world for the Annual Octave Day of Easter Concert. This year, visitors will be treated to a concert presented by the Organists and Brass Ensemble of the Basilica, with works by Gabrieli, Dubois, Strauss, and Bach.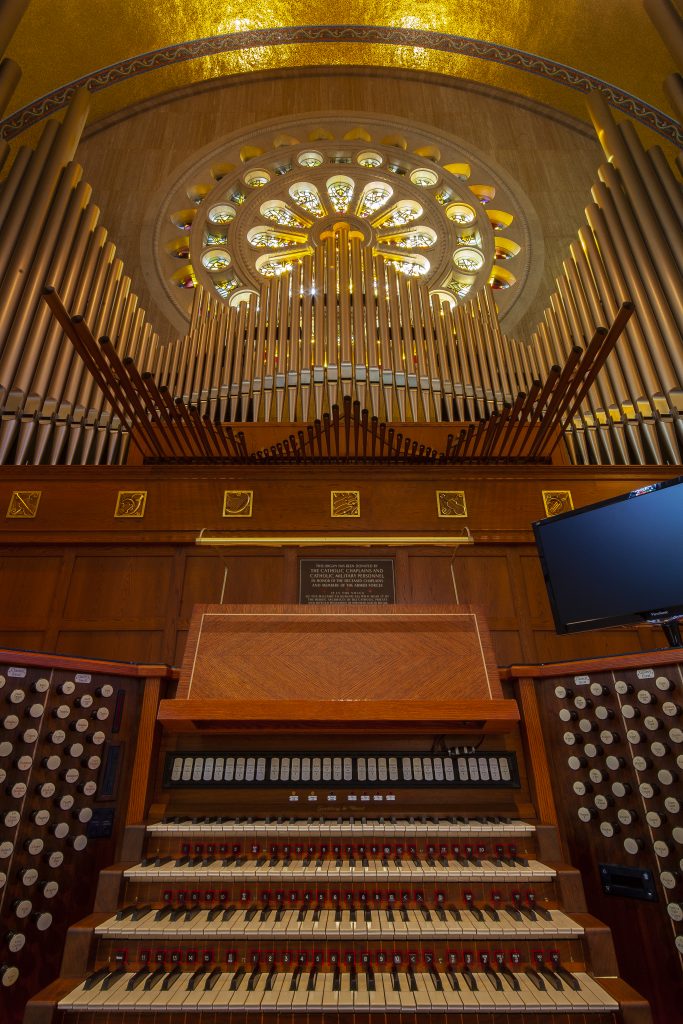 Today, we invite you to learn more about the pieces featured in the concert – may their history give you a richer listening experience.
"Canzon duodecimi toni" – Giovanni Gabrieli
Did you know that the unique architecture of the Basilica di San Marco, with its opposing choir lofts, was a great source of inspiration for Venetian composers? It was typical for spatially separated choirs to sing antiphonally, in alternation with one another. Giovanni Gabrieli, who served as the principal organist and composer at Saint Mark's Basilica from 1585 until his death, developed this polychoral style to its highest point. "Canzon duodecimi toni," part of his 1597 Sacred Symphony, placed two brass quintets in the opposing choir lofts. The arrangement heard in this concert will feature a five-part brass choir and organ.
"Alleluia" – Théodore Dubois
Théodore Dubois served as organist at the Madeleine Church and as choirmaster at the Basilica of Saint Clotilde. In 1893, his Douze Pièces Nouvelles pour orgue ou piano-pédalier (Twelve New Pieces for Organ or Pedal Piano) was published. This concert will feature a brass and organ arrangement of "Alleluia" from the Twelve New Pieces, which takes the Easter hymn, "Ye Sons and Daughters" as its theme.
"Lobet den Herren mit Pauken und Zimbeln" – Sigfrid Karg-Elert
"Lobet den Herren mit Pauken und Zimbeln" ("Praise the Lord with Drums and Cymbals"), composed by Sigfrid Karg-Elert, takes its title from the text of Psalm 150, wherein sacred musicians are called to lead all in heaven and earth in the praise of God. Specifically named instruments include the organ, trumpet, cymbal, harp, lyre, timbrel, and strings.
Organ Solos – Various Composers
In addition to the works with the Brass Ensemble, each of the Basilica organists will also perform a work for solo organ.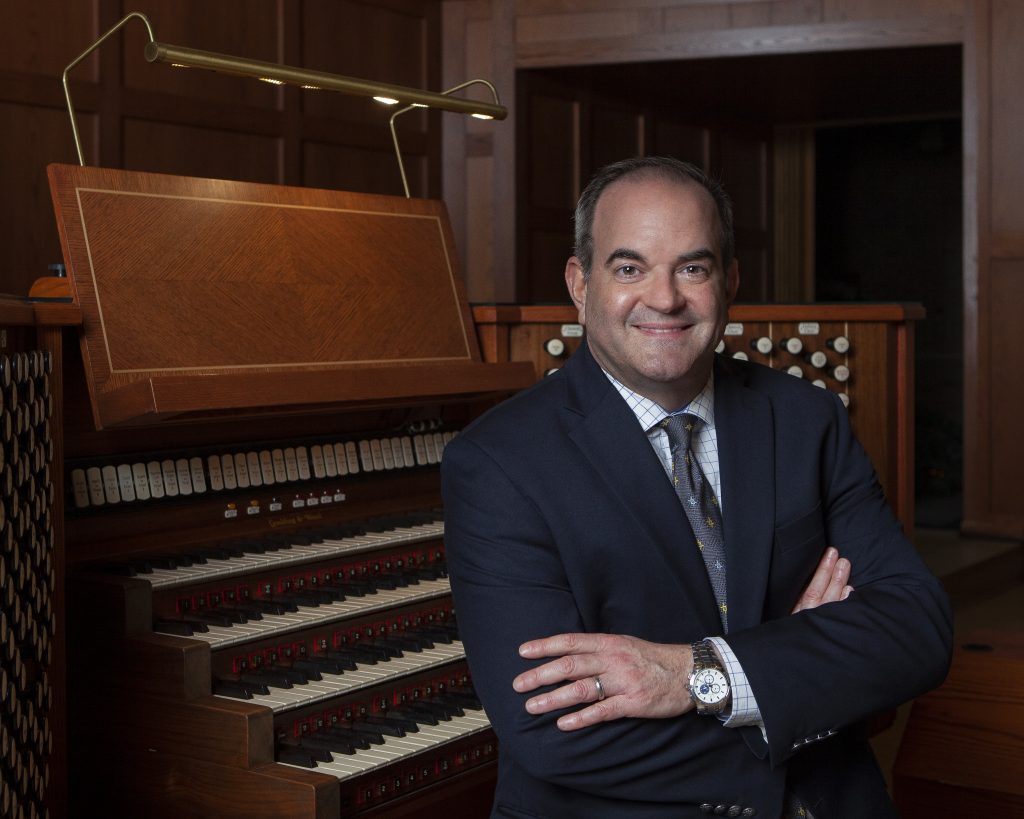 Director of Music Peter Latona will perform "Chorale Prelude on Llanfair,"composed by McNeil Robinson. Llanfair is a popular hymn tune that listeners may recognize in the Easter hymns "Hail the Day That Sees Him Rise" and "Jesus Christ is Risen Today."
Associate Director of Music Benjamin LaPrairie will perform "Death and Resurrection" from Three Gregorian Paraphrases, Opus 5, composed by Jean Langlais. This movement is prefaced with an excerpt from the Epistle of Saint Paul to the Corinthians: "Death, where is thy victory?" This piece is based upon the gradual chant for the Requiem Mass.
Assistant Director of Music Andrew Vu will perform Choral et Fugue, Opus 57, composed by Marcel Dupré. Dupré improvised this chorale and fugue upon the Salve Regina chant and one of the Paschal Alleluias, respectively, on Sunday, April 29, 1962, to mark the centenary of the inauguration of the organ at Saint-Sulpice in Paris.
Come experience the music of the Organists and Brass Ensemble of the Basilica at this year's Annual Octave Day of Easter Concert on Sunday, April 24, 2022, at 6:00pm ET – we hope to see you there!