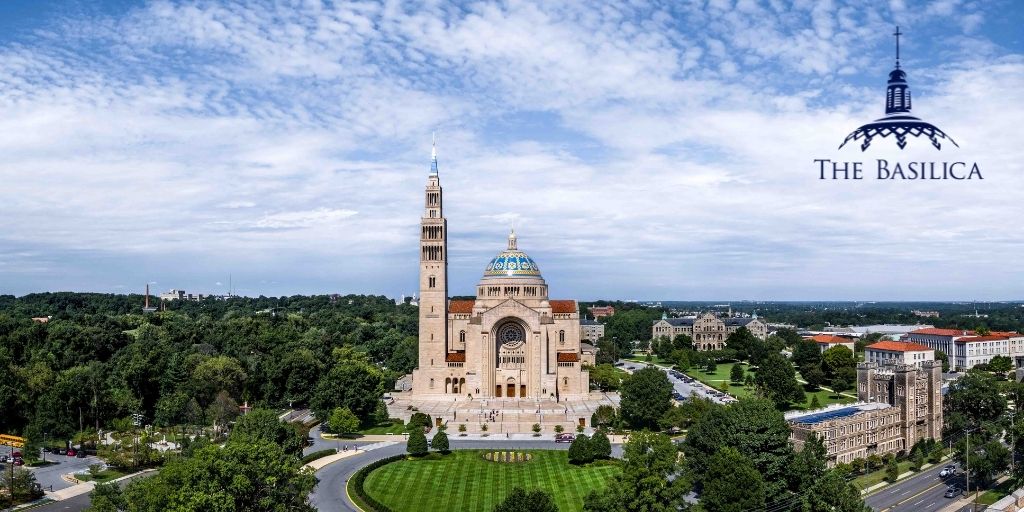 This month, we are pleased to introduce the National Shrine Shops Winter 2022 Collection! As we approach Valentine's Day and Lent, we invite you to explore the latest items from the National Shrine Shops. Browse unique sacred jewelry, devotional and cooking books, home décor, and more in this curated selection!
Miraculous Necklace – Made in Lourdes
According to tradition, the Blessed Mother appeared to St. Catherine Labouré and told her that whoever wore the Miraculous Medal would receive many miracles. This necklace honors that devotion, featuring a gold and silver-tone Miraculous Mary Medal with a gold-tone "miracles" charm tag. On the front of the medal, Mary is encircled by the French words, "Marie, conue sans péché, priez pour nous qui avons recours vous" which translates to: "O Mary, conceived without sin, pray for us who have recourse to you." Handmade at the Holy Site of Lourdes, each medal is created by the official maker of the Miraculous Mary Medal for the Chapel of Our Lady of the Miraculous Medal in Paris, where the very first Miraculous Mary Medal was made. The necklace has a 24 in. gold dipped box chain with a 1 in. extender, and comes with an inspirational card that tells the story of the Miraculous Medal.
The Lenten Cookbook
Award-winning chef and former Vatican Swiss Guard David Geisser returns with 75 new international recipes specially conceived for the penitential season of Lent. From delicious soups and salads to zesty curries and classic Lenten staples, Chef Geisser offers a uniquely Catholic way of celebrating the Lenten season. This first-ever Lenten mealtime guidebook features essays from acclaimed biblical scholar Scott Hahn, who reflects on the history of fasting and its integral role in our personal spiritual growth. You'll also learn of forgotten Catholic traditions and timeless customs, such as St. Martin's Lent, Ember Days, and Rogation Days and more. A culinary masterpiece, The Lenten Cookbook is a must-have for any Catholic and an ideal gift.
Sleeping Saint Joseph Statue
The Gospel of Matthew famously recalls that St. Joseph experienced his three most important moments while asleep – first to accept his role as the earthly father of Jesus (Matt. 1:20-21); secondly, a warning of the danger posed to Jesus by King Herod (Matt. 2:13); and finally, when an angel told Joseph to return to Nazareth with the Holy Family (Matt. 2:19-20).
Pope Francis, who has had a statue of a sleeping St. Joseph on his desk for decades, brought the statue he had in Argentina with him to the Vatican when he was elected pope. Now you too can have your very own statue of St. Joseph sleeping, with this 8 in. resin sculpture.
Memory Cardinal Bracelet
Cardinals have long been a symbol of both devoted relationships – as they mate for life – and of hope in the darkness, as they weather out winters instead of migrating south. Let this bracelet be a picture of the hope that we have of being reunited with our loved ones in eternity. This bracelet features a hand-enameled Cardinal charm, crystals and a toggle closure. It comes boxed with the quote:
"When someone you love becomes a memory
that memory becomes a treasure."
Olivewood Comforting Angel
Hand-carved in Bethlehem from olivewood, this Guardian Angel is elegant yet simple. At just 2 in. tall, this quaint carving comes with a prayer card and is a wonderful reminder that God's guardian angels are always watching over His children.
Italian Ladybug Rosary
The name of the ladybug originated in the Middle Ages, when the people of Europe prayed to the Blessed Virgin Mary to help save their crops. Tradition holds that she answered by sending the ladybug to eat the pests, and the crops were saved. Now, with this Italian Glass Rosary, you can call on Our Lady by reflecting on her provision for the faithful. Beads measure 8 mm in diameter.
Miraculous Medal Glass Holy Water Bottle
Made in Italy, this large Miraculous Medal Glass Holy Water Bottle honors the devotion received by St. Catherine Labouré with a delicately detailed medallion. This bottle measures 4.5 in. by 3.25 in. and can hold 4 oz. of liquid. Holy Water included with purchase.
Blue Virgin Mary Nesting Dolls
When matryoshka dolls initially became popular in the early 1900s, they were often given to young women as gifts. Today, they are beloved around the world and make a timeless gift for any occasion. This 7 in. tall set of wooden nesting dolls features beloved Catholic devotions, including the Virgin Mary, the Sacred Heart of Jesus, the Sacred Heart of Mary, the Seven Swords, and Baby Jesus
The Power of Forgiveness – Pope Francis
The Power of Forgiveness, Pope Francis on Reconciliation calls the reader to explore the mercy of God through the grace of forgiveness, featuring impactful quotes from Pope Francis. The selections emphasize our need for repentance, God's divine mercy, confession, and absolution, among other topics. The beautifully designed text includes reflections for those going to confession, as well as a special section for priests on their role as confessor. Use it as a meditation before going to confession, or ponder a few pages during eucharistic adoration to help you focus on God's call to conversion and healing. Pick up this title and join Pope Francis in reflecting on the beauty of reconciliation! Product description adapted from USCCB.
Be Not Afraid JPII Signature Bracelet Gold
This bracelet features St. John Paul II's motto, "Be not afraid!" in his own handwriting, engraved in a silver-tone or gold-tone hammered zinc bar made in Italy. Men or women can wear this minimalist piece, which features our signature "blessed" tag, a wristband that is handwoven in Medjugorje, Bosnia and Herzegovina, and adjustable cording which opens to 9.5 in. diameter. It can serve as a reminder that there is nothing to fear because God is always with us, as Matthew 28:20 tells us: "Remember, I am with you always, even to the end of age."