This month, we are delighted to announce the arrival of the National Shrine Shops Spring 2022 Collection! As we approach the Easter season, we invite you to explore the latest items from the National Shrine Shops. Browse Easter gifts, home décor, sacred jewelry, and more in this hand-picked selection!
Hummingbird Bracelet
This dainty bracelet is the perfect accessory to add to your spring wardrobe! Featuring a hand-enameled hummingbird charm, it is crafted with vintage metals, delicate glass leaves, and burgundy crystals.
Included in the box is a note with the following text:  "Life is not measured by the breaths that we take, but by the moments that take our breath away." Made in the USA.

Florentine Gold-plated Cross Necklace
Handmade by artisans in Italy, this Florentine Mosaic Cross necklace is exquisitely detailed with colorful little murano flowers resting inside a gold-plated border. The pendant measures 1.25 inches long and hangs on an 18-inch-long chain.

Virgin of Seven Swords Icon Egg
This emotive icon portrays Our Lady as her heart is pierced by seven swords, symbolizing the Seven Sorrows she experienced as Jesus' mother. Alone, the egg is 3.25 inches tall, and 5 inches tall with the stand.
Olivewood One Decade Comfort Cross Rosary
This beautifully simple rosary is comprised of olivewood beads and brown cord, with a comfort cross hanging from the center. It is handmade by artisans in Bethlehem.

Cloisonne Cross Necklace
Made from sterling silver dipped in gold, this delicately crafted cross necklace is overlaid with a white cross featuring a budding pink rose in the center. It comes on an 18-inch-long chain.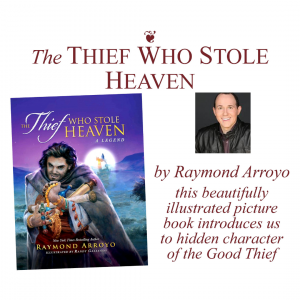 The Thief Who Stole Heaven
Bestselling author and broadcaster Raymond Arroyo provides readers with an adventurous Easter story in his book The Thief Who Stole Heaven. Through the character of The Good Thief, he bridges the gap between Christmas and Easter, and brings to life a compelling redemption story.

Blue Crystal Gold-plated Relic Rosary
Breathtakingly elegant, this rosary is made from glittering blue crystals, and features a gold-plated crucifix and a miraculous medal. Encased in the center of the crucifix is a relic that touched the tomb of Jesus.

Jerusalem Cross Vatican-inspired jewelry
From bracelets and necklaces to rings and cufflinks, the National Shrine Shops offer a wide array of Vatican-inspired accessories. There's something for everyone in this special assortment.

The Last Supper Puzzle
Featuring a timeless rendition of the Lord's Supper by Spanish Renaissance artist Juan de Juanes, this 1,000-piece puzzle provides a meaningful Lenten activity.