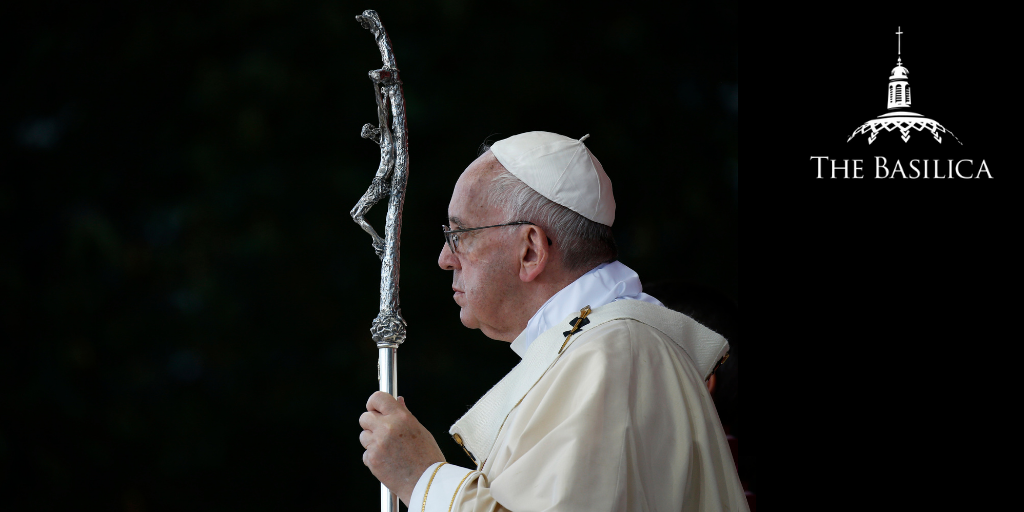 As we celebrate the anniversary of Pope Francis' election to the papacy on March 13, we're reminded of all the ways he has blessed the faithful with his wisdom. From helping us understand how to have courage during difficult times, to explaining the significance of worship, Pope Francis' homilies are a continual source of enlightenment and encouragement. Today, we invite you to reflect on these 10 inspirational quotes from Pope Francis.
Our Relationship with Christ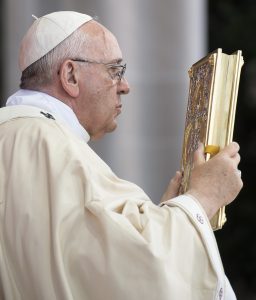 Living the Christian life does not just require confessing our sin and accepting Jesus as our Lord and Savior. It is a lifelong commitment to getting to know Jesus through prayer and studying His word.
"[A] good way to grow in friendship with Christ is by listening to his word. The Lord speaks to us in the depths of our conscience, he speaks to us through Sacred Scripture, he speaks to us in prayer. Learn to stay before him in silence, to read and meditate on the Bible, especially the Gospels, to converse with him every day in order to feel his presence of friendship and love."


"What truly is prayer? It is first of all a dialogue, a personal relationship with God. Man was created as a being in a personal relationship with God who finds his complete fulfillment only in the encounter with his Creator. The path of life leads toward the definitive encounter with the Lord."
Living a Faithful Life
Romans 1:17 states: "The one who is righteous will live by faith." But we cannot accomplish this on our own – only with the help of the Holy Spirit are we able to follow Jesus with all our hearts.
"We must always walk in the presence of the Lord, in the light of the Lord, always trying to live in an irreprehensible way."

"[T]his month the Lord is also calling you… asking you to be a gift wherever you are, and just as you are, with everyone around you. He is asking you not simply to go through life, but to give life; not to complain about life, but to share in the tears of all who suffer… you will discover that the Holy Spirit has gone before you and prepared the way for you."
Understanding Love
 Love isn't just a feeling. True love is best demonstrated through action – and it's something all Christians are called to embody in their lives.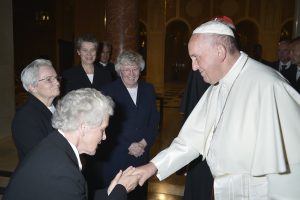 "What is God's love? It is not something vague, some generic feeling. God's love has a name and a face: Jesus Christ, Jesus. Love for God is made manifest in Jesus… It is a love that gives value and beauty to everything else…"

"[L]ove is… the badge of the Christian, as Jesus told us: 'By this all men will know that you are my disciples, if you have love for one another.' It's a contradiction to think of Christians who hate…. And the devil always seeks this: to make us hate, because he's always a troublemaker; he doesn't know love; God is love!

We are all called to witness and proclaim the message that 'God is love,' that God isn't far and insensitive to our human affairs. He is close to us, always beside us, walking with us to share our joys and our sorrows, our hopes and our struggles. He loves us very much and for that reason he became man, he came into the world not to condemn it, but so the world would be saved through Jesus."
The Significance of Worship
In the act of worship, we recognize that no matter who or what else we love, only God is worthy to receive praise.
"Worshipping the Lord means giving Him the place that He must have; worshipping the Lord means stating, believing – not only by our words – that He alone truly guides our lives; worshipping the Lord means that we are convinced before Him that He is the only God, the God of our lives, the God of our history."

"Worshipping is stripping ourselves of our idols, even the most hidden ones, and choosing the Lord as the center, as the highway of our lives."
Having Courage
Jesus never promised that the Christian life would be easy. In fact, in John 16:33, He told the disciples that they would experience persecution – but they needn't be afraid, because He has "conquered the world!"
"From the certainty that God's grace is with us comes the strength to take courage in the present moment: the courage to carry forward what God asks of us here and now, in every area of our lives; courage to embrace the vocation which God reveals to us; courage to live out our faith without hiding or diminishing it."

"God's people learn to see, trust, discover and let themselves be guided by the power of the resurrection. They recognize, of course, that there will always be painful times and unjust situations, yet they do not wring their hands, shrink back in fear or, even worse, create a climate of skepticism, discomfort or disruption, since this does nothing but harm the soul, causing hope to flag and hindering every possible solution. Men and women of God have the courage to take the first step – this is important: to take the first step – in finding creative ways of directly testifying that Love is not dead, but has triumphed over every obstacle."
---
Sources:
"Address of His Holiness." May 6, 2019. The Vatican
"Angelus." August 11, 2013. The Vatican
"Angelus." June 15, 2014. The Vatican
"Homily of Pope Francis." April 14, 2013. The Vatican
"Homily of Pope Francis." October 1, 2019. The Vatican
"Message of His Holiness Pope Francis for the Thirty-Third World Youth Day 2018." February 11, 2018. The Vatican
"Message of Holy Father Francis to Young Lithuanians on the Occasion of the 'Sixth National Youth Day.'" June 21, 2013. The Vatican
"Message to the General Audience." November 15, 2017. The Vatican
"Pope, in first homily, says Church should focus on Gospels." March 14, 2013. Reuters