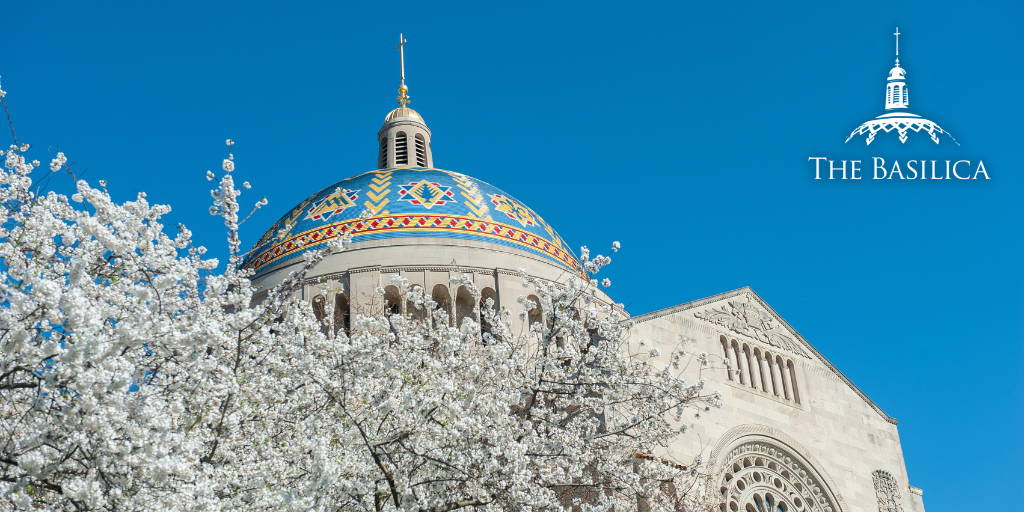 This month, we are delighted to announce the arrival of the National Shrine Shops Mother's Day 2023 Collection! With devotional and prayer books, natural skin care products made with pure Lourdes Grotto water, and more, this curated selection features a plethora of gift options for mom! Explore the latest from the National Shrine below. 

Blue Agate Blessed Mother Bracelet
With hues evocative of a calm tropical ocean, this Blessed Mother bracelet is certain to become a favorite spring accessory. An ornate 14kt gold plated medal of Our Lady rests in the middle of glossy 14 mm beads.
Mother Mary Devotional Journal
Written by Archbishop José H. Gomez, this inspirational 40-day devotional book is based on liturgy in celebration of Our Blessed Mother. These devotions also include stories of modern-day mothers who have encountered Mary in miraculous ways. The Mother Mary Devotional makes an excellent gift, and is certain to encourage the moms in your life as they seek to deepen their faith.

Saint Teresa Mobius Necklace
Handmade from sterling silver, this simple yet elegant necklace features a 7/8 in. wide mobius on an 18 in. chain. Inscribed on the mobius are the words of Mother Teresa:
"Do small things with great love."

Our Lady's Rosary Novenas Illustrated
Bound in blue leatherette, this small novena was written and compiled by Rev. Bernard A. McCaffrey, C.S.C. Tucked within its 64 gold-edged pages, readers can find the Fatima recitation, full-color illustrations of the Twenty Mysteries, a beautifully illustrated chart on how to say the Rosary, and more!

Miraculous Necklace – Made in Lourdes
According to tradition, the Blessed Mother appeared to St. Catherine Labouré and told her that whoever wore the Miraculous Medal would receive many miracles. This necklace honors that devotion, featuring a gold and silver-tone Miraculous Mary Medal with a gold-tone "miracles" charm tag. On the front of the medal, Mary is encircled by the French words, "Marie, conue sans péché, priez pour nous qui avons recours vous" which translates to: "O Mary, conceived without sin, pray for us who have recourse to you." Handmade at the Holy Site of Lourdes, each medal is created by the official maker of the Miraculous Mary Medal for the Chapel of Our Lady of the Miraculous Medal in Paris, where the very first Miraculous Mary Medal was made.

Immaculate Waters – Lotions and Soaps
Immaculate Waters products are each made with pure Lourdes Grotto water for an all-natural skin care experience. From soaps and body washes to lotions and aromatherapy spritzers, they are perfect for those with sensitive skin, made with the highest quality ingredients and without harsh additives. Immaculate Waters offers unscented products and rose-scented and lavender-scented products.

St. Teresa of Avila Devotion Book
"Let nothing disturb you. Let nothing make you afraid… If you have God, you will want for nothing."
Part of the Great Spiritual Teachers series by Ave Maria Press, this month-long devotional book contains daily reflections on the writings of St. Teresa of Avila, and a prayer to meditate on each night.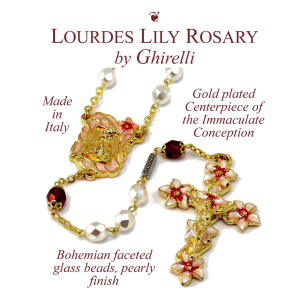 Our Lady of Lourdes Lily Rosary
Made in Italy, this feminine rosary features a crucifix adorned with hand-enameled lilies, as well as a gold-plated bust of our Lady of Lourdes. 7 mm Bohemian faceted glass beads are interspersed along the chain, their pearly finish perfectly complementing the pink and red tones of the lily petals. It also features rich red Our Father beads with gold caps, and the traditional Ghirelli brand plate.

Pearl Double-Strand Scapular Bracelet
Featuring 14 gleaming ivory pearls linked by a 14kt gold-plated chain, this double-strand scapular bracelet will serve as a gentle reminder to "pray without ceasing."

First Communion Necklace
Created for those receiving their First Communion, this gold-plated necklace is sure to be treasured by wearers for years to come. With its delicate 16 in. long chain, cross charm, and pearl and crystal accent bead, its timeless elegance will serve as a delicate reminder of one of life's most profound moments of faith.