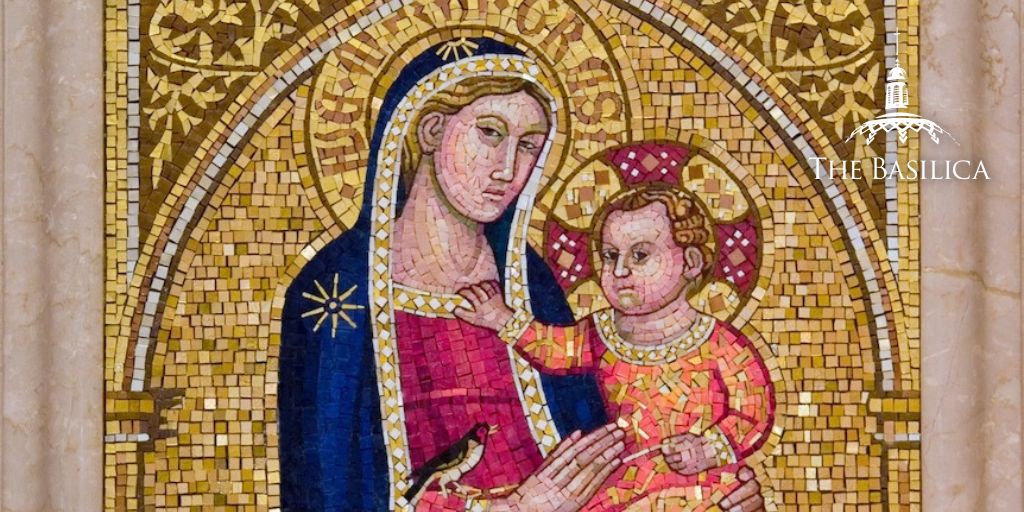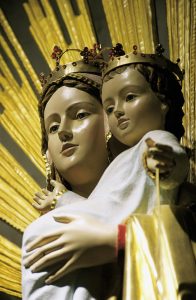 As we approach the celebration of Mother's Day, we invite you to reflect on the mothers in your life and lift them up in prayer. Mother's Day is an opportunity to honor the women we know and love who follow the selfless example of our collective mother, the Mother of God. Here at the Basilica, you will find representations of Mary fulfilling her dynamic role as the Blessed Mother through every generation and culture, reflecting the resilience, devotion, and strength shown among all mothers.
Mary, the Ultimate Example of Motherhood
The vocation of a mother, to nurture human life and raise future generations, requires incredible selflessness. This selflessness is shown by our Blessed Mother, who trusted that the Lord would accompany her and St. Joseph in their difficult journey.
In our devotion to the Blessed Mother, we recognize Mary's enduring and tender love for Jesus and her commitment to us. The strength of a mother's love for her child is present through each step of life. Motherhood forms a unique bond between mother and child that is evidence of the divine gift of creation which unites mothers with God in a special way. Pope Francis once said "A society without mothers would be a dehumanized society, for mothers are always, even in the worst moments, witnesses of tenderness, dedication and moral strength," (General Audience, 2015). A mother's devotion can usher new members into the body of Christ, bringing vibrance and warmth to our Church.
As we grow older, we find in the Church a mother that provides endless grace. As you spend time with your family this Mother's Day, remember the words of Pope Francis: "We are not orphans, we are children of the Church, we are children of Our Lady, and we are children of our mothers," (General Audience, 2015).
Mother's Day Perpetual Enrollment
This Mother's Day, honor the mother in your life with a perpetual remembrance at Mary's Shrine. Show your heartfelt gratitude with the Shrine's Prayer Guild Perpetual Enrollment for Mothers and share this beautiful enrollment card. This prayerful gift is a thoughtful way to honor your mother, grandmothers, sisters, aunts, and godmothers, and express your devotion to the Blessed Virgin Mary, the model of all motherhood.