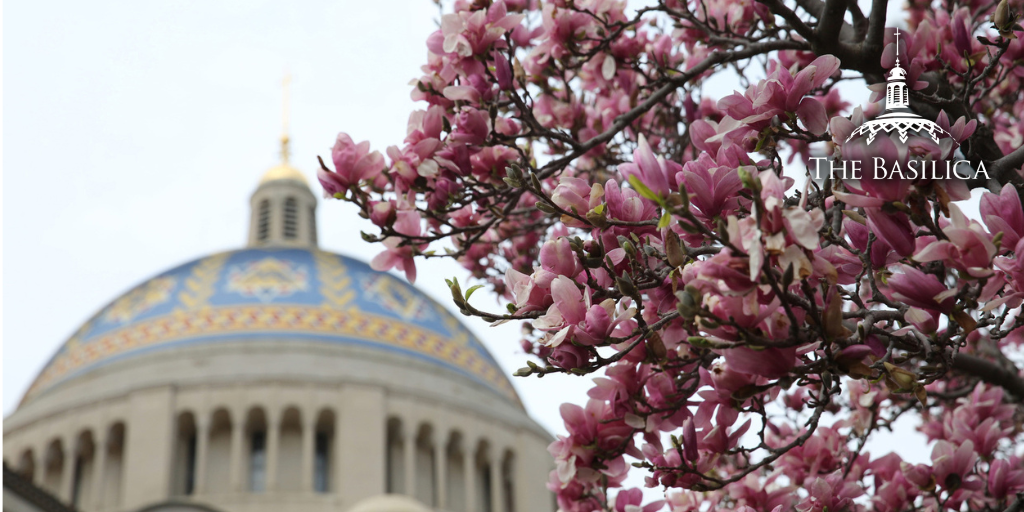 The National Shrine Shops are back with a newly curated collection just in time for Easter. From hand-painted Easter eggs to ladybug rosaries, there is something for everyone. We invite you to browse the National Shrine Shops Easter 2023 Collection!

Hand-painted Ukrainian Easter Eggs
Hand-painted in Ukraine, these wooden Pysanky eggs provide a vibrant folk art addition to your Easter décor. Colors will vary.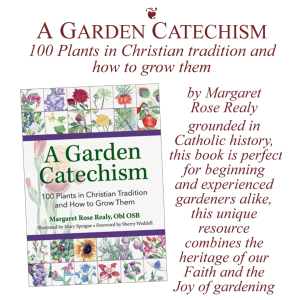 A Garden Catechism
In this unique book, master gardener and certified greenhouse grower Margaret Realy draws on her personal experience to help readers create a garden rooted in faith. Featuring color vintage illustrations and the Christian histories of over 100 plants, A Garden Catechism explains how to grow a garden that symbolically expresses the teachings of our faith and leads us into prayer.

Ladybug Rosary Bracelet with Story Card
The name of the ladybug originated in the Middle Ages, when the people of Europe prayed to the Blessed Virgin Mary to help save their crops. Tradition holds that she answered by sending the ladybug to eat the pests, and the crops were preserved. Now, with this ladybug Rosary bracelet, you can call on Our Lady as you reflect on her provision for the faithful. Each bracelet includes a story card detailing the history of the ladybug and Our Lady.

Memory Cardinal Bracelet
Cardinals have long been a symbol of both devoted relationships – as they mate for life – and of hope in the darkness, as they weather out winters instead of migrating south. Let this bracelet be a picture of the hope that we have of being reunited with our loved ones in eternity. This bracelet features a hand-enameled Cardinal charm, crystals and a toggle closure. It comes boxed with the quote: "When someone you love becomes a memory, that memory becomes a treasure."

Birthstone Rosary
As beautiful as they are personal, these birthstone Rosaries will serve as meaningful reminders to wearers of the Life of Our Lord Jesus Christ and His Blessed Mother Mary. Available in different colors for all 12 months of the year.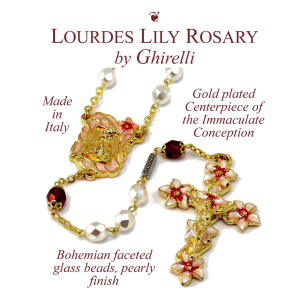 Our Lady of Lourdes Lily Rosary
Made in Italy, this feminine rosary features a crucifix adorned with hand-enameled lilies, as well as a gold-plated bust of our Lady of Lourdes. 7 mm Bohemian faceted glass beads are interspersed along the chain, their pearly finish perfectly complementing the pink and red tones of the lily petals. It also features rich red Our Father beads with gold caps, and the traditional Ghirelli brand plate.

Miraculous Medal Necklace & Earrings
According to tradition, the Blessed Mother appeared to St. Catherine Labouré and told her that whoever wore the Miraculous Medal would receive many miracles. Honoring that devotion, these necklaces, earrings, bracelets, and more come in silver and gold-toned options.

Crystal and Pearl Scapular Necklace
Made with a 14kt gold-plated chain, this scapular necklace features two mother of pearl panels depicting Our Lady of Mount Carmel and Our Lady of the Sacred Heart, each delicately edged with a crystal border. A solitary pearl rests between the panels for a touch of sophistication.

Padre Pio Rosary with Booklet
This Saint Padre Pio rosary is simple yet elegant, featuring red rose-scented beads linked by a silver-tone chain. It comes with a 40-page booklet explaining the history and significance of reciting the rosary, as well as the 20 mysteries with meditations of Saint Pio of Pietralcina.

The Last Supper Puzzle
Featuring a timeless rendition of the Lord's Supper by Spanish Renaissance artist Juan de Juanes, this 1,000-piece puzzle provides a peaceful Easter activity.