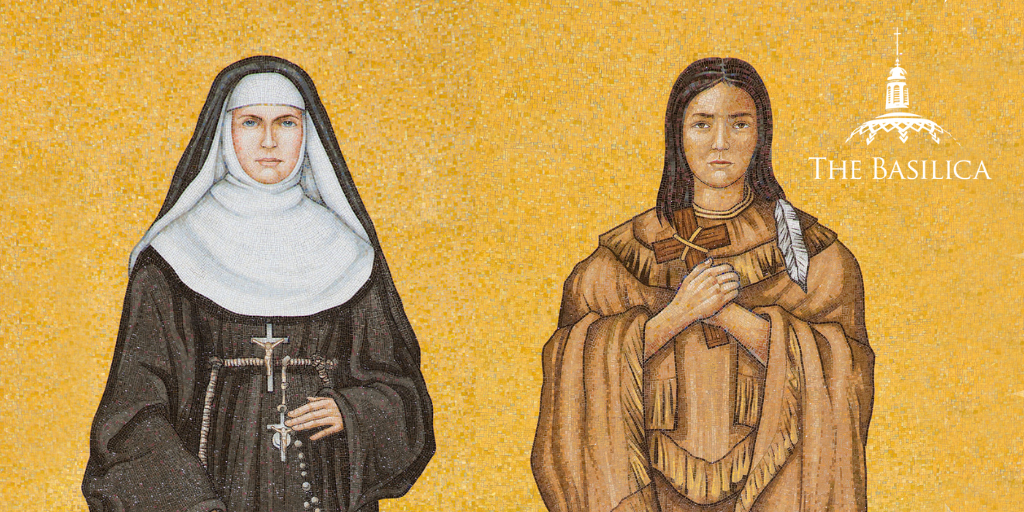 We are proud to celebrate how the Basilica honors the different cultures, peoples, and traditions that are the fabric of the Catholic faith in the United States. In this series, we share the stories of some of the saints of America – many of whom came from far-off lands to share the Gospel and made their home in the United States. Each story forms a unique and beautiful piece of the mosaic of American Catholicism. Today we explore the lives of three fearless women who dedicated themselves to Christ: St. Kateri Tekakwitha, St. Théodore Guérin, and St. Marianne Cope.
This post is Part III in a series. View Part I and Part II.
Saint Kateri Tekakwitha
The Virgin Saint Kateri Tekakwitha was the first Indigenous American to be canonized as a saint. Known as the "Lily of the Mohawks," she is the patroness of ecology and the environment.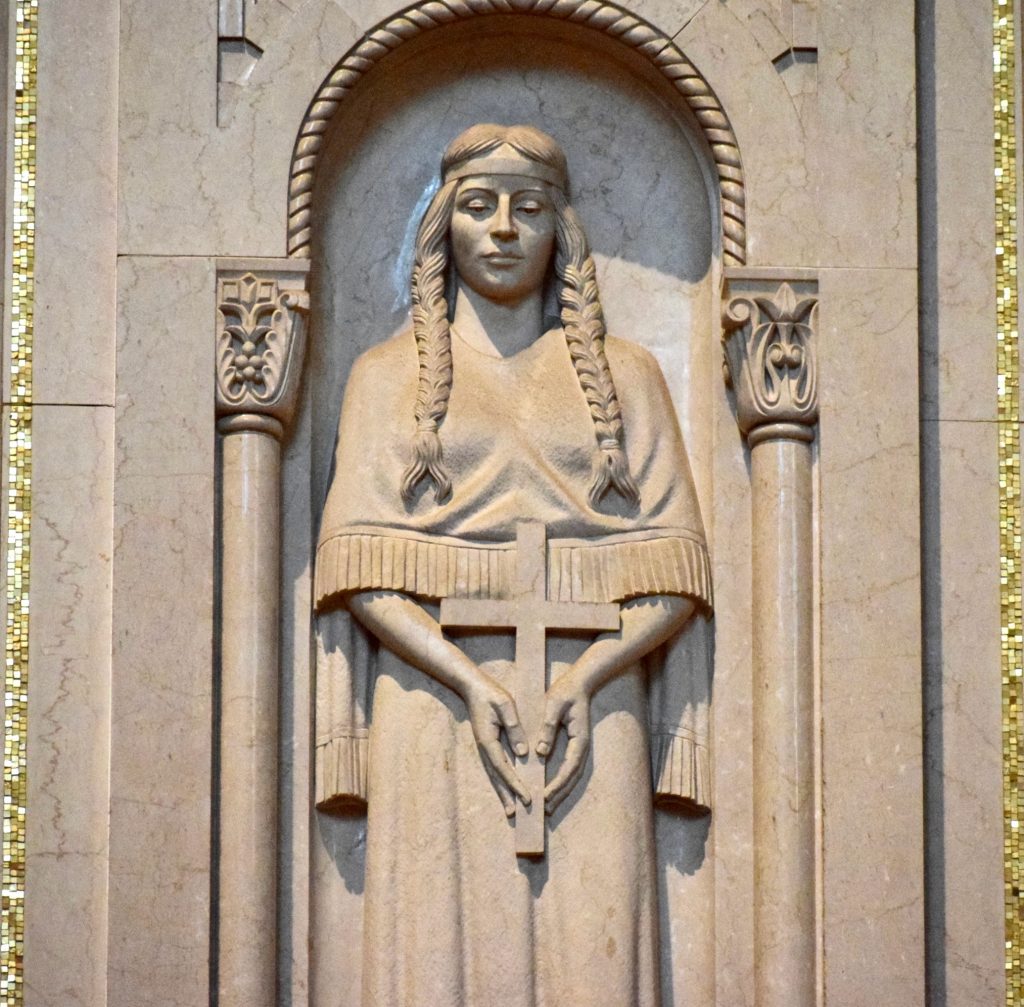 Kateri was born to a pagan Mohawk chief and a Christian Algonquian woman in 1656. After an epidemic of smallpox took both her parents and her brother, Kateri was left an orphan at only four years old. Though she also contracted smallpox, she was able to recover. However, it impaired her vision and left lasting scars on her face. Fortunately, Kateri found a home with her uncle, who became the chief of the Mohawks in her father's stead and raised her in the tribe.
Jesuit missionaries taught Kateri the precepts of the faith, and in 1676, she was baptized by Father Jacques de Lamberville. She became a devoted Christian, and took a vow of chastity at age 19. While her exemplary piety served as an inspiration to some of those around her, others harassed her because of her faith. Seeking a less hostile environment, she moved to the settlement of the Mission of St. Frances Xavier, a community of Christian Indigenous Americans living near what is now Montreal. There, she grew in faith and holiness, spurred on by an unquenchable zeal for Christ, living in prayer and penitence.
Only five years later, however, she was called home by the Lord, passing away at the young age of 24 on April 17, 1680. Her last words were "Jesus, I love you." Through her complete reliance on Christ and embodiment of his love, Kateri stands as a shining example of steadfast faith amidst a culture of paganism. In 2012, Kateri became the first Indigenous American to be canonized. She is portrayed in the Hall of American Saints, the Trinity Dome, the Our Lady of Guadalupe Chapel, and the southwest nave bay in the upper church. 
Mother Théodore Guérin
Saint Théodore Guérin was born as Anne-Thérèse on October 2, 1798, in the town of Estables, France. The girl was devout from a young age, and at age 10, she told a parish priest that she intended to be a nun. When Anne-Thérèse was only 15, her father was murdered by bandits, leaving her to care for her mother and sister. In the face of personal tragedy and difficulty, Anne-Thérèse turned to God for solace.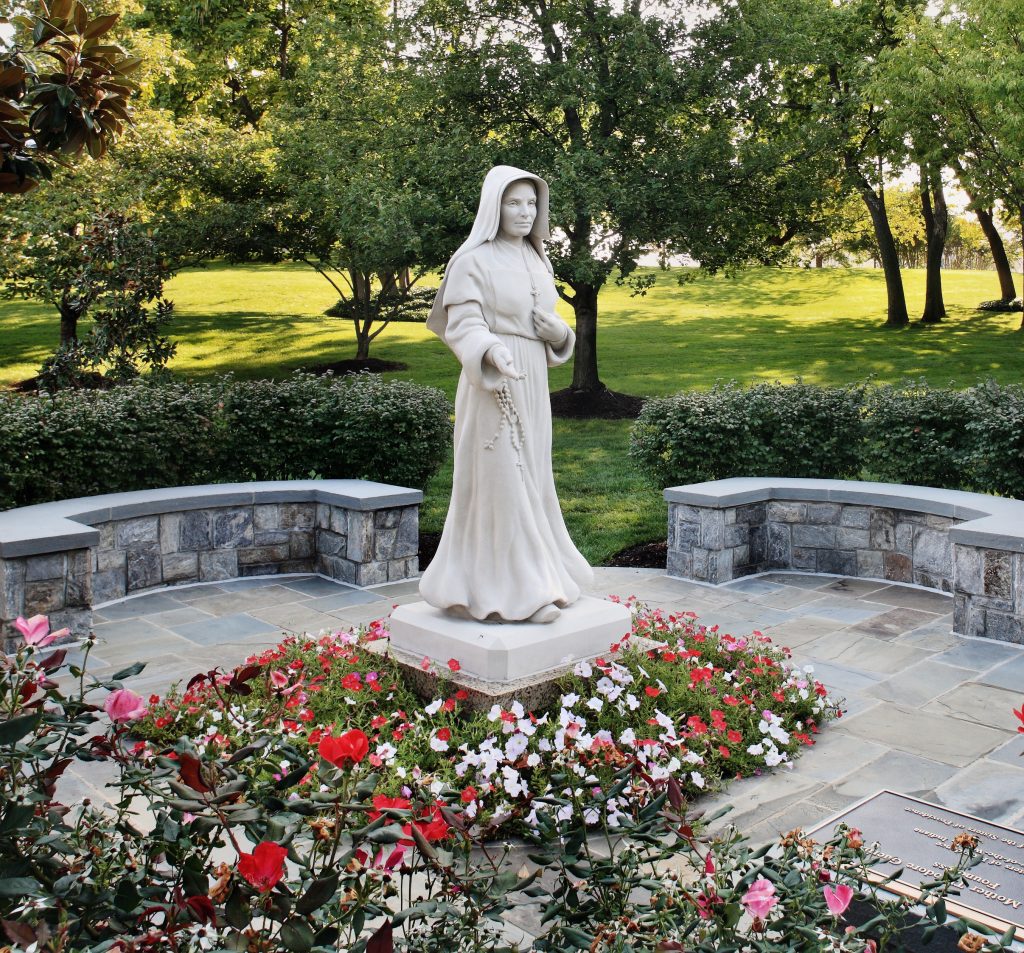 At age 25, she joined the Sisters of Providence of Ruillé-sur-Loir, a religious order focused on caring for the sick and impoverished, as well as furthering children's educational opportunities. There, she became known as Théodore, and was asked to take a group of women on a mission to Indiana to minister to pioneers.
In Indiana, Théodore founded the order of the Sisters of Providence of Saint Mary-of-the-Woods, establishing a motherhouse and a school. They faced untold trials in Indiana, from starvation and bitter winters to prejudice against Catholics. Throughout everything, however, she relied solely on God, telling her sisters, "Put yourself gently into the hands of Providence." Théodore went on to establish two orphanages and more schools in the region, and eventually passed away on May 14, 1856. She is portrayed at the Basilica in a life-size limestone statue in Mary's Garden and honored in a tablet in Memorial Hall.
Saint Marianne Cope
Though Barbara Koob was born in West Germany on January 23, 1838, her family moved to the United States and settled in Utica, New York less than a year later. When her father fell ill, Barbara helped provide for her parents and nine siblings by working in a factory. At the time, she had only just finished eighth grade. It wasn't until she was 24 that she finally realized her dream of pursuing religious life, and became a member of the Sisters of St. Francis in Syracuse, where she was given the name Marianne Cope. At first, she worked as a teacher and principal in elementary schools around the state, but after a few years, her ministry began to go in a very different direction.
Marianne assumed administrative roles on the governing boards of the Franciscan Sisters, positions which fundamentally changed the nature of her work, enabling her to help establish two of the first hospitals in central New York. By 1870, she had fully embraced her calling in medical administration, and began working as head administrator at St. Joseph's in Syracuse – a role that lasted six years. Not only was she compassionate towards all patients, but she was also refreshingly practical – qualities that earned her the respect and admiration of those with whom she worked.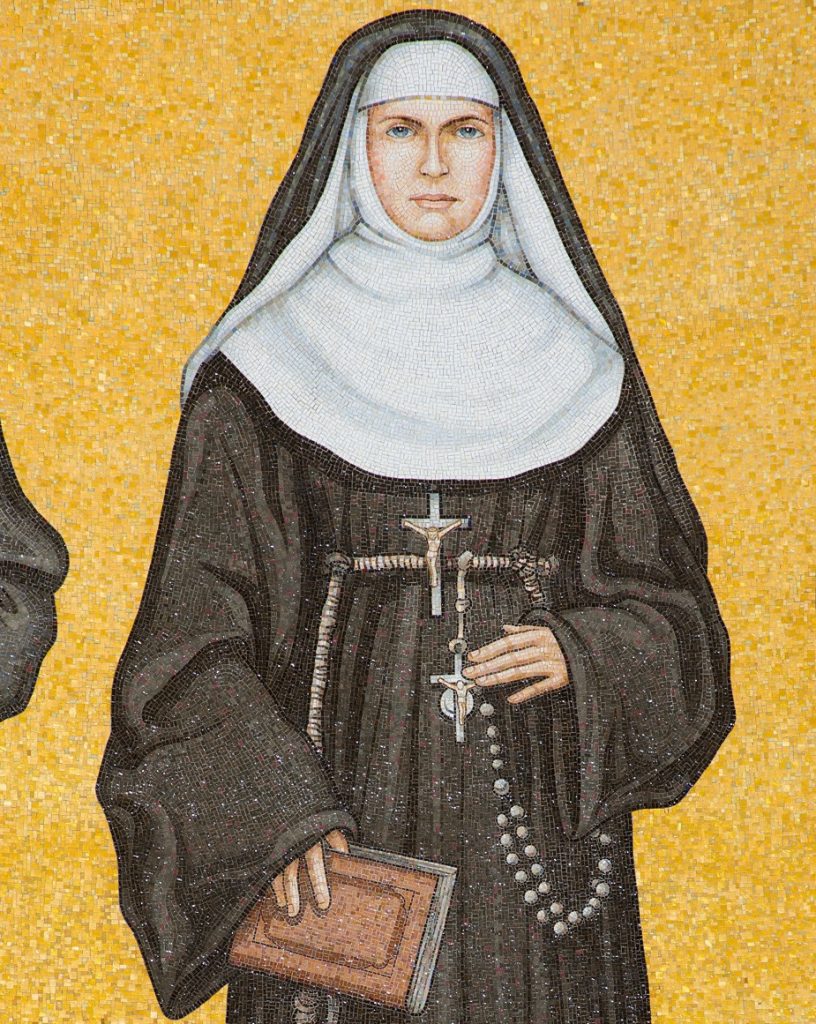 Her life took an even more radical turn when a Catholic priest requested her assistance in the care of lepers on the island of Molokai. Marianne readily accepted, writing:
"I am hungry for the work and I wish with all my heart to be one of the chosen ones, whose privilege it will be to sacrifice themselves for the salvation of the souls of the poor Islanders…. I am not afraid of any disease, hence, it would be my greatest delight even to minister to the abandoned 'lepers.'"
She travelled to the island in 1883, and served as manager of the Kaka'ako Branch Hospital on Oahu, working with the Sisters to improve patient treatment and living conditions, and expanding the hospital's care to include the family members of lepers, who often had difficulty finding doctors to treat them. Marianne also cared for Damien De Veuster following his diagnosis with leprosy in 1886.
Unfortunately, less than five years later, Marianne faced a drastic change in her work when the government decided to send all the lepers away to quarantine on the island of Molokai in 1887. Marianne chose to dedicate her life to caring for them, overseeing the operations of the Bishop Home for 103 girls and the Home for Boys. The work was alienating, exhausting, and oftentimes more than the small team could handle. Nevertheless, they continued dedicating their life to the people of the island, seeking "to make life as pleasant and as comfortable as possible for those of our fellow creatures whom God has chosen to afflict with this terrible disease," according to Marianne.
She passed away on August 9, 1918 in Hawaii, and is honored in the Basilica in the Trinity Dome.